A good month with 2 really good books this month.
One making its way in my all time favorites list actually....
The Storied Life of A.J. Fikry
***** / 5 Stars - IT WAS AMAZING
Quick Summary: A grumpy widower owns a book store & we follow his life & meet all the people that change & open up his world.
Oh my goodness. I dont think I could love a book more. Truly.
I dont think I even really understood what the book was going to be about but the story just rolled out so beautifully. Following A.J. in his life & seeing how his world changed through the years.
I dont know if its because it involved a bookstore & the quotes & ideas centered around how amazing books are - but I just wrote down quote after quote from this book in my Reading Journal.
It's such a fast read & I just loved all the characters. There were moments that I gasped from shock, laughed at personalities & had my heart broken at how cruel life can be to the characters I grew to love in a short time.
This is honestly my favorite book of the year I've read so far & could be in my all time top favorites. It's just that good to me.
Read if you loved The Man Called Ove.
"A place is not really a place without a bookstore"
What She Knew
** / 2 Stars (It was OK)
Quick Summary: A mom let's her son run ahead of her in the woods & ends up missing. Who does she trust now? & a Detective is letting this case affect him in a deep way as he tries to live up to the standards of his detective father
I've heard a lot about this book, but it just didn't hit it for me. I was intrigued to find out the answer to the mystery of missing Ben - but it just felt like a really long book for no reason - a lot of drawn out stories & words just for fun (Its over 500 pages long) & some of the story lines, I just didn't get.
Example - the dialogue shifts from the mom of the story, to the detective, to the counselor of the detective. Which that in itself is strange. What a random character - mainly because I dont see what was so traumatic for the detective. Except, a remembrance of his father that I thought would be a big story & just sort of never talked about again. Stupid stuff like that made me really not like the book.
Even a friendship with the mom & her best friend got totally ruined when something she kept secret for years came out... which if, you're best friends, you'd forgive & move on.
This book just sort of irked me. The more I talk about it, the more I may want to take my rating down another star. I'd better quit while its ahead.
Just not for me.
Read if you enjoy a mystery & dont mind drawn out dialogue & different shifts of point of view
"I marveled at how the mundane activities that life demanded still needed to be done, even while the worst was happening."
Still Me
***** / 5 Stars - It was Amazing
Quick Summary: We follow Louisa as she's moved to New York to become an assistant to a couple & finds her footing at being away from everyone she loves back home in England & finding out who she really is & what she wants in life.
So I loved the first book - adored the movie - & then totally hated the 2nd book. Felt like it didn't connect & didnt really have the same spirit of Louisa Clark that the first book had. This one? TOTALLY makes up for that 2nd book mess. This one totally screams Louisa & her sweet personality of caring for others - all the while in the Big Apple making a new life for herself as she LIVES BOLDLY... (I just choked up a little hearing Will's voice). I truly adored this book & loved all the new characters we meet - I now need a dog named Dean Martin - & really loved seeing old characters we love. Its funny, sweet, heart tugging, full of relationship drama, & so much love in so many ways. I really am glad this book happened.
Read if you loved Me Before You & rooted so much for Louisa Clark
"I thought about how you're shaped so much by the people who surround you, & how careful you have to be in choosing them for this exact reason, & then I thought, despite all that, in the end maybe you have to lose them all in order to truly find yourself"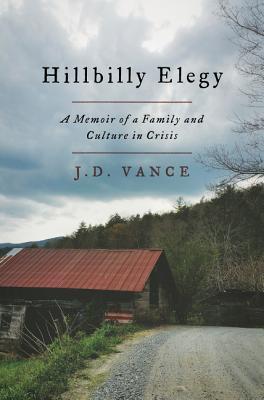 Hillbilly Elegy: A Memoir of a Family & Culture in Crisis
2 Stars / Its OK
Quick Summary: The story of a man who grew up in Kentucky & how he saw his family & his community.
I keep seeing the reviews of this & people saying they get now why Trump was elected. I'm reading it the whole time like, "What are people seeing that I'm not seeing?"... I just didnt get it like an earth moving book like others. Mainly because I honestly saw my own family in this book. Reading stories of Mamaw & Papaw, it literally sounded like my own Mamaw & Papaw. There's even a line where Mamaw used the GD word talking about how much she believed in Jesus - which, honest to goodness - my own grandmother did herself. LOL ... So reading this, it may have felt shocking to some people, but it just felt like someone in my own family probably wrote this book. Seriously -I looked it up to see if it was someone in my family.
Read if you apparently are shocked at Kentucky upbringing... don't if you've lived it & know what its like.
"There is nothing lower than the poor stealing from the poor. It's hard enough as it is. We sure as hell don't need to make it even harder on each other"