Well, it's something when you go into the weekend one age & come out of it another.
It was my birthday!
& usually, getting older is something that I'm like "ho-hum" about because, who likes getting older?
Me - that's who.
After this past year loosing so many people that we love, I see the value of each & every birthday. I'll not complain about getting older at all. ... now, I may complain about the aches & pains of getting older, but not about "leveling up" to another age.
HELLO 47!!!! Nice to meet you... glad to make it!
... its fun because I started taking a picture of myself on my birthday ... which I love having. This is my 3rd year doing it - & wont it be fun to look back, say over 10 or 20 years of pics?
2017 Birthday
2016 Birthday
I had started it with Harvey Dent so I kind of like keeping him the constant in the pics.... sorry to my other dogs. (I actually do have some other pics holding different dogs too) :)
I kicked off birthday weekend by getting my eyes checked & seeing that I am indeed getting older. My reading vision has gotten SO MUCH WORSE. Good times.
But I was anxious to try contacts. I just am tired of putting glasses on & off ... & bifocals. I just can't y'all. I just cant adjust to them for anything. So they tried me in a pair of bifocal contacts. Who knew those existed.
The eye people were trying to talk me step by step about putting them in since it was the first time I've ever tried it.... but I was like, ZIP, BOOM, BAM! I picked it right up, put in my eye & blinked & there they were. They couldnt believe I hadn't done it before. I told them it was all the years of growing up with my best friend who had contacts. I used to watch her every morning put them in & I just knew I'd not have any issues with that. Touch an eye ball? No problem.
Now, granted, getting them out was another issue. & the weird thing, I could get my left eye out. BAM, BOOM, ZIP! ... right eye? I kept saying, "Are you sure its in there????" - I couldnt get it out for the life of me.
All that work & I couldnt see. Well, I could, but everything looked fuzzy & hazy... so they said the bifocals ones wouldnt work. So they kept trying me in different pairs.... & nothing just worked.
I just couldnt ever see clearly out of my left eye - which has an astigmatism in it - but not strong enough for a special contact, but enough to deter me from contacts. Of course it does.... geez.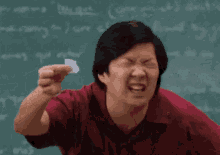 At least I tried.
& ordered some bifocals. HAHA.... with my vision insurance, it only cost me $55 so I'll give it a try. But $100 bet says I'll be back in Dollar Store readers in a month.
Saturday, I should have done so much. My laundry pile is at a level that is scary. SCARY I tell ya. I havent done laundry nearly since my surgery. We have gates to keep Bruno from falling down steps & I have a hard time stepping over them since the surgery. So the pile keeps growing... & growing... & yeah, its terrifying.
But instead, I said, FORGET THAT LAUNDRY PILE - & I ended up having a lazy day of puzzle solving on a new puzzle I'm working on ... & Ricky & I made a trip to Home Depot to try & find new blinds. That's what I wanted for my birthday. New wood blinds for my living room & kitchen. & Ricky wont ever turn down a Home Depot trip.
Sunday - my birthday! YAHOO
& do you know, it's so funny because I woke straight up at 4:44.... I just laughed. I said, "Thanks dad for wishing me a Happy Birthday".... I know that's why I woke up. Even more a funny thing - I told Ricky about that later & he said, "Do you know I looked at my watch the exact same time & thought, "Hey Tom"... Yeah, Ricky was already up at 4:44 & was walking around the house. He gets up usually around 4am. CRAZY, huh? ... but even more made me think my daddy was near on my birthday.
Since it was my pick on where to eat for the day, I said, Let's do breakfast... & you know where we were headed.
SO DANG GOOD!
& we hit it right at the right time because we walked in & got a seat & it wasn't 10 minutes later, there was a HUGE wait. Good birthday timing!!!
& good lighting sitting by the window
After we left there & Ricky let me choose where to go... so you KNOW I'm picking somewhere that has yarn or needles. Do you know I didnt even up buying any yarn, but did get some needles... & ended up buying myself a pillow for my living room. It kinda calls my name, doesnt it?
& then we went to Target where I got to use my gift cards for some jeans & some Christmas stuff that was 70% ... so I ended up buying so much stuff... & didnt have to spend a dime. That's shopping I can dig!
We even bought a new Christmas tree. One Ricky has been wanting since he saw it at the beginning of the season. But it was $400 & we're not about to pay $400.... but the lights are super cool on it & they just had the display left so we snagged it up. That was fun to drive with a put together tree in the back of the truck.
We also stopped to pick up a birthday treat... which made me a little sad. My daddy always was famous for making me a birthday cake or pie or anything sweet. It tugged my heart that this birthday would be missing that love from him. .... so Ricky made sure I had a sweet treat.
Ricky got me this candle too - he said he was going to get 29 & figured this worked just as good :) Good man
& then of course, you have to stop at Starbucks on your birthday!!!!
It was so funny because they wrote HAPPY BIRTHDAY on my cup so when they called my name, the barista YELLED,
HAPPY BIRTHDAY REBECCA
! & everyone turned & looked. It was so cute. Made me smile big smiles.
When we got home, Ricky gave me one of my most special birthday gifts ever....
He had gotten me a new Large Print Bible. I love my Life Application Bible but with my eyes getting so bad, I have trouble reading the small print. So I got a Large Print bible & love it, but miss the Life Application Study part ....so Ricky ordered me this Large Print Life Application one. It's MASSIVE.... all that large print adds up I guess.
Look at how big it is - over 2.5 inches wide... & its so heavy. A pure upper body workout in itself. Get yourself in shape PHYSICALLY & SPIRITUALLY with this baby!!!
But the most special part of it... he had it engraved. Isn't that so precious?
I had to laugh though because he has always called me his Sweet Young Wife ... I told him, I guess a birthday present for 47 years old, you just kinda HAVE to take out the "young", huh?
But this will definitely be something that I treasure for years. & love Ricky is the one who gave it to me.
& we survived. That seems to be the theme of the year, doesnt it?
Speaking of which.... I'm praying 2019 holds a new theme. One that isn't full of such loss & pain & sadness & heartache & stress.... everything I'm so over with 2018. I need more than "survived"....
So sending positive thoughts & hopes & prayers for myself...as well as all of you for 2019!!!
HAPPY NEW YEAR TO EVERYONE!!!!!