I dont think I have ever wanted or needed or looked forward to a weekend more in my life than this past weekend.
It was a tough week last week going back to work & it has just exhausted me..... so that was my plan for the weekend - SLEEP. Rest. Recover.
Anyone know if anesthesia can stick with you for nearly 2 weeks? I will say, I'm super sensitive to medicines anyways so it wouldn't surprise me - but it honestly is like I'm drugged still. I sit down for 10 minutes & I'm asleep.
Saturday, I literally slept for 10 hours... & then took 3 naps in the day. True story. It's like I can't sleep enough.
So this was basically my view all day Saturday....
Alternating between reading & knitting... knitting & reading.... & a catch up on Grey's Anatomy.... what an exciting Saturday. Actually, it was pure perfection to me. I'm actually kinda sad it's over & counting down to next Saturday.
.... except next Saturday, I'll be setting my alarm for 4am so I can watch the Royal Wedding - YAHOOO!!! But I plan on a few naps Saturday afternoon.
The surprise of my day though was when I had a text from my sweet friend Chasity where she & Ryan & my Grand Buddies dropped me off a Mother's Day gift. How precious is that? They just touch my heart in such a special way.
Sunday, I made myself get up & get back to church. I've missed my MSM girls so much & so glad to see their sweet faces.
They actually made me laugh so hard, it literally hurt. They were asking me about things & I was telling them how great Ricky had been during all of this chaos & how marriage is a challenge at times & you want to make sure you pick a good husband to stand by you in sickness & health & in good times &bad..... & one of the girls looked at me with the most serious face & said, "I can't even get a guy to text me back".... I literally laughed about that all day long. Middle school hearts - how precious are they?
A card a MSM'er wrote for his mom for Mother's Day & left it behind
.... how stinkin' cute is this? I love middle schoolers
I got home after church just in time to.... you guessed it.... take another 10 minute nap. Geez, am I Rip Van Winkle at this point? I think its possible.
But then I went over to see my Momma for Mother's Day. I'm telling you - my whole family is just falling apart at this point. My poor mom had to go to the ER this past Thursday because of blood pressure issues & they said she's had a mild stroke.... but sent her home with no sort of reference & a blood pressure that was still in the 220's.... makes sense? Yeah, in today's medical guidelines, anything goes.
& yeah, for the record, me, my brother, my dad & now my mom have all been in the hospital within the past 30 days.
WHAT IS HAPPENING???????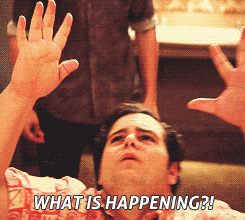 But mom is still not feeling great. Still in so much pain & still struggling with her face being paralyzed & her sight recovering.
So I just enjoyed sitting on the front porch with my momma just chatting the afternoon away.
Got some more rows in sitting & chatting
I hope everyone had a wonderful mother's day.... however you MOM. & yes, I used MOM has a verb. I think that works. I know people MOM in so many different ways - I know I have in the past years & I know others do it as well - with their own birth children, their adopted children, their blended family's children, for fur children, for children that aren't even their own but they invest in.... lots of ways to MOM. I hope you were celebrated or you even celebrated yourself. TREAT YO SELF! I actually bought a brownie from a bakery on the way home from church to do just that for myself. & it was the best brownie I've ever had.
What did you do for Mother's Day?
Do you love naps on the weekend?
You going to watch the Royal Wedding next weekend?