Yahoo... the first one of the year & I get to join in.
I was slacking the last few months of 2017 & really want to get my goal of 40 books in for 2018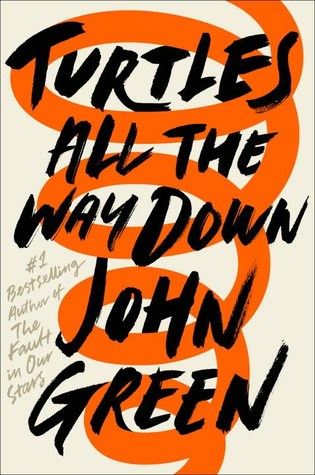 Turtles All the Way Down
by
John Green
My rating:
3 of 5 stars
Quick Summary: A look at a high school student's struggle with mental health struggles
I love me some John Green & was excited about his new book.
I have weird feelings about this book though. I enjoyed it & I thought he did his main character Aza total justice in her struggle with mental health struggles. I mean, it was really really done well. As someone who has issues with germaphobe & a need to google every symptom & hone & hark & get myself riled up over the unknown, I appreciated seeing Aza & how her mind worked in her struggles.
But when someone asked me what the story was about, I couldnt really sum it up well. That's the issue I guess for me - I'm not really sure what the overall plot of the book was. I know we followed along with Aza & her friendships & her relationship with an old friend & the little mystery of finding his father who had gone missing... but that never really felt like the MAIN story. I dont know. Maybe just me.
I did enjoy it - wasn't in awe of the story, but if you are a John Green fan, I think you can't miss this book.
"True terror isn't being scared; its not having the choice on the matter"
The Heir by Kiera Cass
*** / 3 stars
Quick Summary: King Maxon & Queen America's daughter is now starting a Selection of her own.
Started into the 4th book of The Selection Series - which this book is totally starting a different story line in the series.
This one follows the daughter of Maxon & America... Eadlyn.
I have to say, this was my least favorite of the series. Eadlyn just isn't as likable a character as her parents. & the story line wasn't as gripping... but it was nice to get back into the world of these characters.
Good to know that you can totally read the first 3 & not have to read these last two... but if you love the world they live in, you'll want to finish out the series.
& other side note - this one leaves on a continued story line like the first 3 did - so if you read this, you'll have to finish up with the 5th book.
"I couldn't help but notice it was always this way. At state events or important dinners, Mom was beside Dad or situated right behind him. But when they were just husband & wife - not king & queen - he followed her."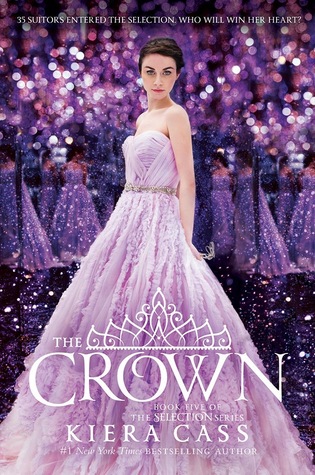 The Crown by Kiera Cass
***1/2 / 3.5 stars
Quick Summary: Eadlyn has to learn to what becoming Queen looks like in the middle of deciding if she's going to make a choice in her Selection
So yeah... just following with the end of the review above - you have to finish this book to see how it all gets wrapped up.
& on a good note, this one is better than the 4th book. Eadlyn is a little bit more likable (A little) but I did like learning more about the guys in her Selection - they are the ones who saved the story for me. & I really enjoyed how the story ended. So in the end, I'm glad I finished up the entire Series & know if Happily Ever After really did exist for this royal family.
"Maybe its not the first kisses that are supposed to be special. Maybe it's the last ones."
__________________________
What are you favorite books this month?
Any books that you are looking forward to reading in 2018?