I left work yesterday & drove to our local pharmacy that specializes in compounding special prescriptions.
No, the prescription isn't for me. It's Sydney's medicine. The medicine they gave us the day they told us that she had bone cancer.
I was nervous picking up this prescription.
See, they told us when we got the diagnoses that the time left for Sydney usually averages around 3 months.
This bottle that I picked up at the drive thru window at the pharmacy is the 3rd bottle we've bought. We're going into 3 months.
I opened it up & saw 30 pills sitting down the tube. Took 1 out & mixed it up in peanut butter, along with a Prevacid to help with the stomach irritation this pill causes, & I saw 29 pills left.
It almost feels like a count down on a life now.
I looked down at our girl, who is still doing fairly well.
Yes, she has her moments. She is walking much better. Even chasing after Harvey & reminding him that though she is old, she is still the ruler of the dogs around the house. They all know that. We'll have to go & calm her down so she doesn't jerk too hard trying to 'run' after him. We have to be so protective of her fragile bones.
She does have issues with breathing, but it seems to come only at night. She has always suffered from allergies & we're going into Spring & yeah, our area just recently got noted as being the WORST place for allergies in all of the United States.
Yeah... we're winners... (insert MAJOR sarcasm)
I think she's especially hot with her thick winter coat. But we also can't take her to a groomer. No way is it possible for her to stand up for a long period of time while someone grooms her. I told Ricky we need to take our sheers & just cut off what we can on her. Who cares what she looks like if it cools her down.
It's so strange though because as soon as I get up for the morning to get ready for work, Sydney instantly breaths better & calms down & sleeps like a newborn baby. I'm not sure if she feels like we're taking care of her, so in return, at night while we're sleeping, she's going to take care of us.
Took this this morning as I was getting dressed
... her night time shift is over...
There's still life left in this old girl.
Just yesterday, I took her out front when Ricky stopped at the end of the drive way to get our mail. She sat at attention & watched every move he made, & as soon as his truck came up the drive, she took off to greet her dad.
Yes - life still left in her...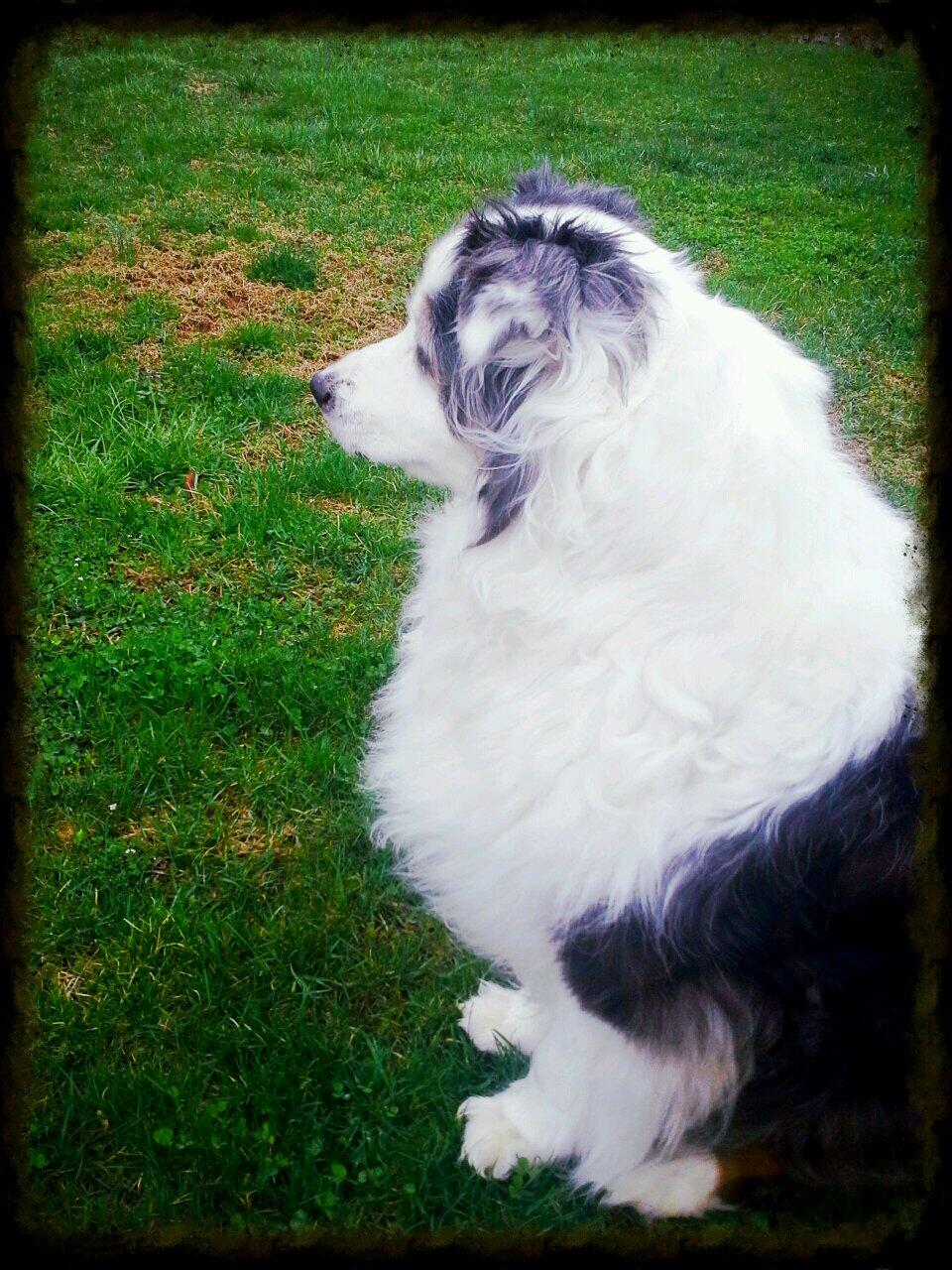 just waiting for her daddy to make the drive up
A lot of love still left in her...
Ricky still says we don't know 100% its cancer. Maybe those x-rays are wrong. Maybe its just a 13.5 yr old dog who has arthritis... they can't know for sure unless they did a biopsy. & even though they said they've seen enough of it to know, they still could only tell us they were 90% certain. That's not 100%
What I'm saying is, we're just trying to focus on the good. That maybe there is a 10% chance they're wrong. That there is a life there that still loves us & wants to protect us & wants to spend all her time with us.
We'll focus on that instead of the 29 pills left in that bottle...
& we'll take the next 29 days & we will love on this baby...
& hopefully continue on for another 29 days... then another... then another...