So yeah... who cares so much about the weekend when you have a PUPPY!!!!!
Yep... we got a new puppy.
I'm sure you're already sick of pictures of our little guy on Instagram & Facebook. #sorrynotsorry is my motto right now. I just cant handle the cuteness & feel like the world needs to see it as well.
We actually got the little guy on Thursday.
We saw an ad in the paper on Wednesday & we've been looking for Australian shepherd puppies for the longest time. Except most of them have been miniatures or the distance has been too far for us to get there in time before they all sold out.... & then we see this ad in the paper & find out its like 10 minutes away from us. Even more, they text us a picture of the puppies they had available & we were in love from the get go.... in love with all of them actually.
I came home on Thursday from work & Ricky was like, "let's go"... he was really determined.
I know Ricky has been grieving for his friend Ernie so much this past month & I think a puppy would bring a new sense of joy in his life, so we piled in our car & headed down to see these puppies.
OH MY GOSH... we got out of the car & a beautiful aussie ran to our car & I was like, "I'll take him"... & found out it was the puppies daddy.
& then in ran 4 little bundles of fur. I have never seen anything so cute in my whole life.
& then Ricky said, "pick one"... he might as well said, find a needle in the haystack .... it's not ever possible for me to pick a favorite dog. I wanted them all. Seriously. I would have taken all 4 if we had the money.
We did try to get another one if the guy would have given us a deal.... but he's not fool. He knows those puppies were going to sell quick.
We narrowed it down to 2 dogs & I couldnt make up my mind... so I do what I do best. Started crying. haha. I told Ricky, pick one, I'm good with whatever & ran to the car. Told him to just walk out with one & that will be it....
... & then he walked out with one & I was like THAT ONE? haha... I will always second guess every decision. I felt so bad for the other one & then wasnt sure this was the one we needed in our family ... but we drove about a mile & stopped & I reached over & grabbed it & he kissed my nose & I was like, OK - he is my boy.
We walked in the house & I knew the welcome was going to be 'iffy'.... first of all, Zoe has been through this before & she's usually good about other dogs coming in. Bruno? He's always been the stickler - but with him fully blind now, I'm still not sure he knows what's going on & what that new scent is. He hasn't growled, snipped or barked one time at the puppy. Harvey.... he was the one I knew was going to be a little difficult about it. He's one spoiled dog.
First time walking in the house
... & actually, that was why we wanted to get another puppy. He's getting a little too settled into being the only one who gets our attention like he does & playing & he needs a friend. He needs to have someone to run with & play with & to chase in the yard.
You could tell he wasn't thrilled.... Harvey is VERRRYYYY protective of his mommy & daddy.
Look at that side eye
& he's jealous of any new toys or chew things. I had stopped & got a few puppy toys & Harvey was having none of it. He was taking all the tiny ropes & chew toys & taking them into his own corner of the world. The puppy didnt care... he just wanted to chase Harvey.
So yeah... we have a new puppy....
Then came the feat of giving him a name. Oh man... the struggle is real.
First I have to pick a puppy - & NOW I have to pick a name?!?!? OHHHHH Man!!!
We first thought we were going to stick with the super hero kind of name... I was really settled on Rocket because he does look just like the raccoon on Guardians of the Galaxy....
But we never felt fully confidence on any name...
& then on Friday, I got a text from Ricky that said,
"I'm still thinking about calling him something after Ernie".
.. Ricky's friend that passed away just a month before....
& then - get this... this is crazy.... our friends had asked our Grandbuddy Emerson what we should name the puppy. They took the picture they had of it & showed her - & didnt say anything else except it was a boy & asked what Nanny & Pappy should name this dog.... & she said
"Ernie".
..
STOP... JUST STOP...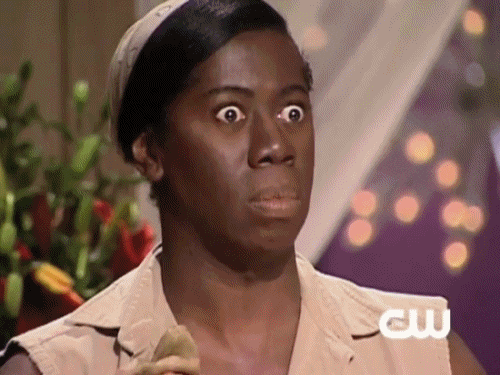 How stupid crazy is that?
The funny thing is, Emerson always says she talked with Grandma Stephanie... who passed away in 2007... & she's so serious about it too. This girl really does seem like she has a connection to a spiritual realm.
They asked her why she said Ernie & she said,
"Its a MAGICAL name".
..
They actually sent us a video of her saying this so I forwarded it to Ricky... who messaged me back & said, "We have our name".... yes, indeed, we do.
I always give our dogs a middle name & was having a hard time coming up with something that went with Ernie... & then it just hit me because our neighbors had an Ernie a few years ago... we LOVED that dog. A big yellow lab. Ricky was even skeptical of calling Ernie that because he was afraid it would hurt someone's feelings.... so I said, we could name him Junior in HONOR of the neighbors dog - the second Ernie of dogs in the area.... & plus, with it being a tribute to Ricky's friend, Junior feels even more appropriate. & also, it was my grandfather's name so it has a personal meaning on top of all the other fantastic reasons...
so yeah... Ernie Junior Vincent... born on 10/07/17... came into our life on 11/30/17
Our lives just opened up to a whole new world... full of potty pads & training on sitting & staying & loving that fuzzy face & praying for so many healthy years together....