This week I am Thankful For:
(The numbers are for my One Thousand Gifts Journal... in other words, just ignore them)
350 /
Quiet office days.
I love those days when I come in & get in my corner (I really do work in a corner) & its just quiet. No phone calls. No one asking for anything. No one needing anything. Just a day to be in my space & go home. My favorite kind of days.
353 /
Bruno barking at night waking me up
. OK. This one sounds like something I shouldnt be thankful for & in all honesty, when its 2 am & I hear the barking, 'gratitude' isn't the first thing that pops in my head. But my poor little old man has a hard time getting in & out, so when he barks to wake us up, I'm going to be thankful he knows not to potty in the floor but to yell for yelp.
354 /
My sweet friends Joe & Erica had a SON last Thursday
. I'm so excited for them adding to their family. I hate their so far away. I need to kiss that little face of his. Welcome to the world Harrison.
355 /
Tax Refund bought our groceries.
It felt like I was on that game show where you run through the grocery store buying anything you want. YES - give me the $6.00 jar of salsa!! haha ... (we really did get a $6.00 jar of salsa)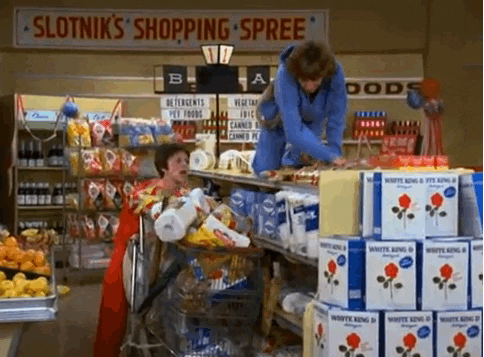 358 /
Got my race outfit together.
It's funny the people you meet through this inter-wide-web thing. But a few years ago, through a neuropathy board, I met someone else who was running with pin-jabbing-stinging feet & we hit it off & stayed connected through the years. Bless her. She made the decals & sent me this sparkle skirt & let me know I should run the race as Belle ... because DUH! (The back of my shirt actually has a Belle silhouette on it too) ... I'm so thankful for the kindess of people & that my outfit looks on FLEEK! :) (Did I use that right? I'm old)
360 /
KT Tape
. It really is making a difference in my knee.
Who would think this would make such a difference - but it does
361 /
Facebook yard sale pages
. We sold something easily & in a day on there Saturday. Makes me want to list tons of stuff. Though Ricky told me no one wants my 150 VHS exercise tapes, so we took them down to Goodwill. No joke. I had about 150 VHS workout tapes that I have gathered through the years & used all the way back in the 90's. If there was a Buns of anything - I had it.
362 /
Our 1st actual day in small groups in youth ministry at our new church
. I loved hearing what young girls have on their mind. The stresses are NOT what they used to be.
363 /
Doing life with my
JOY
group
. I just love this group of ladies. We are doing a Bible Study but most of the time, we end up talking about how to handle life as Christian women, more than studying the Greek of a word in the Bible. That's just how I like it. Hearing others opinions & knowing you have support in other women. It's been such a blessing.
364 /
30% off Old Navy
. I stopped to get a new pair of pants for the race Saturday & found out their workout stuff was 30% off. If I'd paid attention while shopping instead of knowing at the check out, I probably would have bought more.
365 /
Credit Card company catching fraud
. Stupid thieves. Stupid stupid thieves. Glad the credit card company is on top of their game.
366 /
My Choosing Joy mug is being replaced
. So I got my beautiful mug in the mail & found out the handle was cracked. I was kinda bummed because these ain't cheap. Like $17.50 for a mug with shipping & I'm cheap - so I was sad. But I contacted the place I purchased & they didn't even question anything - just sent me a confirmation they were sending out another one. Isn't that great?
367 /
ANOTHER baby born this week
. One of our
JOY
ladies just had her daughter on Monday. Which means another one of our
JOY
ladies had a grand daughter & another
JOY
lady has a new niece. (Got all that?) I can't wait to add another baby on our floor for our Life/God time together. Welcome to the world Sophia!
368 /
Harvey snuggles
. I love a snuggly dog. I especially love a BIG snuggly dog.
369 /
Reading outside in the evening
. Told you, I'll have this on a lot. I love this cool weather where its not BLAZING hot or humid yet. Just the perfect way to watch the sun go down & breath in some good crisp air.
370 /
Got Ricky a dentist appt quickly
. Its hard to find a dentist that is open after work hours but we got Ricky in with his broken tooth at ImmediaDent at 6:30pm & it worked out perfectly for him. AND... get this... I'm still fuming ... they want to do 3 crowns & a bridge - ALL FOR LESS than what my 2 crowns cost me at my dentist in January. ARE YOU FREAKING KIDDING ME? ... if I ever thought I was not ever going back to that dentist before? That totally confirmed it. I was robbed.
So what are you Thankful For this week?