I'm still in shock that this is Thanksgiving week. I knew it was ... but it really hit me this weekend that it REALLY is. I am legit sitting here at my computer on Sunday night & just now thinking, I should get my stuff to make pumpkin pie. ... & I HATE going to the grocery during Thanksgiving week. Gives me flashbacks of working in the grocery store as a cashier in my teens. (though I did love that job - so much fun!) Talk about non stop scanning. Its been a few DECADES & I still remember it.
Anyways - hope everyone else is better prepared than I am! Get those stretchy pants ready!
EXHAUSTED
I had a long week this past week. Covering for someone who was on vacation put a double work load on me & Friday was a LOT. Like, when I walked out the door, it was like someone hit me with an EXHAUSTION stick because I just wanted to get home & crawl in bed. I picked up dinner & we ate early, watched the latest Survivor (what a great episode this week!!!) & I knocked out SUPER early.
SUNRISE
Going to bed early, I was up before the sun on Saturday. It was so crazy because my eyes just like POPPED open & I was WIDE AWAKE. Like, why cant that happen Monday - Friday during work days. I felt so rested & recharged & ready to go. Made me a cup of coffee & sat on my chaise lounger & watched the sun rise.
DECORATIONS BEGIN
My house has now been Christmas-fied. Or as good as its going to get. We have so many more decorations that we used to put up, but a few years back, I parred it down so much. I used to pull out like 10 totes - so many boxes - so much going on. Now, I can basically have everything I'm putting up in a few hours. Well, I say a few hours but its probably a half day - which is still tiring. But I made a call to just take it easy - I knew I had all weekend to do it, so just a few things here & there. Put up the nativity - stop & read a few chapters in a book. Set up my coffee bar - time to make a new coffee & watch a movie. THIS is how I decorate now.
I finally got everything done on my tree by Sunday afternoon & now, LET HER GLOW!!!!! Love the extra light. Honestly, this tree holds my sanity together with it being so dark so early. That extra bit of warmth in the house just wraps around my heart & gives it a little hug.
RIBBON BITES
I was so excited I found a new ribbon I wanted to put on my tree this year. It has sparkly green dots all over it & I thought it would be perfect on my tree. Tell me how mad I was when I pulled out this wired ribbon & its like tissue paper!!!!! I had to read the label again to see if I bought ribbon that isn't "wired" - it indeed says it is but the wire in it must be the most relaxed wire I've ever seen in my life. This doesnt hold a shape or a curl - its so bad. I had to work with it to even get it to do the little curls above by holding it behind branches & just hope it looked ok. I've dared Ricky & the dogs to even breath on this ribbon lest it change. FYI - dont ever get ribbon from Sam's Club. ... I could have sworn I got ribbon there before & it was good. Maybe its this design? I dont know... I've taken the rest of it & tossed in the "Tote of the Forgotten" - the place where old broken ornaments & old dusty decorations go..... I feel like there's a Disney Pixar Holiday movie I just thought of.
WRONG SEASON
We ran down to Target to pick up a few things & I was so giddy happy to see the coffee creamer I love. I only like this Natural Bliss & the Chobani coffee creamers. I hadnt seen Pumpkin all year long in the Natural Bliss - to find it on sale even - I am so stoked! Everyone else moving on from Pumpkin to Peppermint - which I am NOT a fan of in my coffee (gag!) I got 2 bottles so that'll last me 2-3 weeks anyways - trying to stretch it out through Christmas.
WORST COFFEE EVER
On our way home, Ricky wanted to pick up a coffee to have to heat up for the morning. I thought, good idea, I'll get an iced coffee for me to take to work too. OMGGGGGG .... I dont know what was happening at Starbucks but it wasn't good. First of all, there was one car in front of us & that was it. Me & one car. It took like 10 minutes before I finally said, "are they open?".... right when I heard the speaker ask the car in front of us what they wanted. We finally got up to place our order & it was like the woman had no idea was I was talking about. I have my order memorized to a tee.... "Venti vanilla iced coffee with extra cream, light ice"... She had me so turned around with questions, I was like, umm... coffee, iced, half & half, no ice, yes, no, cream, coffee, iced but no ice" - Literally, Ricky was like, What just happened there? ... & when she handed it to me, I knew INSTANTLY, this is not going to be good.
I thought, you know - its going to be OK. I just got my good creamer - I'll add to it in the morning & it'll be just delightful.....
... & then I took a drink.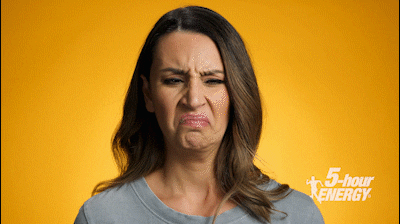 This is exactly what my face looked like. I have no idea what she put in it but it tasted like a bunch of sweet and low, artificial sweetener sort of taste. I'm gagging again thinking about it.
There was $5.00 down the drain.

COFFEE FOLLOWUP
I dont know if you saw on my Friday Favorites I think 2 weeks ago, the coffee sleeves that come in a 3 pack on Amazon that look similar to the Java Sok brand - but I said they are thinner. Can I let you know that I think I love these MORE than the Java Sok covers. I love the handle on them & I actually like that its thinner to sit on my desk - or fit in my cup holder. & the large in this one actually fits a VENTI (pictured below) where the Java Sok only comes up a little bit more than half way. I'm super excited these now!!!
Right HERE is the link for these ... a 3 pack for under $10.00
SMALL SCREEN
I totally spaced that The Crown started & what a pleasant surprise! I saw it around 9pm on Saturday night. Do you know I stayed up past midnight watching the 4 episodes that are out.... & oh my Candle in the Wind heart hurt so badly. I dont know why Princess Diana's life & death just is something that I am enamored with, but it sure is. I dont want to say anything if you havent seen it yet - I mean, yeahhh - we know how it ends - but the way they portray it, I was just in tears. & I had to keep reminding myself this is fiction - but so much of this makes you wonder how much of it is true.
It also just hurts my heart watching this knowing that the Queen is no longer here. It just really makes the whole show feel so different to me. I wish they would just take it all the way up to her passing - make it a full circle series.
How was your weekend?
Are you all prepared for Thanksgiving cooking/baking?
What's your favorite coffee creamer?
Do you watch The Crown?