If you are a reader & a blogger, you know the 2nd Tuesday of every month is all about books.
I love this day in the month. I seriously keep my Goodreads account open on a tab so I can go & add books that some of my favorite bloggers recommend. THE BEST BOOK DAY!
Thanks ladies for starting this link up 2 years ago... HAPPY ANNIVERSARY TO YOU!!
So how did my past month go? Not as good as my previous month - but still got in 3 books - I won't complain. I had a wedding in there after all - always keeps me busy.
Here's my reads for the past few weeks.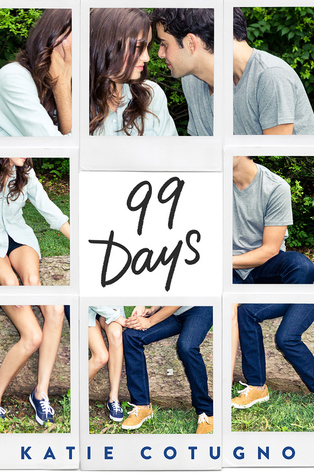 99 Days by Katie Cotungo
3 out of 5 starts
The book legit counts down the amount of time that Molly leaves to go to college after returning to her home town where she's sort of an outcast after having a 'fling' with one brother while dating the other. Town drama.
I'm always up for a good playful love story - especially a love triangle. & this was the cheesiest of love triangles. It was an easy, light read but Molly just started to get on my nerves on her indecision between the brothers that she started to dive into new relationships with on her return back to town. It wasn't enough for me to hate the book, but it did aggravate me. But then the ending? It was so unresolved. It didn't make me feel like anything had been answered or completed especially after the back & forth of these brothers & all these relationships. I closed the book totally aggravated at that point & just let down. I did give it 3 out of 5 though just because it did keep me engaged the whole book. If books with no 'real ending' doesn't bother you, go for it.
The Girl on the Train by Paula Hawkins
3 out of 5
FINALLY! This book was all over blog world & everywhere else for awhile & I never got around to it. I just need a movie to come out to inspire me to read it. Always love to read before I see. Which I didn't make the movie this weekend... gotta try& get it in next weekend!!!
A missing girl - a drunk woman who thinks she saw something - ex husbands married to his mistress - husband accused of missing wife's disppearance. All so DRAMATIC. I couldnt wait to see how it all it was going to come together.
Except I kind of figured it out pretty early on. Dont ask me how I knew. Maybe because the movie trailer stuck out in my mind & I think that helped a lot.
I did enjoy the book. But I have to say, the main character, Rachel, with her drunken ways - I just wanted to punch her. She got on my nerves with her antics & her drinking & her scheming & making up lies to get into situations that didn't involve her. Honestly, if she were my friend, we'd have to have a Come to Jesus moment or we couldnt be friends anymore. Mercy... that woman.
If it wasn't wanting to know how it all came together, I would have given up on the book - she bothered me that much. But luckily there was a mystery to solve. & while I figured it out, it was still holding me in to see exactly how it would play out.
& in the end, I didn't mind the book. It wasn't horrible. It wasn't amazing. But glad I read it.
Anxious to see how much of the movie is like the book now.
The A to Z of You & Me by James Hannah
2 out of 5 stars
I should have known this was just going to be a heart wrench from the beginning when we see the main character in a Hospice unit.
His nurse gives him something to occupy his time by thinking of a body part that starts with every letter of the alphabet & then think of a memory with that body part.
& every memory is just torture. Either the way he's treated his body with drugs & alcohol even though he's a diabetic, or a memory of a girlfriend that we know early on that isn't around anymore herself. How she passes away is a big part of the book that you have to read to find out.
So this was just a bunch of death. Uplifting, huh?
The one thing that really got me in this book was all the jumping time. You would be in present time in Hospice in one paragraph & then it was like it would jump & you weren't sure how far back you were.
There weren't very many characters I liked in this book. Except for the Hospice Nurse & the young daughter of a patient across the hall from Ivo, the main character. I did like Mia (the girlfriend) - but you already knew her fate. Ivo's friends? If we all had friends like that - we'd be in trouble. Just a hot mess of characters really.
& the ending? I had more questions than ever before. I didn't understand how you keep a person out of Hospice the whole book can slide in with no explanation. & how a book is centered around a hatred for someone the entire time & then forgiveness happens without any big explanation. I get forgiveness... I love forgiveness ... but not when in a book, its not explained. It was like, "I'm dying right now so I'll forgive"... dumb. Just dumb finish to me.
I shut this book just depressed. I saw it in Target with my niece who was picking out a book for her birthday. I told her if I ever caught her reading that book, I'd slap her. Aunt love right there.
If you ever want to read something to just sink into a little despair - this is the book for you.
______________________
Needless to say, this wasn't the best month in books for me.
A bunch of aggravation, frustrating & despair.... sometimes, that's how it all works.
Right now, I'm reading a love story centered around a girl who finds out she's royalty - a MUCH lighter read. My brain, heart & soul needs some cheesy princess romance.
What are you reading right now?