Counting down....
2 more days & then I'm on vacation!!!!
& of course, this is how I'm feeling...
... but it only takes a hot second & my emotions go to this...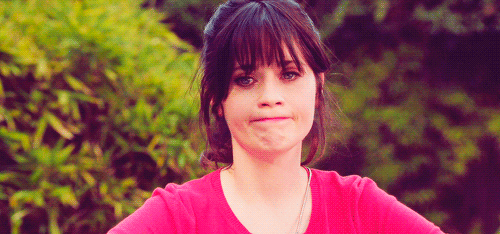 Why?
Because this isn't going to be like my normal vacation. I'm going to be taking this one solo.
Now, for the past 21 years, Ricky & I have taken off the week of our anniversary for our vacation. It's a given. Something we have done since I became a Mrs. The end of October, you'll find us looking forward to those glorious 5 days away from work.
But this year, Ricky had to take time off to have a hernia surgery using up all his time.
So no vacation for him.
I guess I should look at it in a grateful way by knowing that in 20 years, neither one of us has had to use our vacation for anything serious that has popped up in life. That's one way to look at it.
... but I feel a little lost.
What do I do?
Of course, I fully intend to sleep in. That's a given. Duh!
& of course, I'll spend some time catching up on some DVR shows I've got going on...
& maybe finish up Gilmore Girls
& I could clean out my closets. This is a good time to make that change from summer clothes to winter clothes, even though its near 90 degrees today (WHAT IS HAPPENING???)
& I do like to be alone when I'm trying on a hundred different pieces of clothing that makes me rethink joining a nudist colony.
Let me correct that - THINK about it - not RETHINK. It's not something I have thought about before.
& maybe I'll go for a manicure & pedicure.
Fun fact - I've never had a pedicure in my life. Don't know why. Just never have had one in my life. My twin nieces even get them regularly. Like, they started getting them before double digits in the age category. I'm 44 & never had one. How has that happen?
& every vacation, we usually go to the Outlet mall so I can get a new pair of running shoes. Maybe I'll drive out there & pick out a pair anyways
... on my own...
I'm so bummed out.
I'm even more bummed out that Ricky doesn't get off. He works so hard & deserves some time off.
& I'm especially bummed that next Friday is our 21st wedding anniversary...
& we won't get to be together the whole day like we've always done.
Cue the sad eyes again.
maybe I can make a picnic & take down to Ricky's work for lunch.
What else do I have to do?
Any fun ideas to do for myself for a solo vacation?