It's back...
It's that time of year again. The time where I chuck out all rational thought & ignore all the aches & pains in my body & try to act like I'm a real athlete.
Training for another half marathon begins. My 8th to be exact.
I'm just a glutton for punishment I guess. I mean, I have trained every year - except the first, which I had no idea how long 13.1 miles actually was & thought, it can't be that bad... & nearly died...
But every year since, I have trained. And ended up hurt or injured.
To be fair, I get hurt and/or injured just going to the grocery or walking across a room, so at least I'm trying to do something productive.
16 weeks from this week, I'll be standing at yet another half marathon line. Hopefully. Fingers crossed. God willing.
& in between now & 16 weeks, I have a few races I'm already signed up for. The Triple Crown of Running & a few other little virtual races.
Let's just say, my schedule is now based around my running schedule. I so wish I could say I'm joking about that. I literally have the next 16 weeks planned out... something every day except Friday - which is my rest day, to get ready for the long runs on Saturday.
& this years goal? I'm really wanting to add in Yoga every Sunday. A way to loosen out the kinks to start a new week. This will be hard for me.
1. I'm not a fan of yoga.
&2. My Sundays are usually busy & it'll be odd times I can sneak it in. We'll see how it goes.
I do have to say - I am looking forward to getting back on track for a plan. I actually haven't REALLY worked out since the end of October. I was on vacation, then it was our anniversary & then it was getting close to the Thanksgiving & I had another vacation & then December with Christmas & my birthday, not to mention I had a head cold for nearly 3 weeks in December - forget it... all work outs were out the door.
So what that means to me as I start back this week? I'm probably going to feel like I'm going to die.
This will be so accurate, I'm actually nervous
I know how easy it is to loose stamina & I have just felt like a slug anyways lately.
It's going back to square one for me basically this time around.
Maybe it will teach me to keep active all year round & not let this get out of control again.
I need to sign up for a fall half marathon as well. Something ahead to always keep me in check.
I do have some resolutions this year for my health though, that again, I'm really looking forward to incorporating during my training.
1. Get in bed by 10pm.
I'm horrible at not sleeping. & I'm always dragging & feeling horrible. I'd love to get in bed even earlier but my goal is to be in bed by 10. I have to get up at 5 so that's still only 7 hours. & even if I'm not tired, I have to be IN bed - even if I go in bed & watch TV. But lights out - not gadgets - no knitting. Blankets tucked all around in bed by 10.
2. More Vegan meals.
I've been vegetarian now for so many years, I'm loosing count. Love it - will never go back. But after watching so many documentaries & seeing what plant based diets can do for you, I'm so intrigued about veganism. So my goal is to do at least 2 recipes a week from a vegan cookbook. I'd love to do 3 but I know life is already busy enough. Maybe if I can enough under my belt, 3 will just be natural to do a week. I'm starting out with 2 though. & Ricky is all for it too which makes me so happy.
3. More Yoga
Like I mentioned - we'll see how that goes. I know this stiff, tight, injured, beat up body needs it.
4. Toning the muscles.
I'm going to be using the Hammer & Chisel workouts for my cross training days. When I did that program, i was up to using 10 & 12 lbs weights. Now? Lifting a comb makes my arms tired. It's going to be a new beginning of ache in that area too - but I want that muscle tone back again. I'll be doing that on Tuesday & Thursdays.
5. Water!!!
I've slacked off so bad about drinking water during the holidays too. I've just been drinking tea & coffee. Dehydration city. I'm back on the water train. Bought myself a new Tervis personalized to give me incentive to drink more water & carry it with me everywhere.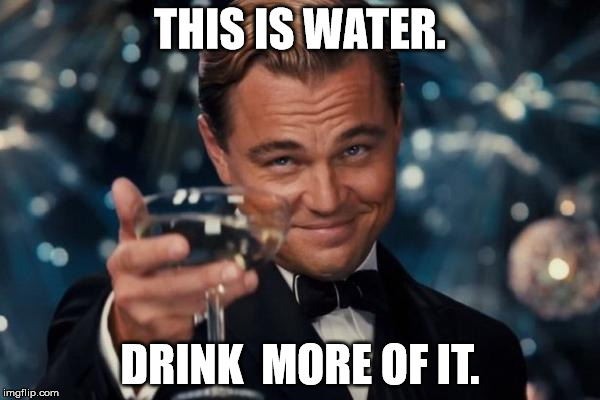 6. Just keep at it - no matter what.
I know I'm 45 & that means I'm going to have injuries. Heck, I'm STARTING this training with injuries. Of course, my knees are still hurting - always have, always will. My shoulder is already in pain from knitting & swinging the arm running always makes it 1000% worse - I'm having weird leg issues & a few other kinks & this is before the first long run. Geez.... but I want to just keep going.
I've said before - I've got no plans to ever win anything - an age category, any race - I just want to finish. If that means somewhere along the line, this 'running' schedule turns to a walking schedule - I'm OK with that. I'll still do 13.1 miles - whatever it takes to cross the finish line - whatever it takes to get through 16 weeks of training & becoming healthier & stronger. I'm all about adjustments for MY body. You do you. I'll do me. I'm ok with that. I'm not competing against anyone out there. I'm slow. I'm ok with that. You pass me up in your training & I'll clap for you as you go by.
I just want to keep truckin' along. That's my main goal.
In the end, I do this to have a goal & a purpose to feel the best I can feel... feel a little accomplishment along the way... & fight this aging thing the best way I can.
Here we go!!! Fingers crossed!
Linking up with my buddy
Nadine
to cheer each other one as we get BACK ON TRACK!!!