It happened... it actually happened!!!
I SAW THE SUN!!!!
IT STILL EXISTS!!!!
Y'all... I was starting to worry about that being a truth. Over 12 days of gloom & gray.
Even Friday, it was gloomy. No inauguration puns there either. It was just blah....
I ended up going to the grocery after work & heading home & sat up waiting to see Melania's dress for the inauguration balls.
& she didn't disappoint.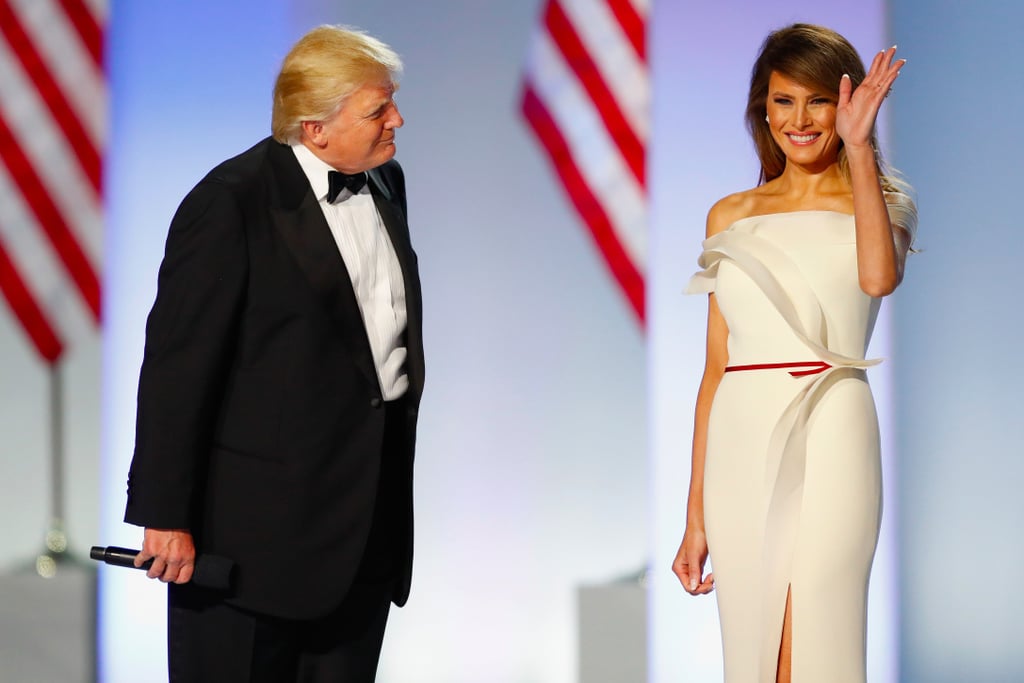 Say what you want about our new President, but our First Lady is just gorgeous.
I thought she looked beautiful at the inauguration as well in that baby blue outfit. Very classic.
But after I saw her dress, & I finished knitting up a hat, I called it a day.
& then woke up on Saturday to a glimpse of a bright yellow thing in the sky. I was actually shocked because they said the sun wasn't going to come out. We were expecting another cloudy day, but I think God did it especially for me. Gave some breaks in the clouds. THANK YOU LORD!!!
Can you see it - the sun shining on my computer from the morning? Isn't it glorious?
I ended up getting caught up in watching
Enchanted
... totally in my top five favorite Disney movies ... & then knew I had to get out & enjoy the weather.
It was a long run day & I love when I can actually do my long runs outside & not on the treadmill. & it was a perfect day to hit the pavement. The park was full of people enjoying the weather - lots of families out - lots of dog walking happening. The sun kept popping out. & it was a perfectly warm day. A day in the 60's. In January. THANK YOU AGAIN LORD
One bad thing.... I drove home from the park & my car has started doing something really weird. It's doing a quick JERK thing -mainly when I'm going up a hill or up any kind of incline. I was scared to death I wasn't even going to make it home.
Ricky drove it around to see what was happening & he wasn't sure - just told me to keep my AAA card near when I drive. GRREEAAAATTTT... so I'm just waiting to break down now. That's always fun stuff. Sigh.
I did get home though just in time to clean up & head to a friend's college graduation party. COLLEGE. GRADUATION. I just can't y'all. I just can't. When you know kids since they were itty bitty - & she was in my Jr. High class & I've watched her grow up through high school... & now graduate college. WHERE DOES THE TIME GO!??!?!? ... & yes, I'm full of screams today.
She has always just been the most amazing artist. I am a proud owner of some things she has drawn for me over the years. Yes, mostly Beauty & the Beast art - is there any other kind to have? Me thinks not.
It was just so nice to see some of her artwork hanging around the house. Drawing talent just amazes me. I do good to do a stick figure... that remotely resembles a stick figure & not a scribble jumble mess.
We drove my car around some more to see if it was still having problems... & yep, still doing it.
Good to know.
I got home in time to wash my hair & snuggle in for the night watching
Titanic
. I honestly dont know the pull over that movie on me - I just HAVE to watch it. & I have to get emotional every time I watch it. It just blows my mind how many people died on that boat. So sad. Real life stories are always the most emotional to me.
Sunday, we got up & had to drive separately since I had bible study after church... so fingers crossed the whole drive. Made it. Success.
It was so cool in our youth lesson because we were supposed to let our small group come up with rules - sort of a 'challenge' for our group to follow for the rest of the year.
This picture below is all the rules the other groups came up with as well.. I loved reading what everyone else came up with for their own groups. It's so obvious the girls rules compared to the boys rules. Most of the girls papers had flowers & hearts & pretty pictures drawn on theirs. #girlsvsboys
My girls came up with 3 rules.
1.
Think of others over yourself.
I love that is something they suggested in a world where it seems that SELF is the biggest thing going anymore.
2.
Be Honest.
They wanted to know they could share anything they wanted & not put on any false faces there. I totally agree.
3.
Talk to each other outside of class.
They really have a heart to really want to connect with each other outside of the few minutes we get in church every week. I love that about this group of girls. I love they want to hang out together, they want fun things to do, they want to have friendships that span just Sunday.
I just love these girls so much.
& then I got to leave that group of girls I love so much & then go see my other groups of girls I love. Time for the Joy Sisters Bible Study.
We finally - FINALLLLYYYYYYY - finished our book we were reading. We just took our time getting through it & with schedules & dates needing to be rescheduled, it just happened that it nearly took a year to get through one book. Totally OK - but kinda comical it took so long. I'm excited to start a new study with them & we've actually bumped up the meeting to every other week instead of every 3 weeks. I'll always be happy to spend more time with these amazing women.
Stopped for some Topp't on the way home for Ricky & I... cant go a weekend without Starbucks and/or Topp't... its just a weekend tradition now apparently.
& then time to make out bills - blah - & then get ready for another week ahead. A week that is supposed to be cloudy & gloomy & gray again. Oh well... at least I got a glimpse of the sun & soaked in as much Vitamin D as I could. Hopefully it will be enough to last me until I see it again. Fingers crossed its not another 12 days.
Did you enjoy warm sunny weather?