& since I didnt get to join in last month, there's an longer post.
More books means more to love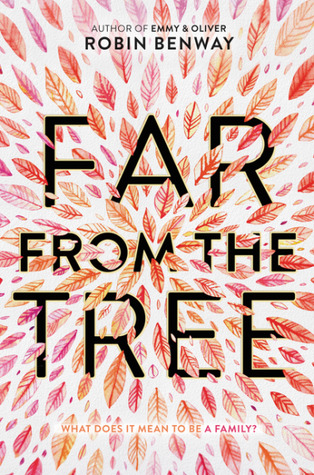 Far From the Tree
**** / 4 stars - Really liked it
Quick Summary: 3 adopted siblings come together in their teenager years to try & learn a little more about their past
I saw this one going around & it was available in the library so I picked it up. It's a super fast read & switches POV between the 3 siblings that each have very different lives & where they each ended up.
I enjoyed the bond the siblings forged with one another & where their hunt for their past leads them. It felt like it was wrapped up with a bow & I felt like it was a complete ending.
Read if you enjoy stories about adoption or siblings or a story from different views that all come together in the end. Young Adult Novel
"

Dont you get it? That's what happens when you love someone! They're brave when you can't be! I can be brave -- for you, for both of us!"
The Last To Let Go
*** / 3 stars
Quick Summary: A mother murders her husband after years of abuse & the kids have to adjust to life without their parents.
This was a easy, but difficult book to read. The subject was tough, but it was easy to fall into the stories of the kids lives & see how they were adjusting to a mother who was in prison for killing a father that they grew up watching being abusive to them all their whole lives. We follow the middle daughter, Brooke, mainly through the year & see how she grows as she's changed schools & finds a little more about herself. Obviously, this has some emotional tugs in it, but it was a surprising fast read to be 366 pages long.
Read if you enjoy stories of people surviving life situations & finding out more about who they truly are inside. Triggers if abuse stories bother you
.
"You are born alone. You die alone. The value of the space in between is trust & love"
One of Us is Lying
**** / 4 Stars - Really Liked It
Quick Summary: 5 kids go into detention together & 1 dies. What happened in that room?
I really got swept up in this one & devoured it in 2 days. The mystery of it held my attention, watching each of the characters evolve really made me root for each of them & I just really appreciated seeing how everyone handled their truth come to light they were trying so hard to hide. Lesson there for everyone really. But I was just anxious to see how it was all going to end.
I had some surprises in the book that made me gasp, I wasn't 100% on the mystery of it & I really liked how it all ended, so this was a really good win for me.
I'm always someone who likes different POV as well & this would switch between the 4 surviving Detention kids. & in my mind, I totally pegged this as a Breakfast Club meets Riverdale meets Dateline Mystery. I'm glad I was able to get this fast at the library
Read if you enjoy mystery, loved The Breakfast Club or really love Riverdale.
"I guess we're almost friends now, or as friendly as you can get when you're not 100% sure the other person isn't framing you for murder"
Arrogant Devil
*** / 3 Stars - Liked It
Quick Summary: Meredith leaves her husband in the middle of the night & finds herself as a housekeeper on a ranch in Texas for the arrogant owner.
This is my 2nd R.S. Gray book & I enjoyed this one as well. I liked the first one a little better (The Belle & the Beau), just because I felt like this one could have dug a little deeper about the man Meredith was running from, but I'm taking it that this author is more about the sex appeal of characters instead of the depth of characters in a way. I did enjoy the characters of this book though & especially the grandmother, Edith. She makes me think of all things Texas & cowboy living.
This book came at the right time for me to just have a simple, easy, light read where I didnt have to really think too hard in digesting the story
Read if you like easy beach read & some blushy romance books, or if you enjoy all things sexy cowboys & Texas loving dreaming.
"There's something about a man capable of such strength choosing tenderness instead"
It Ends With Us
***** / 5 stars - It was amazing
Quick Summary: A girl opens her dream floral shop while meeting the a handsome neurosurgeon who sweeps her off her feet - only to discover a side of him she has seen before in her father & she sees a lot of her past come to life when she finds the boy she first fell in love with.
I am late to the game on this one - but so glad I made it at all. This book was so powerful & held me completely in the story of Lily & Ryle & Atlas. I didnt read what the book was actually about before I dove in & seeing the story discuss so well domestic abuse & the situations women can find themselves in.... it was all very powerful. I was so invested in the characters - rooting them on, telling them to find bravery, telling them to get help, rooting them on for happily ever afters - & not even sure how that looked for each character. I was hooked all the way through this book though. & really happy with the ending of it & even more moved reading the epilogue by the author on why she wrote it.
Read if you enjoy books about overcoming or stories of women empowerment or even stories on first loves. Steer clear if abuse is a trigger for you.
"Maybe love isn't something that comes full circle. It just ebbs & flows, in & out, just like the people in our lives"
100 Days of Real Food
**** / 4 stars Really Liked It
Quick Summary: name says it all
I've been following this ladies blog & Instagram page for awhile & always interested in her book - & its been on sale on Kindle for $1.99 for awhile so had to snag it up. It's TOTALLY worth $1.99!!!!
It's full of tips & tricks to change your eating over to a healthier REAL food diet, not full of processed junk. & its not a book for plant based eating - it involves a lot of meat. Actually, I dont think I can use any of the DINNER recipes unless I change them myself for my lifestyle.
But the book is FULL of great tips & tricks to help you in the journey to healthier eating - & I especially love the weekly challenges to help EASE you into this lifestyle.
What I didn't like about it could be why most women would like it - it just had a lot of sections dedicated to making these changes for your kids & getting kids involved. For me, that was mute so I just skimmed past it. But I think a lot of moms would appreciate this part of the book.
For $1.99 - you really can't beat it - especially for the dessert recipes!
Read if you enjoy someone's story on getting healthy & love good cookbooks
Making small changes towards a real-food diet is far greater than making none at all.
What book are you reading right now?
Linking up with Steph & Jana
Click pic to join in with all the other book lovers this month!