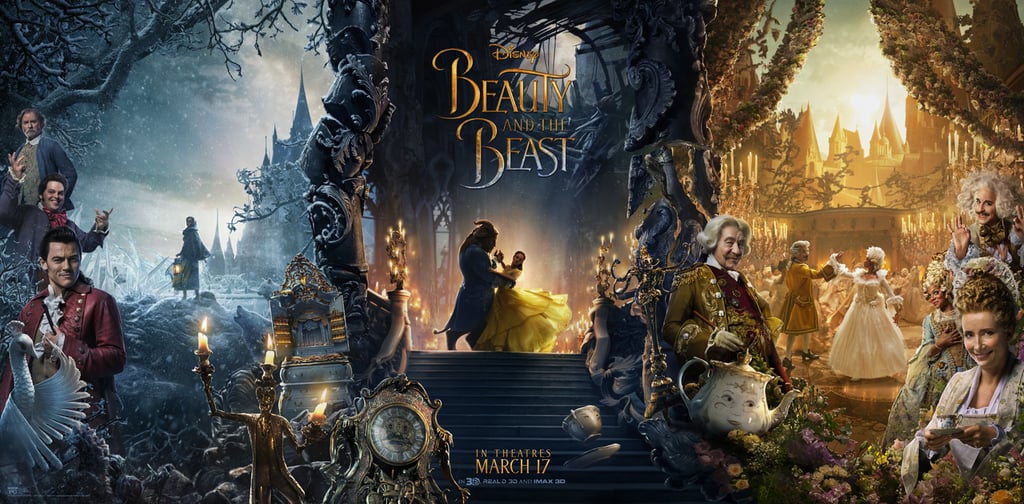 We all know, Beauty & the Beast is everything to me. I've talked about it many, many, manyyyy times on here before. So of course,when the movie that I've counted down 1,095 days (seriously) to see comes out, I'm going to have some thoughts about it. Obviously.
So to start off, I'll give warning ... I guess. I may say some things that are 'spoilers'? ... but I think its hard to have some spoilers when you already know the movie.
BUT - saying that, I do think there are some differences in this movie - so I guess you'd consider that spoilers.
Anyways - we'll say SPOILER ALERT just to be safe. & I'll mark them in
BOLD LETTERS
. If you haven't seen the movie & you want to take it all in surprise for surprise, then save this & come back at a later date. If you've seen it, or dont care to see it (Who are you & how are we friend?!?!? (kidding!!!)) then fell free to read on.
I gave it away in many a IG post, or Facebook post or even mentioning yesterday,
I ADORED the movie
.
I wasn't disappointed in the slightest. It was everything I was hoping it would be. Truly.
But of course, saying that & being a huge fan, there are some things that I really loved about the movie & some things that I was like, "Meh" on. Things I may have done differently or hoped for. There's nothing that would make me say anything bad about the movie though... know that. I dont hate any part of it that would make me say, "you may not want to see this movie"... it's just my fan heart speaking. SO I'm just going to let it all roll.
LOVED
- I so adored the beginning of the movie that explains the story. That they added just that little bit to show the Prince in his element, in his castle, as the Princely arrogant character. I think that gave such a good glimpse in his background. It threw me off that they changed the words to it, but they got in a lot more info in that little narration. & I just loved seeing it all come to life.
MEH
- Saying that - I wish that scene could have been a little longer - or even that we saw the other characters in their human form in action instead of little glimpses of them. I know we saw Madame Garderobe & Maestro Cadenza - but they're not the MAIN GANG. I wanted to see Cogsworth more than a hand with a watch in it & Lumiere than more than holding a candelabra. We totally didnt get enough of the real people even at the end. That was disappointing.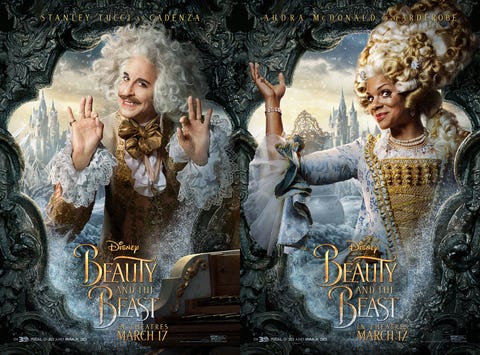 LOVED they were married... & the dog was theirs

MEH

- didnt really like the the Enchantress was like a 'light'. I wanted her to look more 'human'... I mean

(SPOILER!!!!!!!!!!!!!!!!!!!!!!!!!)

(DONT SAY I DIDNT WARN YOU)

..

...we see her again at the end in human form. Why couldnt we see her like that at the beginning? I get they didnt want to give away anything at the end, but she looked totally different from Agatha to the lady standing there smashing the glass dome at the end ... they totally could have made her look different even as the full on enchantress

LOVED

- The village scene at the beginning. I just adored it. Seeing it come to life was just as beautiful as I imagined. I have to say, I was keeping an eye out to see if Belle in this version was the only person in blue, as the cartoon version is - but she's not. There were some others in blue too... but she still totally stood out. ... gotta admit, I missed seeing lambs though too. I love she reads to the lambs & they eat a page in her book. Just sayin'
LOVED!!!!
- Forgotten people! I so loved that they explained how the people had their memory erased by the Enchantress to forget the Prince, the castle & the people there. That filled in a huge gap on why people wouldnt have been concerned their Prince was missing.
(SPOILER!!!! - kinda - mild spoiler)
& the scene at the beginning where Belle asks the village person if he forgotten something .... & then we see at the end who he is? I SO LOVED THAT!!!!
LOVED
- Belle teaching the girls to read! Love she has such a love of reading, she wanted all the girls to understand it as well since boys are the only ones in school.
LOVED
- Belle is the inventor of the story - not her dad. What a fun little twist with her being the one creating things, including the washing machine & her dad was more the artist type. I have to say, in the book
LOST IN A BOOK
that just came out, Maurice is a music box artist - which tied into this Maurice of the movie.
LOVED
- Belle's blue dress. I think it was just so smartly done. I loved her pantaloons underneath too. Just the cutest little touches all over that dress. I want to know if the little red strings on the top of the dress represented anything. I was all over looking at the details of this dress. I want one... & the sweater with the blue birds on it too!!!
She had the cutest little cardigan sweaters too!!!
LOVED
- The Enchanted Objects! I saw the pictures of the enchanted objects months ago & I was like, EWWW - I didnt think I would like them at all. I really didnt mind them in the movie. Seeing them in action made a world of difference. I could have handled maybe a different Mrs. Potts - I dont think she had a lot of personality, but Lumiere & Cogsworth & even Chip were spot on for me.
MEH
- I'm still not sure why they changed Babette to Plumette. I guess they needed her to be able to fly so changed her look to the bird instead of a plain feather duster... & its just nit-picking, but she's a main character to me. Babette is one of my favorite rare characters. My step daughter painted a picture of her for me because I think she's so cute. So I was disappinted this character got a full over make over - including name.
LOVED
- the Castle. The inside of it was so beautiful. The outside of it was gorgeous. The grounds of it - stunning. It was so perfectly done. Brought to life even better than I could imagine. The HUGE stone work & the amazing chandeliers & stair cases. It was so magical.
MEH
- Be Our Guest. I wasn't overly thrilled with one of the biggest scenes of the movie. I had heard it took them over 6 months to create that scene, but to me, it came across very quickly done. I didnt see anything special about it. It just looked 'cheap' to me where everything else looked so grand & put together. & I'm still not even sure about that scene with Mrs. Potts getting her inner Ester Williams going on or what? Nit-picking again, I know. The Broadway play even does it better.
LOVED
- Most of the background instrumental music when Belle is in the castle is the song that is played in the Broadway play called "Home" that Belle sings a solo too. I kept singing it every time they played it in the background.
LOVED
- Mrs Potts only had one cup, Chip. In the animated movie, I know everyone always wondered if all the other cups were her kids & why she only preferred Chip - but in this one, I love we see only her & Chip share a cupboard.
LOVED
- Wolf Attack Scene - we see another explanation that people get upset about when the Beast is hurt & they say, there's now way she could have lifted him on the back of the horse.
MEH
- Philippe. I just wish he was the same color as the animated movie. Phillipe is a huge character as well to me.. I get white is more regal & plays well but still... goes back to Plumette - messing with main characters to me.
MEH to LOVED
- I wasn't sure how I felt at first when I heard that the Beast could read in this one. I didnt like it when I first heard it. It's a huge part of how he & Belle fall in love - she reads to him - teaches him to read. But it makes sense that he had an 'expensive education' & has read a lot of books & very knowledgeable. & I ended up really not minding it because they connected on that reading level. Well done Disney changing my mind on this one.
LOVED
- LeFou. I just LOVED him. Josh Gad did the character so much justice. He was funny, added in some humor only like he could. & I loved the redemption he had by the end of the movie. I so enjoyed this character in the live action film.
As for the 'controversy'... can I say, I have NO IDEA what they were even talking about? I mean, I get there's like a 3 second blip of a scene in a dance, but I dont even think its what they called "A gay moment" - isnt what they said in the publicity stunt - because that's all it was, a publicity stunt. I heard that some country said Disney had to cut out the 4 minute scene with Lefou so they could show it - I dont even know what 4 minute scene it could be. Truly.
LOVED
- Lefou in The Mob Song. I love that Lefou is coming to realization that his buddy Gaston is a tad bit crazed & I love the line they added in the song as they are headed to kill the beast....
There's a beast running wild, there's no question
but I fear the wrong monster's unleashed
LOVED
- Gaston. I wasn't sure I was going to like the Gaston actor either. I just envisioned someone BIGGER - more muscular. But men, he really pulled off the smugness well.
LOVED
- Gaston (the song) - I love they added in a line that was originally going to be in the cartoon version but they thought it might be too much for little kids - about shooting a beast in the liver. Not very child appropriate I guess - but I'm glad it got included in this one.
MEH
-
the worst MEH to me in the entire movie.
OK... I'm going to preface here. The library scene to me is the most epic of all the scenes in Beauty & the Beast. He gives it to Belle to impress her - to win her over. In this movie, he's taking her in there to argue with her about Romeo & Juliet not being the best book there is when she is stunned about walking into a huge room full of books, & he's just like, "You like it? It's yours"... not any thought in it. It's such a gesture in the cartoon... something to make her happy. This is just like a "Whatever"... that hurt my heart more than anything in the movie.
MEH to LIKE to almost LOVE
That yellow dress. I've been very vocal since they released the picture of the yellow dress that I didnt like it. To me, its a ballroom scene. I wanted a ballroom gown. Something huge & elaborate - royal looking - fairy tale quality. This just looked too plain. Simple. Especially for this amazing gorgeous ballroom where even the Beast has an embroider jacket that is stunning.
.... but I will say, I did like the dress more in action. It flowed & floated better in the dance scene that I thought it would & it did win me over. It suited THIS Belle.
& probably what makes me say I could LOVE it is because it plays well in the following scenes where she's riding a horse & in the village with the crowds. In the original, when she leaves the castle, she switches back to the blue dress, so I can appreciate she stays in that dress & they needed something flexible. Believe me, I've had deep conversations over this dress. That I can say its not a total MEH now is huge progress.
LOVE
- The Beast singing voice. I wasn't sure what Dan Stevens was going to sound like. We had the sneak peek of Emma Watson singing but nothing from The Beast. I was so happy to hear his singing voice sounded just lovely.
I'll also add to this I loved the new songs in the show.
**FUN side note... this new song is called "Evermore"... in the new Beauty & the Beast book, Lost in a Book, Belle gets trapped in a story called Nevermore... I thought that was clever.
LOVED & MEH
- loved the backstory we got with Belle's momma - but then really disappointed that the story of the Beast's parents got really passed by. One little scene with him as a little boy & his dad rushing him away from his mom? Noooo - I need more!!! We learn that the dad is a huge butthead but I still would have loved to seen more. I'm just glad we got to learn more about Belle's momma
LOVED
- Rose rattle. I need to find one for every baby gift in the future.
MEH to LIKE to LOVE
- the CGI Beast face. At first, I wasn't too sure I was keen on the CGI face. It looked a little TOO animated to me. But then throughout the movie, I could really see where they used Dan Steven's expressions. If you watched Downton Abby, you would recognize them. It gave the Beast more 'life' to me - more realism (if you will) & then by the end, I didnt even see the CGI - I just saw The Beast as a real man.. you know what I mean.
SPOILER!!!!!!!!!!!!!!!!!!!!!!!!!!!!!!!
MEH - BIG TIME MEH.
She doesnt say I love you before the last pedal falls. WHAT THE WHAT? How does that work. That's the rules. That's the guidelines. That was not cool in the least. That's kind of the WHOLE FREAKING POINT OF THE ROSE!!!! I mean, why have a rose if the Enchantress can just change him & everyone else back at will? & while the scene where they all turn into the real objects (the scene with Mrs. Potts looking for Chip KILLLLLLED me) was so dramatic & totally heart wrenching - I get they did it for the emotional effect. BUT COME ON. It's not the point. "Until the last pedal falls" is like one of the MAIN STAPLES of the movie. Or is there an * that says, "Unless the Enchantress decides to change that?"... DUMB... DUMB DUMB...
& did Belle not see the Enchantress standing right there?
Blah... maybe I hate that part as much as I hate the library thing. Probably equally the most disappointing parts of the movie to me.
... maybe...
LOVE
- the final scene. oh my word. Belle's dress in the last scene - that was 100% better than the yellow dress to me. I didnt realize it watching it but apparently that was her wedding dress... which makes me swoon & want a vow renewal so I can wear this dress. Truly gorgeous. & I have to add, Emma Watson looked so naturally beautiful throughout the movie, especially with her little freckles. Adorable!
I loved that I just saw an interview with Emma Watson & they asked her what she thinks happened to Belle after she & Beast - who technically isn't a Beast when they got married??? - (
Add a MEH because we STILL didnt get a name in the movie!!!!
) anyways - what happened to Belle after they got married.
She said, "I see Belle opening up the library for the whole village to use & then Belle opens up her own school to teach everyone, including girls"...
Oh yes...
THAT'S A LOVE..
. a perfect happily ever after!!!
I'm sure I'm missing a lot of things that went through my mind... you can imagine I digested every bit of it... & still will. I want to go back for a 3rd... maybe a 4th time. After all, I did see the original 4 times in the theater.
& yes, I already have the soundtrack on loop in my car... & counting down for the DVD to come out with exclusive scenes!
The love of the story continues on.....
Tell me your favorite part ... or your biggest MEH