* I am just so sad over Barbara Bush's passing. I've always just really liked the Bush family. Especially her - she's always been the biggest supporter of her husband & her sons. I appreciate that. & she's always just seemed real to me. No holds bar kinda lady. & I just love her & George have been together all these years. He always seemed like he was the one in the worst health out of the two.... poor thing. I cant even imagine how heart broken he has to be.
* I'm sorry, I just dont get the whole Coachella thing. Is it just an excuse to dress like a hippy & make you act like you're in the 70's.... except there's Beyonce instead of Janice Joplin?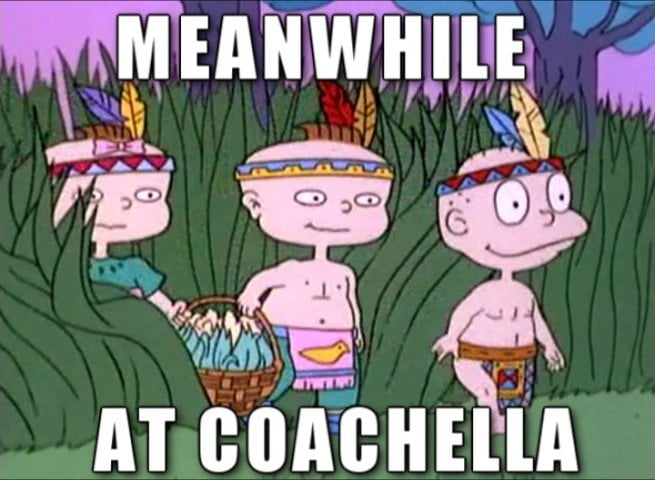 * & speaking of which, I don't get the whole Beyonce thing either. I mean, I get she's talented & has a great voice.... but I just dont get the QUEEN thing. Like she's the most amazing artist in the world & can do no wrong. I.just.dont.get.it!!!!!!!
*Cell phones & cell phone companies are a joke. Ricky went to see when our contract was up & they told him what I owe $1.25 on my phone & he owes around $200.00 on his. OK... first of all - he PAID in CASH for his phone when we signed the contract. What the heck? They've been charging him this whole time???? & if we got phones at the same time, why is mine apparently $1.25 due while his is $200? & every question we had about it, the guy in the store said, "I dont have access to that information". I never wanted to burn a place down so badly in my life.
* Anyone else watch the Boston Marathon? I didn't. Wanted to - have watched it every year but at my new job, I wasn't able to - but I was so excited when I heard who won & got to see the highlight reel of it all. GO USA! GO USA WOMEN!!!!! Watching this sort of thing makes me want to pull out my running shoes again & get some miles back under me. .... except running one miles basically FEELS like a marathon at this point.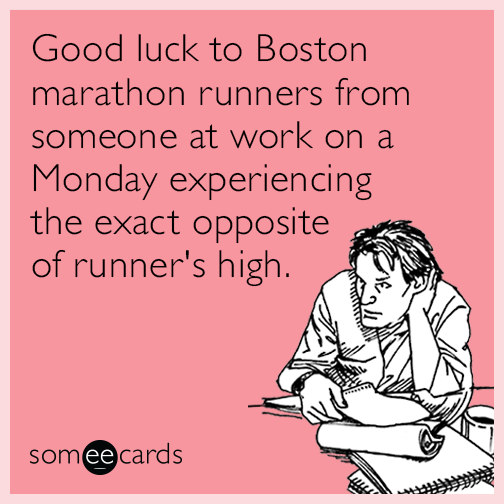 * It's still snowing here... in April.... I have no words.
* I hurt myself all the time & noticed every time i do something (paper cut, stump toes, bump into closed doors .... dont judge) I instantly say, OUCH. & then I thought, is that a natural reaction or who made the word OUCH the word to say when you hurt yourself? Like why wasn't it like KAPOW or BOOM-SHAKA-LAKA? ... I may try those out on my next injury - which I'm sure will happen very soon.
Or that one too!
* If you saw my Insta-story on Monday - you know I was just sick. I always have my security camera on, especially in the morning, at work so I can watch the dogs play & make sure they're safe & sound. Except on Monday, I sat there & watched Harvey Dent bring out my ugg boots & have a hay day with them - swinging them, tossing the, & then putting them on the ground & putting his head in & digging out the lining into the yard. I felt so utterly helpless - I had to turn it off & just say a sweet prayer of peace for my boots. Now, these boots have sat at the back door all winter long - I've used them to put on during the cold when we would have to take Bruno out in the frigid temps.... & now, when its Spring, Harvey says its over... no more boots. I guess he's about done with winter too.
What's on your mind you need to get out?