Click right
HERE
to join Joyce & all the other Hodgepodgers
1. Feb 2nd is Groundhog Day in the US of A. Tell us about one day you wouldn't mind living over again, and why you chose that day.
I have a few that instantly come to mind.... A day in Disney with Hubby is a great one for fun.
A gorgeous perfect temperature day of relaxing & reading outside is always nice. My wedding day.
But I instantly thought I would want to re-live the last day I spent with my daddy. I didnt know it was the last day. I would want to just hang onto that day & get to never let him go.
2. Something you know beyond a 'shadow of a doubt'?
Of course I am going to say the biggest thing that matters - JESUS LOVES YOU....
But I think of some other things that are a little more lighte hearted & fun... like,
Dogs are so good for the soul.
I hate goodbyes.
If I have a big event or appointment coming up, I'll get sick.
The books are always better than the movie.
My house will never stay clean longer than 30 minutes. (If I'm lucky)
3. Give us an example of history repeating itself in some way, in your own life or the lives of your children.
I'm at a total loss on this one....
I'll go with a fast thought & say my car. Its a mess inside. I get a new car & have every goal of keeping this car prestige clean. & here we are a year later & it looks like my car has anything you require in need of an emergency. A pair of clothes? A blanket? Barn boots? A container to hold 5 gallons of water? All in there! Oh... & of course at least a dozen face masks!
4. Snowed under, snow job, not a snowball's chance, snowbird, on thin ice, snug as a bug in a rug, tip of the iceberg, snowball effect, run hot and cold....choose a wintry idiom and tell us how it best applies to your life right now.
First of all - some of these, I've never heard of & am like, WHAT IN THE WORLD?
But 2 of them come to mind at first glance.
Snug as a bug in a rug is how I WANT to live my life. & working from home & all the social distancing, its basically how I spent all my weekends. I'm OK with that.
& the other is "Run hot & cold" -just because of the issue of trying to get propane for my mom's house. That was something that had me WAY hot under the collar... but cooled me off quick when I'd walk into her 30 degree home! BRRR!!!
5. Your favorite sign of spring?
SUNLIGHT!!!!! MORE SUNLIGHT!!!!!! It's what starts all the Spring glory of blooms & buds & WARMTH!
I'm waiting so anxiously!
6. Insert your own random thought here.


I was so mad last night. I had to run some stuff down to my mom at her rehab facility & I was starving so I figured I would stop at McDonalds & get me an Egg McMuffin (no Canadian bacon thankyouverymuch) & sat in line for 10 minutes.. only to get up to the speaker & they told me they no longer carry those all day long. WHAT??? When did that change? That was a big deal that they carried those & hash browns all day long.. I think a few other breakfast items. I was so mad. I know I just had one for lunch not too long ago. I pulled away... nothing else there I can eat. There's only so many fast food places you can eat at as a vegetarian anyways... I need notifications of these things people!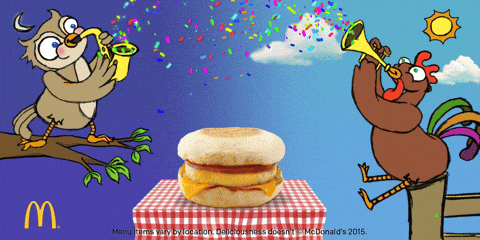 Sorry Night Owl... you are now out of luck