YESSSS - the 2nd Tuesday of the month!!!
While the US is all in a frenzy about voting... which everyone - GET OUT & VOTE if you haven't already - I think we need this distraction of books today. I know I do. I have no idea how this election is going to go. So I'll just sit back & fill up my Goodreads list today & wait for the final outcome of this wonderment we call the 2016 Elections.
Suddenly Royal
By Nicole Chase
3 out of 5
I came off of last month with a bunch of depressing, sad reads so I was excited to get to a little fun, romance & 'fairy tale' sort of book. Just an easy read. This didn't disappoint.
Samantha finds out she is actually a Duchess of a small country of Lilaria, her life gets turned upside down. Especially when she meets the Crown Prince of that country.
I really loved this book. Sort of predictable. No real issues in the story. I was expecting some sort of 'drama' to come up & cause problems with Samantha stepping into her role, or some sort of issue with her & Alex, the prince - but it was just really sort of an easy story. I didnt mind it. Maybe if I hadn't come off such a slump of books, I would have been more frustrated with that, but it was the perfect book for me at the perfect time.
If you want an easy read, a good romance, & a 'thoughtless' book where you dont have to put too much effort into reading & keeping up with characters, then this is a good one for you.
I found out afterwards this is a set of 3. I did buy the 2nd book, which focuses on the Prince's sister. Didn;t get around to it yet though.
Side note - anyone watch Jane the Virgin? I think the cover looks exactly like that girl!
See it? Or just me?
_____________________________
Luckiest Girl Alive
By Jessica Knoll
0 out of 5
I can't even. LITERALLY. CANT!
I almost bought this book in the bookstore because it was on clearance. THANK YOU LORD I didn't. I ended up getting it at the library & made it through about 20% & just couldnt do it any more.
I LOATHED the character of Ani. She was foul to me. In every sense of the word. I could care less to learn any more about her, to hear about her life, to know what her big 'mystery' was - she just disgusted me actually. I dont think I've ever read a book that the character made me so ... YUCK... that I was like, I'm not even going to try to read this book. Between the character & all the stupid name dropping of products & fashion & styles. I just couldn't.
I tried to look up some spoilers to see what the big dramatic reveal mystery was. Never found out, but read a lot of people who just basically felt the same way I did.
Someone wrote in the reviews "
Got to the halfway mark, realized I didn't really feel like reading about rich, white people problems. Therefore, DNF.
"
Yep... I wasn't alone.
______________________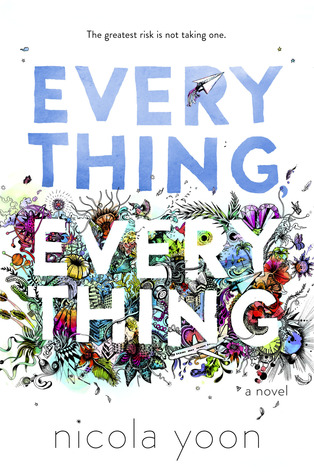 Everything, Everything
By Nicola Yoon
5 out of 5
I totally devoured this one.
It was another fast read for me. I think I liked it because the chapters were so short & some chapters were actually drawings or notes or random things that just made it fun.
The point of this book was the idea of what really living life looks like. Especially for Madeline who is a 'bubble girl' - someone with a compromised immune system that has to stay confined in her home with her mother & her home nurse. She plays games with her mom, studies & reads & just keeps to her own clean world.
... until she gets new neighbors next door & she watches through the window. Olly, a boy around her age moves in with his family & she's intrigued... as he is with her when he sees her through the window.
Their relationship is just so cute & sweet & then Madeline questions if its really living if she's stuck in this house & not taking a chance at seeing what it is on the outside of those walls... even if it costs her her life.
I just loved this book. Not sure what struck me so much about it, but I just really enjoyed it.
I want to read Nicola Yoon's new book now too to see if she is a one time shot for me or if I just like the way she thinks.
______________________________
This is Where It Ends
By Marieke Mijkamp
0 out of 5
Again - another Nope.
Except I did finish this one. Dont know why.
It just left me even more frustrated & angrier.
The idea of this book is a school shooting & its told from 4 different perspective with different relationship with the shoot, & its over a span of 54 minutes.
I thought this had great potential in our world where, sadly & amazingly, school shootings happen more often than they every should... it failed in so many ways for me.
First, I think there were too many characters. Not only do we have the 4 perspectives but with each of them, there were people & stories connected with them, making the cast SO HUGE in this. Hard to keep up with.
& second, I just felt like it wasn't written well. It didn't feel really in depth for me, especially on such a hard topic. It had such potential I think, but it just sort of fell flat to me.
How it all ends? Dont get me started. I just wanted to drop kick this book.
______________________________
31 Verses to Write on Your Heart
By Liz Curtis Higgs
5 out of 5
I have always been a fan of Liz Curtis Higgs... Shout out for a Louisville gal!!!!
But I love her writing & her personality which shines through her books.
This one is a little different than some of her others as this can be used as a devotional, which I've been doing.
She had asked for some of women's favorite scriptures & she took the top 31 that people sent & this is what the book is - a break down of the scriptures for every day.
& I love the way she breaks it down. It's not 'teachy' in the over-your-head way teaching scripture can be - but a way of breaking it down like you're sitting with your girlfriend & she's explaining to you in the simpliest of terms.
Liz urges you to memorize these scriptures too so you know they deeply & more personally as well.
I really do love this book & am glad to have it & learn from it.
Linking up with Steph & Jana today... click the button to join in or see what everyone else is reading!