.....sooooo..... I had a bad month of reading.
Like 1 book was done... & it was awful & I wanted to throw it against the wall - except it would be my Kindle & I love my Kindle. But in my mind, I totally threw an imaginary book against the wall.
You'll hear about it next month in my Show Us Your Books post... I'll just add it in to that. & hoping I get more than one more book read. Geez. Reading fail. I do go through stages, that's for sure.
So I thought I'd just take this time to highlight some of my all time favorite books....the ones that I will always recommend for someone to read.
After all, a good book never ages....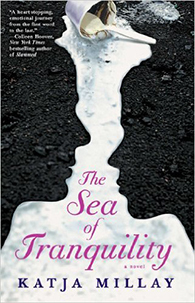 The Sea of Tranquility by Katja Millay
Quick Summary:
The Sea of Tranquility
is a rich, intense, and brilliantly imagined story about a lonely boy, an emotionally fragile girl, and the miracle of second chances.
I just loved Nastya & Drew & the relationship they had with one another. & I loved that this book still pops up in people's reviews which makes me glad its still getting attention. I felt like I was one of the last ones to get to it but I read it back in 2013. & almost feel like its time to read it again.
Mondays with my Old Pastor: Sometimes All We Need is a Reminder from Someone Who has Walked Before Us.
By Jose Luis Navajo
Quick Summary: A man goes to his elderly's pastor's house for reflection & inspiration & learns from watching how he accepts what life throws at him & his wife through the years.
This one was powerful... & moving... & was full of wisdom & thoughtfulness... & some tearful moments.
& I'm not even sure if this is a true story - I want to think it is... & even if its not, its still a good read for the soul. It's very much a story like "Tuesdays with Morrie"... which I enjoyed - but loved this one more.
When Heaven Weeps
By Ted Dekker
Quick Summary: A love story set back in WWII that is a story based off of the book of the Bible, Hosea that shows what true love & forgiveness can look like.
I read this when I was a teenager & it moved me like no book I think had ever moved me before - & that was before I even realized it was based off of the scripture in Hosea. I have recommend this book to so many youth girls on what its like to truly be loved & how forgiveness can look.
If you are a fan of Ted Dekker, you have had to read his Martyr Series, right? If not, this is my favorite out of the entire series.
They are pretty old books - published in 2005 - but always a great story.
Through the years, I've given away so many copies... I need to see if my shelf still has one & re-read it again & see if its as impactful now as an adult.
Beauty by Susan Wilson
Quick Summary: a modern retelling of Beauty & the Beast
So this is one of my first books I've ever picked up that was a re-telling of one of my favorite stories. I've been a Beauty & the Beast fan since ... forever... & just loved this story. This one stuck with me - maybe because the book itself was beautiful. It had slim pages - not like an ordinary book - the cover was rich in texture & I loved the art work... & funny, Susan Wilson is also the name of my cousin - not the same person - but I always remember this book because of that. I do remember being brought to tears in this book though & feeling it in my soul the heart ache it brought me. I really do need to dust this one off & re-read & see if its as impactful to me now that we are all swarmed with all the Beauty & the Beast retellings & remakes.
This one was published in 1996.
After River by Donna Milner
Quick Summary: A 35 yr old woman has to go home to see her dying mother & it brings back memories of when she was 15 & a Vietnam soldier shows up on their porch & changes the families lives forever.
I loved this book. I dont even know where I got it from or if anyone recommended it or if it ever was popular in any way... but I just loved the story of Natalie - a girl finding herself as she's becoming an adult in the 50's. It's really a book about love & family relationships, prejudice & intolerance & most of all the terrible alienation that can come from keeping secrets.
Under the Overpass: A Journey of Faith on the Streets of America
by Mike Yankoski
Quick Summary: An upper-middle class man decides to live as a homeless person for 5 months to experience firsthand the life to see exactly what homelessness looks like in America.
If anyone ever asks me for a book recommendation - I ALWAYS say this one first. I think this book is amazing. 10000% amazing. So eye opening & powerful & just well written. It's one of those book that when you close the last page, you are changed. You cant look at things the same again.
I will still recommend this one first.
So what is one book you ALWAYS will recommend?
Linking up with Steph & Jana
click the button below to join in or more books!