... I watched a half a day of the Dog Whisperer & still have no idea how he does the things he does. I try & take the techniques he uses on Ernie... Ernie just basically laughs & continues to get in tons of trouble. Cesar Millan is magical - I'm convinced of it.
... I still have yet to walk back into my grocery store since I've started using their Click List shopping. I honestly am saving anywhere from $40-$50 every grocery trip - so yeahhhh - I dont mind paying that $4.95 fee.
...I love Shaun White. He's just always reminded me of Ricky - especially when he had his crazy snowboarder hair. & his features, something about them, just remind me of Ricky's. So yeah, basically, I feel like my husband won the gold.
Doesnt this look like Ricky????
... speaking of Shawn White, I have watched ZERO amount of Olympics. WHAT??? I know. I just havent had time lately at night & when I do have time to sit down & watch TV, my DVR is so backed up, I'm trying to catch up on that. I mean, when I'm 5 episodes behind on Real Housewives of Beverly Hills, you KNOW I'm not watching TV.
... my kitchen floor is just out of control with all the rain. Do they sell Swiffer pads in bulk? & then times that x 5. & then sell the solution in gallon sizes.
Update - they indeed DO sell in bulk.
I just went to Sam's Club & bought 2 bottles of cleaner & 36 pads in bulk.
... I've got wrapped up in a show on Netflix called
Baby Ballroom
. It follows kids starting so young & all these teenage & preteen ballroom dancers in England. I never get enough of this stuff. It's so amazing to me how these families find these male dancers, usually from Russia or Romania, & have them come live in their homes to train with their daughters. SUCHHHHH a different world.
... I am convinced I'd be good at golf for some reason. Never played in my life - but I just always think I'd be good at it. Too much
Happy Gilmore
? Too much Putt-Putt? Maybe.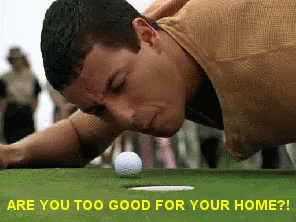 ... I dont know if its the weather, or if its hormones... or both - but my hair is basically like a brillo pad lately. There is just nothing that is working to soften it up. Its driving me nuts. I hate to even touch it right now.
... I was asked the other day why I always have a "dumb grin" on my face all the time.... hmmm... is that a compliment or an insult? Both? Ok then.
... did I just read that
Stranger Things
doesnt come back until
2019
? How are they going to do that? Kids growing in one year = 5 years in their appearance. Arent some of those kids already like 16 or 17 - or older? & how am I going to wait that long?
... FYI - our Christmas Tree is still up. I can't make this stuff up anymore.
What do you need to confess?