I saw these questions posted up on my incredible blog buddy's page yesterday - so thanks Audrey for the fun post & feel free to join along yourself.
* What was your first word?
I have no idea. It was probably Da-da... I need to ask my parents that one.
* Do you still talk to your first love?
Nope. I have no idea what even happened to him actually.
* What was your first alcoholic drink?
I actually have no idea. I never cared to drink & dont really remember what my first one was. I do remember trying a beer for the first time & nearly choked at how awful it was. One sip was all it took for me on that to never want one again. I just dont care for alcohol. I dont like the way it makes my head feel. I'm one of those people that are super-sensitive to things like alcohol or medicine, & I dont like the feeling of not being in control, so I'll skip it.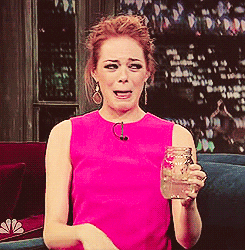 * What was your first job?
My first real job with a real paycheck was as a cashier in our local grocery store. I LOVED that job. I always grew up wanting to play on a cash register so I felt like it was a small dream come true. & I loved getting to talk to people & seeing the regulars that came in. I always say it was the best first job anyone can have. Learning people skills & working with money. Life long skills right there.
* What was your first pet?
Dolly - she was a miniature schnauzer. The best dog. So dumb - but so cute. She could bark to make it sound like she was saying HELLO.
* What was your first car?
A 1970-something Toyota Celica. Loved that car.
Not mine - but same color & everything
* Who was the first person to text you today?
My brother. GASP - WHAT?? ... but really, I text him first to ask him a question about dog food. He replied back.
* Who was the first person you thought of this morning?
Typically, its usually one of my dogs that goes through my mind ... & since SOME people may not call them 'people' - I'd say it is probably Ricky - since I'm wondering if he's taken the dogs out yet, or fed them yet or gave them treats yet. Our house is centered around the care of old dogs & puppies.
* Who was your 1st grade teacher?
Miss Clayton. LOVED her. Everything a first grade teacher should be. I always remember she was my only teacher that was a Miss & not a Mrs.
* Where did you go on your first airplane ride?
Oh Jesus - give me strength. I flew the first time of my life when I was 19 & went with my aunt to fly to Texas to visit another aunt. Basically on a crop duster. The smallest plane. I think I remember propellers. It was terrifying & horrifying & exactly why I hate flying now. My aunt still laughs because the first time we hit turbulence & fell (oh, a few couple of hundred feet) I screamed. I mean, can you blame me? How she thinks that is so funny is beyond me.
* Who was your first best friend & do you still talk?
We can go back to FIRST as in before even in school - her name was Tisha Sharp. She was my best friend on my street. I have tried to find her on Facebook to see where life took her & cant find her anywhere..... Then in kindergarten, I remember having friends & one of them, her name was Brecca - I always thought it was funny because it was like my name - she came to the funeral home when my grandmother died - totally shocked me!!! - & I had 2 different Julie's growing up as best friends that lived in my street as well. I do still talk to one Julie on Facebook & the other one, sadly, passed away in her 30's with cancer. We're not even to elementary or middle school yet ... I'll stop - but love having friends.
* Where was your first sleepover?
I'm sure it was my grand parents house. They had a soft foam mattress they'd put on the floor next to their bed I can remember sleeping on. As for friends, I'm sure it was one of those girl's names that I mentioned above that lived on my street. Not far to get home.
* What was your first concert event you went to?
My first REAL concert I went to was Bon Jovi,
Slippery When Wet
tour with Cinderella opening up. I can still remember how awesome it was with all the denim mini skirts & Aqua-Net sprayed hair. I think I still have the concert shirt stored somewhere too - that baby is probably worth money today.
* What was your first broken bone?
My fingers in my hand. My brother kicked my hand & broke all four fingers (not the thumb). MEAN BROTHER. Actually, we were blowing bubbles in the house & as I was swatting the bubbles, he was kicking them... collision. We werent supposed to be blowing bubbles in the house so as I lay screaming in pain with 4 broken fingers, my brother was begging me not to say anything because he didnt want to get in trouble for the bubbles. Kids. I was in first grade & can remember that as clear as day.
* What was your first piercing?
My ears. I got them pierced when I was 2 years old. Obviously, I dont remember it - but from what I heard, I didnt even blink - but my dad nearly passed out.
* What was the first foreign country you've gone to?
I guess it was Canada... or was it the United Kingdom? Whatever is the first one when you take a right in Epcot Center in the World Showcase.... OH PLEASE - this girl dont even own a passport & that's as foreign as I'll get!
* What was your first movie you remember seeing?
I can remember two being fairly young. 1.
Star Wars: Return of the Jedi
& 2.
Airplane
. I can remember laughing so hard with my mom that we got asked to "HUSH" from the movie workers.
* When was your first detention?
In your dreams... I never had detention a day in my life. I would just DIE if that ever happened.
* Who was your first roommate?
My best friend from 7th grade through high school - when we graduated, we got an apartment together... before I moved back home & didn't move out again till I was married.
* What was your first sport involved in?
I started in Kung-Fu fairly young, like elementary school young.
But I also played softball for a year in elementary school.... but didnt play longer than a year, not sure why. I ended up getting my black belt when I was 16 so that's the sport I stuck with.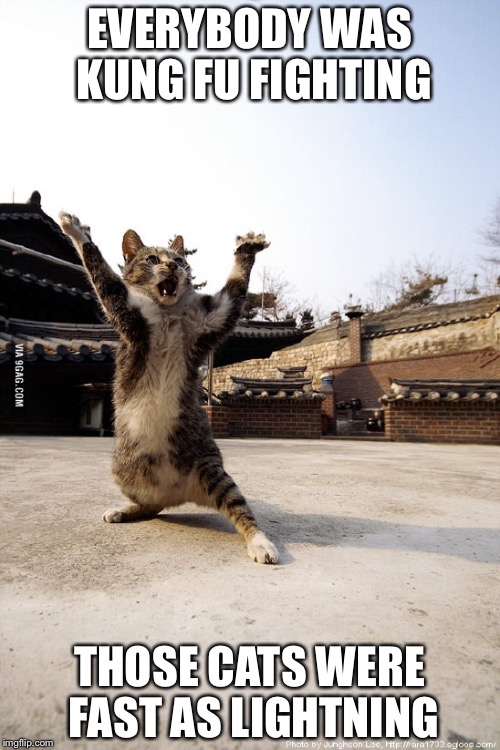 * What is the first thing you do when you get home?
Take Bruno outside. All the other dogs are good at going out potty, but when you're blind, you cant find the door to get outside - so that's always first priority.
This was fun! Thanks Audrey for the heads up on this fun post!