I was standing in the copy room last week when my manager came up to me & said, "I'm going to refresh my drink but when I get back, come in my office so we can do your 3 month evaluation"
I literally looked at her & said, "I think I'm going to be sick"....
She laughed at me & thought I was joking & walked away to get her hot tea refill.
I stood there & took deep breaths. & started praying.
First of all, I didn't know they did 3 month evaluations but I guess that makes sense. Nip it in the butt if you aren't doing things right or correctly.
Second, I hadn't even realized I'd been at my new job for 3 months now. Isn't that crazy?
It feels on one hand that I've been away from my other job forever. I guess when you see faces for 25 years straight, when you dont see them for a few months, it tends to feel like years have gone by.
But I'm also still getting used to downtown traffic & downtown lunches & parking garages & how to handle new situations that always pop up daily, so on other hand, it does still feel new & just a few months into the game.
I saw my manager walk into her office, give me the hand motion to come in & I sat down in the chair. I'm nothing but honest & told her once again I could get sick & I was a nervous wreck.
Basically my reaction sitting there a nervous wreck
She then realized I wasn't joking from my first comment. "Why? Why in the world would you be nervous?".... & then she handed me my evaluation that had sunshine marks all over it (how cute is that?) & the kindest words of encouragement & praise of a job well done so far.
I took the biggest sigh of relief.
But I told her, you never know if you're doing things right. You don't know if you're missing something because you dont know if there's something to miss.
She assured me that everything I was doing was correct & on the right track & she had big things in store for me... I walked out feeling very uplifted at my new beginning here & once again so thankful for the great people I work with.
& when I got back to my chair, it hit me.... I think that drop in the gut feeling... it all comes from being judged.
No one wants to stand in front of someone & get evaluated, not really. At least not me. Even when I feel like I do something good, I'm the type of person who just knows the other person is going to see something bad in it.
It's why photography has turned into such a stressor for me. I feel like I do good with photos or editing but live in such fear of disappointing a client. Being judged in how they see my vision of art in photography.
It's why I get nervous when someone comes to my home. They see my style of decorating, or my lack of cleaning or the way my kitchen is old & has cracked floors... & its the idea that someone is judging you.
I can sit & think of so many ways that I feel like people can judge you - for your clothes, your abilities, your age, your home, your spouse, your children, your car, your weight - let's not get started on social media....all of it - so dumb.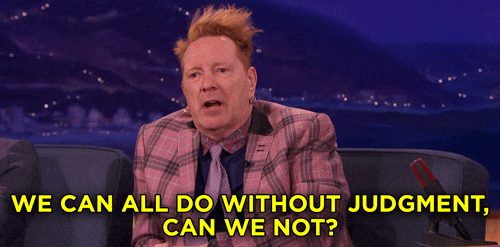 I should have walked in with confidence knowing I'm doing my best & being OK with that...
& because y'all know I'm a middle school youth leader, my mind is always going back to examples of how to make that teachable... & we see so much in the Bible that reminds us not to judge others. & that one day we will be judged for the life we lived... but as a Christian who believes in Jesus Christ, we can walk up in that judgement with confidence that He will stand in our place of the ultimate judgement.
Because y'all, we are NEVER going to be good enough.
There's always going to be things we're not great at - things we can always learn - things we are going to always mess up at. & it's OK to have someone tell you when you need to get better at something, or to correct you when you mess up, but I dont have to feel the burden so heavy.
It's just doing the best you can sometimes....
Such a comforting thought...
& all that from just a 3 month evaluation.
What happens at my 1 year evaluation? I'll have to walk in & say, "I'm bringing Jesus in with me here"... my manager would probably expect me to say that... but it'll be true.
God help all of us in that evaluation in November.