Did everyone survive the first five day work week of the year last week?
It made the weekend feel even more glorious, didn't it?
It's just so hard to get back into a routine of working a REAL 5 days & then only getting 2 days off.
Or in my case, a day & a half. Yep - I worked on Saturday. It was OK, Ricky had to work on Saturday too so he drove me in with him since we work like a quarter mile apart now & it was nice being alone in the office. I cranked up the Spotify & got a lot done.
Anyways, Friday started off around here with the town freaking out because of an awful four letter word being tossed around. Horrid word. ..... SNOW.
All they have to do is say the word & everyone just thinks the world is coming to an end. The grocery stores were packed & I had to stop to get gas since my gas tank was empty & there was literally like 3 cars deep on every lane.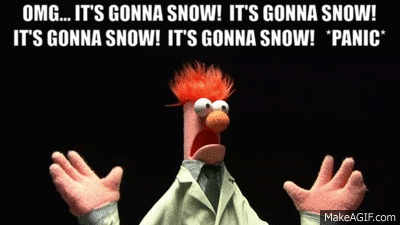 Seriously? We only got 2 inches of snow & it was melted less than 24 hours later. Calm down people. We're going to survive this.
I also stopped on Friday to pick up my new glasses. I will say, I love the distance in the bifocals - I can actually see really well, but the reading part? I'm telling you - I knew they were going to be too strong. I wear a 2.0 in reading today.... & they bumped it up to a 3.25. COME ON MAN - its not like I'm blind & cant see in the 2.0 - things are just a little fuzzy close up. I can still make it out, but its not like I'm getting off a roller coaster, doing 5 dozen loops. To bump it up 1.25 more? That just seems extreme to me. So I'll be taking these back & having them adjusted really soon.
Saturday, as I mentioned, we went into work & got stuff done.
Leaving work to meet up with Ricky
(That's my building behind me)
& then we left from there & picked up some dessert for our Christmas date with our framily. We have made a trip to the Homemade Pie Kitchen like a WEEKLY tradition instead of a yearly tradition. We always go there on our anniversary. Well, this anniversary must have sparked an idea that we can go more than once a year... & man oh man... do we ever.
This is where I got those adorable Christmas cookies this year too.
We got home just in time to take a nap. We both were exhausted with little sleep the night before & getting up at 4:30am & then working. We knew we were going to have a late night out so a nap was indeed in order.
I sort of napped..... I thought I would fall asleep, but then I turned on
The Other Boleyn Girl
& was totally wrapped up in it. I've seen it at least a half dozen times, but I still watch it like its the first time.
I think I was so wrapped up this time because I kept thinking - that's
Dirty John
. (anyone else watching that on E!?)
We then packed up our pies from the Homemade Pie Kitchen & headed to our friends so we could celebrate our holiday together. Yes, its mid-January - but we always do it after things have calmed down & we love it.
The kids love it too - who doesnt love presents a few weeks after Christmas?
The funny thing is though, we walked in with our presents & Emerson just said, "What is that?" - & Ricky said, 'Its presents!" & she said, "OH NO" with the biggest despair. & then said, "We dont need another thing. We are already so spoiled!" .... HAHAHAHA... she is just the funniest thing ever. She was dead serious too. She kept saying that all night, "We dont need one more thing. We have plenty. We have enough"... her little heart is just the cutest thing.
Her new Moana costume.... she kept wanting her belly to show like Moana
Even after she opened her presents, she stopped & came up to us & said, "We really didnt need anything".... My heart. I just love these kids.
They got the kids to bed & we ended up talking & chatting & eating pies...
Apple pie for me every time! #myfav
& then played some games.
Things got a little slap happy when it was way after midnight & I laughed so hard, I nearly peed my pants. Slap happy will do that to a person.
But we ended up getting home SUPER LATE... I was just impressed Ricky made it this late. I mean, this could be the time he WAKES UP.
He did zonk out as soon as we walked in, while I had to feed the dogs who were like, WHAT IS HAPPENING? But still happy to eat no matter the time on the clock.
Sunday, of course, I was all jacked up. I slept in till 9:30am after I didnt get to sleep to nearly 2:30am - so I missed the church service, but made it for HSM. Hate to ever miss my HSM. & so glad I did make it because we had a great big number of girls show up for the class. Plus, the message was amazing talking about the history of the Bible & how its put together. Sounds like a boring topic, but it really was presented so interesting.
The rest of Sunday was full of just trying to do things around the house & take care of errands & just gearing up for yet ANOTHER 5 day week.
... & hey, after my 2018 where I was in ER's & surgeries & missing 5 day work weeks - I'm not going to complain. Especially because I'm still so SUPER DUPER excited about my new job. I honestly am giddy to go into work every day to do my job. How fun & cool is that?
So welcome Monday! Let's do this!
Do you have any "late" Christmases?
Does your town freak out over snow?
What's your favorite game for game night?