OK... if winter was like this all season long, I wouldnt dread it as much.
Oh, I'd still dread it. After all, I hate the darkness & the dreary... but this weekend, I just loved that it was the kind of weather where you just need a sweater & no winter coat. YAHOOOO. We hit the high 50's this weekend - & possibly even creeped into the 60's. Thank you Mother Nature.
We needed the break from the rain more than anything. I think its rained every day since November here. The ground is like a huge mud puddle. All just to add to the beauty of winter.
So I'll take these kinds of winter days every time. Sorry snow lovers.
My weekend was kind of boring, nothing exciting.
I guess the most exciting thing was that I "de-Christmas-ed" ... which I had to laugh when I posted it on Instagram & a lot of you were just as shocked. Y'all know me well. I'm the house that keeps the tree up till March. But, let's hold on... I havent disappointed you fully just yet. Because I have this....
a bare tree in my corner.
This is usually what ends up staying up till March.
But I dont imagine this will stay like this till March solely because its probably going into the garbage. By the end of December, the WHOLE bottom section of the tree went out, along with the whole TOP section... & a few lights in the middle. We saw this tree slowly give up through the holiday & I felt like this tree was my spirit animal in a way.
So there's no need to take this down & put in a bag & drag back to the barn.... we can just throw it in a box & sing a hymn & play a sad song & say goodbye.
I will add, it was wonderful not putting out all the decorations this year because it made cleaning up SO MUCH EASIER too. Yeah. I'll be doing that more often. I even put everything we had out in one tote so it should make things easier to pull it out next year. Progress.
While I was putting everything up, I found the new show on Netflix from the queen of tidying up... & I just kept looking at all my ornaments & was like, "Does this bring me joy?"... I did make a pile of things that I could do without.... & then Ricky was like YES - that brings me joy - to EVERYTHING. So much for that. I'll try to talk to him more about this theory later. I just wanted everything down & out for the year.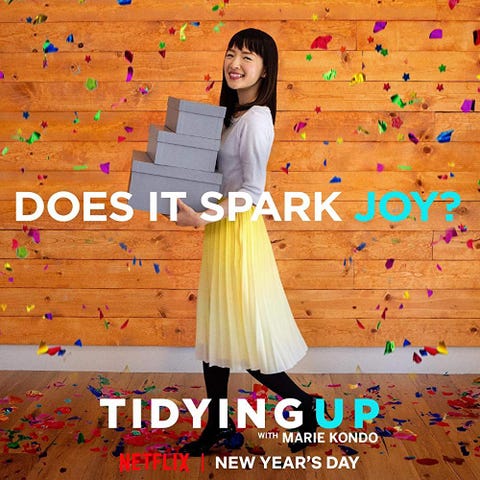 Should someone always be this happy?
Sunday was nice because I was FINALLY back with my HSM gang & just so glad with these precious girls again & just get to worship with my church family. I dont think I've ever sang louder. Sorry to the people next to me.
... so much for the weekend...
But I gotta end the this post with some news. Some GOOD news. How about that for a change???
If you dont see me around as much this week, I'm once again learning a new routine in my week.
Y'all know I love my job, right? It's wonderful there.....
Well, I'm still there... but last week, after a series of circumstances, I got a promotion. YAHOO!!!! A whole new position. I only got a day & a half of training & now I'm tossed into a new role.- but I'm so super excited about it because I'm back into the accounting arena like I enjoy. I know its going to be a challenge, but I'm excited to take it on.
Last week, I ended up not getting off work till nearly 6pm every night so I was beat down something fierce. & I know that this week, trying to get settled into my new desk, I'm still going to be stressed out getting used to the new surroundings, the new job - just a lot going on.
So yeah, if you dont see me around this week much, I'm still reading - just may not be able to comment like I usually do.
Wish me luck in this new adventure. I thought it was funny I found out about this new position on January 2 - the first day back to work in 2019. Hoping this is a sign that the year is truly going to turn around for me.
& now, we go into a full 5 day work week. (Groaning with me?) .... but let's get back to routine - or learn what the new routine looks like... & let's just all keep PRESSING ON!!!!
Anyone else counting down to Spring?
Does it take you awhile to get settled into a routine or are you a fly by your seat kinda person?
Are you someone who takes down Christmas on Christmas Day or someone who likes to keep it up as long as possible?