Remember at the beginning of the year when I did a post saying why I wasn't going to be doing a WORD of the year? But instead, changing it out for a Scripture of the Month. Well, its kind of a two fold thing.
The words I was flipping between this year was Endurance, Perseverance, Persistence, Determination ... they all have a theme here of NOT GIVING UP! Hanging in there! Sticking it out!
So while I'm not doing a 'word' I am focusing on this idea for all my scriptures that I am looking up & sitting in each month.
For January, my first scripture I picked was Hebrew 12:1-2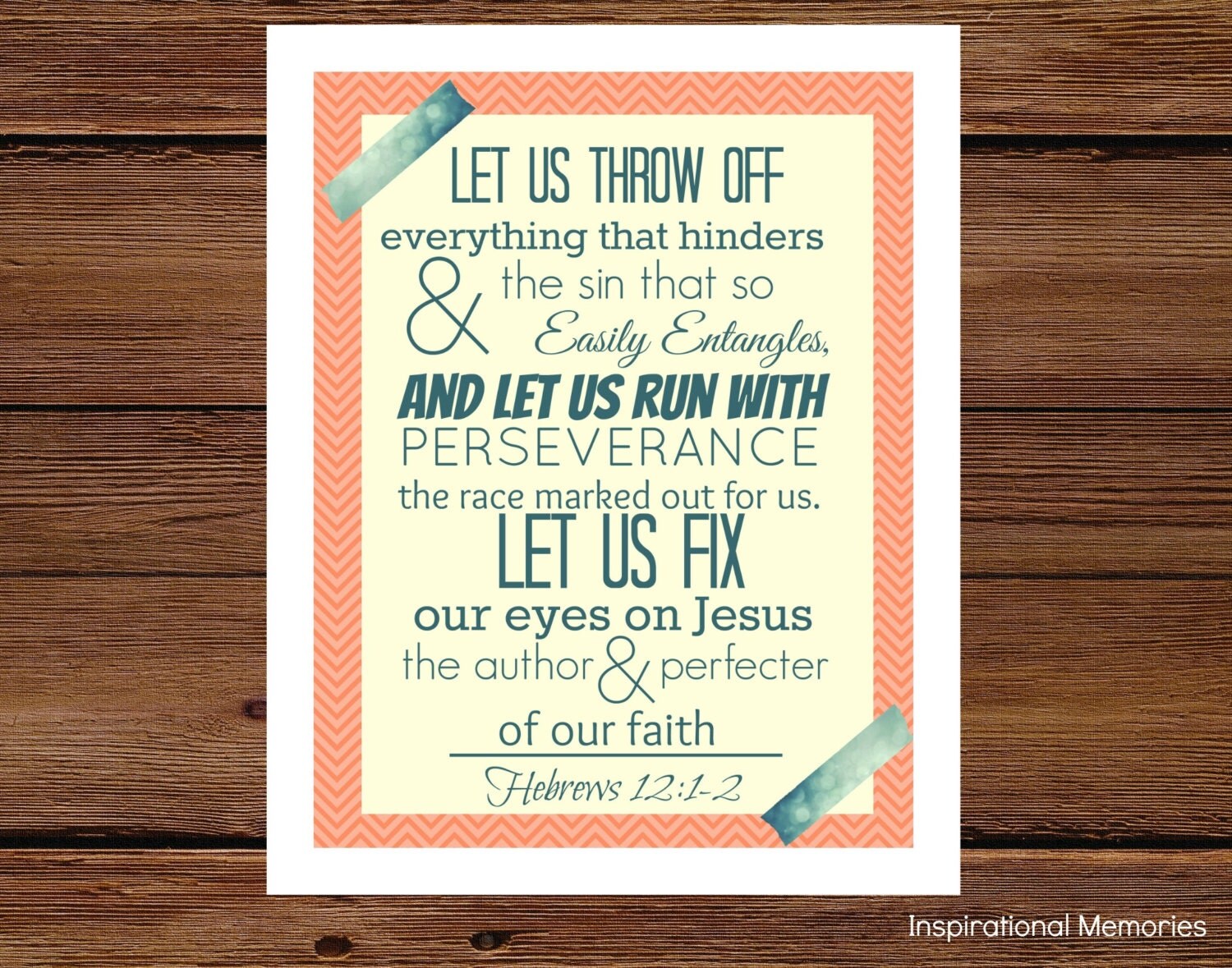 So here's my thoughts on the scripture & the things that have come to mind over the past month...
...throw off everything that hinders ....
If you are a lady, you know what it is to be miserable in an outfit that is just so binding & uncomfortable. Pantyhose are the WORST! Or dresses that make you suck it in all day long. Or jeans that just dig in your waist when you sit down? When you get home & are able to take all of it off, isn't that the best feeling in the world? To put on those sweat pants that aren't binding? Ahhh ... sweet relief.
... & the sin that so easily entangles...
Sin. We know that's not a good thing. But that we are reminded that it "so easily entangles"? That is so frightening to me. & so true.
I think of my vacuum. I run it over my carpet & don't see anything on the ground, but when I turn it over & look at the rollers, it is so tangled up with hair from Ricky & I. When you have a house with 2 people with LONG red hair, apparently our floors have just as much hair as we do. We don't see it, but its there... & it gets all wrapped up in those rollers & if you let it go long enough, it actually can STRANGLE & cause the rollers not to move at all. Something tiny, simple & something you can't really even see - it has that much power when it keeps gathering up on top of each other. I actually have to keep scissors taped on my vacuum so I can cut it off & turn that roller safely again.
Sin does just that. We don't see it - but it can get so wrapped around us without us even paying any attention to it... slowing down the things that turn in our lives. It can get that strong grip on us. & we need to stop & untangle. Get unraveled. Get a fresh clean start.
... & let us run with PERSEVERANCE the race marked out for us....
OK, I love that word! The determination! The mind set of not giving up!
But what I love most about this part of the verse? There is a race marked out for us. For me. For you. It's already marked out. It all goes in different directions, but its a path God intends just for us.
When I run races, the course makes all the difference. There is a 10 mile race that I have signed up for in March that I HATE. Why? Because its through a park with lots of hills. I don't like hills. But its the course. I prefer those race courses that are flat & straight... but give me something that is pleasing to the eye too ... & in a safe area of town... & preferably in Disney World.
But it doesn't work like that... Courses are designed for challenges. To make us tougher & stronger. It's why I signed up for it.
Our course is marked out. The only thing we can do it tackle it... get to that start line with courage, cross the finish line with determination!
... Let us fix our eyes on Jesus, the author & perfecter of our faith...
I love an encouraging trainer. Ever watch The Biggest Loser & see how differently the trainers work? So many love the trainers that give them encouragement to make it though their workouts. That's how I see Jesus in this verse. The coach on the side lines that is cheering us on. It's His voice we need to keep listening to - its who we need to keep our focus on. Because if we keep our eyes on that 'race marked out for us' - it could get scary & intimidating & make us just want to stop in our tracks & not move forward. But if we fix our eyes on the One who we know will get us to the end of the race? That's where I want my attention to be.
Because the verse tells us right there... He's the one who has drew up the race. He's the one who wrote down the course. He's the one knows what lies ahead. Why wouldn't I want to keep my eyes on Him knowing that?
A simple verse - one you see on the back of shirts in races on runner's that are zooming by me... & I love the reminder that every day is a test of battling sin, but we can do it with the right focus & the right mind set of perseverance!
Now its time to step up to the starting line folks!