(Little preface here.... this may start off sounding like I'm talking about a female only problem or situation... but hang in there, because this turns into a bigger problem that is affecting a lot of people in our country right now... seriously. I'm not trying to be cute or witty... so preface stated... HANG IN THERE for a few paragraphs)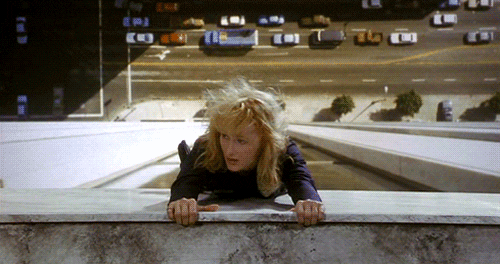 just HANG IN THERE!!!
Last week, I talked about hormone replacement therapy.
& first, I wanted to thank everyone who gave me some insights on it through messages & comments. I love the way people can stay connected in this big world over big & small things. We all need each other's help & thoughts in this world. Or encouraging or helpful thoughts, I should say in this world of everyone has an opinion & feels free to voice the negative ones too. Luckily, that's not here in my blog world.
If you missed it, my doctor suggested I started on some cream that would boost up my estrogen levels... & I wasn't sure what I was going to do about it. Do I start this stuff that has some risk to it? Do I try& find natural supplements? Do I just muddle through for a few years?
Well, I have to say, I won't be taking the cream.
Want to know why? Because I hate my health insurance... that's why.
I called to get the price of the cream & found out it was $150.00 for a month's supply.
I asked them if that was with my health insurance. Nope. Whew! Thank goodness.
So I gave them all of my insurance info & they told me to hang on... to which I hung on for 18 minutes & then said, FORGET THIS - I'll call back. I hung up & went about life.
I called back the next day & asked what my total was going to be... $150.00.

"Um, excuse me, but thats what they said yesterday. Did they check with my health insurance?"
...oh yeah.. .they sure enough did.
Do you know my health insurance covers ZERO of it. Zip. Nada. Zilch. Big old goose egg.
I sat stunned & the pharmacist said, "Yeah, your insurance covers nothing that is compound made"
Seriously?
I know my dog had bone cancer a few years ago & we had to get a compound medicine for her then. That medicine helped prolong her life too. She lasted about 4 months longer than expected because of the treatment we did for her.
& I thought, what if I needed that medicine for something worst than a hormone cream?
& I get it, if it was something life altering, I'd pay the $150.00 a month - grumbling - but that's not the point.
First, if it was a life saving medicine, I'm sure it would cost WAY more than $150.00 - but my medicine would still not cover anything on it.
Now, here's what irks me to the core.
It's not like I have a pitiful cheap policy. I have talked about this before - but every time I do, my monthly deductibles go up... now, I'm paying $450.00 a month... for insurance that covers NOTHING. Basically nothing. At least we know it covers no compound medicine.
& I work hard to earn money to pay $450.00 a month.....
& yet, I know personally a few people that are getting government assistance & get health insurance that covers every single little iota of doctors visits, every test, every medication they want.
& this is not a slam to them. At all...
I know there are some people that need that assistance & it helps them in ways they wouldn't be able to get the help they need otherwise... but I'm also not naive to the fact that there are people that take advantage of it, which is so bothersome to me as someone to works so hard to pay for coverage myself & then this is reward you get for not being a burden on our government or tax payers....
But what this is a slam to is to the insurance companies that are keeping this ridiculousness up.
To the government that lets this sort of treatment to hard working American citizens continue.
This is a slam to my pocket, is what its a slam too.
How is this fair... or even right?
I was so mad when I hung up the phone & said, "OK God, I wasn't sure whether to take this medicine or not.... this is my answer"... & that actually calmed me down for this incident.
& I prayed that my health stays up so I dont have to deal with bigger or stronger medicines that could cost me everything I own, just to stay alive.
Something has to be done... I dont know what...
I dont get on a soap box for much in this world when it comes to government or politics - but I think its because most things, when they dont touch us in a personal way, we are great at ignoring it.
I cant ignore this. Every year, it gets worse & worse. My rates go up, my coverage is less. & as I posted a few weeks ago, I may not even
HAVE
a policy to choose from come 2018 when our only provider for Indiana (Anthem) pulls out of our state... & then what do I do?
It's just so frustrating... & irritating...& makes my blood pressure raise through the roof.
& I actually contacted my state Senator & told them my situation. & I am a skeptical person most of the time & feel like it's in a pile of a thousand other complaints that probably make it to the shredder bin at 5:00 pm each day... but at least I did something that I hope makes a difference. Voiced my opinion.
Same thing I'm doing here.
Because I know there are people who are battling for their lives that are going through the situation where they have to decide if they want to live, or if they want a roof over their head. If they want to live, or have food in their cabinets. If they want to live, or if they want electricity in their home.
How is this fair... or even right?
Luckily,for me & my situation, mine is just a hormone cream that I dont need....
I'm looking into alternative & natural supplements. More my style anyways.
I'm getting off my soap box....
& for the record, I started my period when I got off the phone with the pharmacist. So take your hormone cream & shove it....