Here we are again at another month of seeing what we've read...
I feel like my reading mojo took a little hit, but I am happy I still got in 3 books for the month.
A little bit of everything too. Highs & lows.
But I did totally walk away with a favorite for the month - that's always a good thing.
So let's dig in... my latest reads....
Ratings are based on the Goodread Scale
1 Star - Didnt Like it
2 Stars - It was OK
3 Stars - Liked It
4 Stars - Really Liked It
5 Stars - It was AMAZING!
The Castaways / Elin Hilderbrand
**** / 4 stars
Fast Summary: 4 sets of friends do all of life together in strong relationships but you see whats behind all these relationships when one of the couples die in a mysterious & unexpected accident.

So I'm apparently becoming a Hilderbrand fan.
This is my 2nd book &I just bought 2 more.
This one is about a group of 4 couples (8 people) & their stories, how they intertwine with one another & how it effects the group when 2 of them pass away in an awful accident, as well as the relationships that were there before the accident.
A lot of characters. I liteterally had a notecard with all the names & arrows drawn all over it to keep me straight on it.
I did like this one - probably better than my first Hilderbrand book (The Matchmaker). A good book on how different personalities come together, how the relationships look & how friendships can be full of love & family & support.
"Forgiveness is a powerful thing"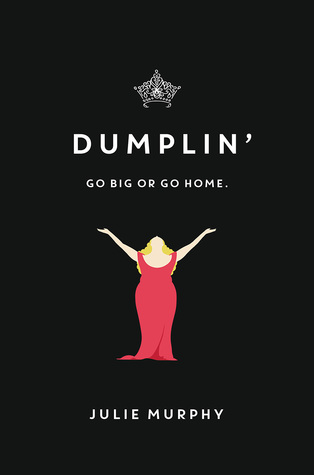 Dumplin by Julie Murphy
***** / 5 stars
Fast Summary: Willowdean enters a local beauty pageant in honor of her aunt who passed away, despite being everything that is NOT a pageant girl & inspires others to step up & join in 'the cause' while finding each of their own unique beauty.
I can't believe this took me so long to get around to this book. I just absolutely loved it. Mainly because I could so relate to Willowdean. The teenage girl who wasnt the one who could shop in the mall with friends because of her size & the one who was always expecting to be made fun of for her weight. & the one who was always nervous about an idea of a boyfriend because it meant shedding down some layers, in many ways.
Plus, girlfriend is a Dolly Parton fan... which for me, is my whole childhood listening to her albums. I just totally GOT Willowdean. & loved this book.
I loved all the other 'misfit' characters that ended up supporting Willowdean by joining the pageant & all the different ways that we can over look beauty... & loved the friendship with Willowdean & Emily... & even felt bad for Mitch, the perfect gentleman to date. & of course there is Bo, the bad boy. I get she liked him... but preferred Mitch really... but I get it... Because again, I SOOO get Willowdean
I honestly need this to be a movie RIGHT NOW!!!! With a cameo by Ms. Parton herself!!!
"All my life I've had a body worth commenting on & if living in my skin has taught me anything its that if its not your body, its not yours to comment on"

Fast Summary: A notebook is passed between 2 strangers forming a different kind of relationship & then what happens when they have to find one another & meet in person.

This had a really cute idea for a story... & I actually think I just read where a similar movie is being made with this same idea.... but a guy finds a book with a scavenger hunt on it & he completes it & leaves a note in return to the girl who created it. & a writing back & forth between them happens, with them revealing deeper sides of each other they would ever show to anyone else.

It started off a FUNNY book. Like I literally LOL'ed at parts... & then somewhere in the middle, it just took a big dip. I dont know if it felt drawn out, or just unnecessary side stories. Even some of the characters started getting on my nerves & I felt like they didn't gel together. Like I would wonder if the characters were 17 & then the next page, wonder if they were like 10... their personality would shift too much. It almost made me give up on it even about 70% in...

... but I did finish it, & I will say, the end did bring it back up for me. Didn't make me trash it.

So, in the end, it was just MEH to me... take it or leave it. Not a must to read in any shape or form.

I know these are the people that wrote Nick & Norah's Infinite Playlist, which I've been wanting to read too... now I'm scared.
"Luckily, I always travel with a book, just in case I have to wait on line for Santa, or some such inconvenience"
So what is your favorite book you've read this past month?