I started off August with some goals.
* 10,000 steps a day
* A gallon of water a day
* Workout minimum of 5 days out of 7
* Yoga once a week
* Interval table at least once a week
... let me tell you, I started off the beginning of the month KILLING IT!
I even would do 2 workouts a day to get in my 10,000 steps.
I'd do weight training things & not be at my step goal so I'd walk up & down my drive way until I reached it - or get on the treadmill & watch a 30 minute sitcom to laugh the steps away....
& then life was like, "HOLD UP - I'm going to intervene"... as it usually does.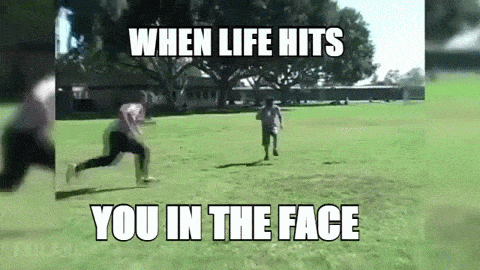 I got completely off track last week being up at the hospital & off schedule with life in general.
I'm not even sure what I ate last week... like I think one night I had a handful of cashews for dinner & one night I think I ate every potato chip within a 1 mile radius.
... that's what you call off track.
So I'm anxious to get back on track again... praying life gets back to routine & a little kinder to us all in our family.
Hear that Life? I'm asking nicely.
Mainly because I now remember how good it feels to do the work, reach those goals, drink all the water, eat healthy... it feels really good.
I had even lost 5 lbs that week. Can you believe it?
... & yeah... this past week. Probably gained that 5 lbs right back.
Not much water...
not great nutrition...
no working out....
definitely not 10,000 steps...
& not much or good sleep - though in all honesty, I dont ever expect that to come back while my grumpy old man is around.. I'm ok with that. I'll never trade it as long as he stays happy & lives an even longer life....
But I did have a check in conversation with myself this week. I decided I'm
NOT
going to do the half marathon training for October's race. I'm just not feeling the running thing.
... I almost wrote, "I'm not feeling the runs"... but thought better of stating it that way.
I just feel like I need to start at ground zero - square one - the total beginning.
I need to get nutrition back on par, I need to build some muscle, I need to shed some lbs....
I just need to feel better.
& then I can run again - that will make it all easier in the end anyways.
& that doesn't mean I still cant go for a run or walk... I just dont think this body right now can go through the training. I'm ok with that decision right now.
On a positive note... I finally made the decision & ordered me a new fitness tracker.
It should be in this week....
The Garmin Vivoactive HR
I CANT WAIT TO GET IT!!!!!!!!!!!!!!!!!!
Fingers crossed I like it...
& even more that it will be an extra added motivation to get this old yucky feeling body back to where it needs to be ... at least point it in the right direction.
What do you do to motivate yourself after getting off track?
What's your favorite fitness tracker?