Yes...
I'm taking a post & dedicating it to my knitted hat.
Yesterday, my knitted hat got destroyed.
By one little Australian Shepherd.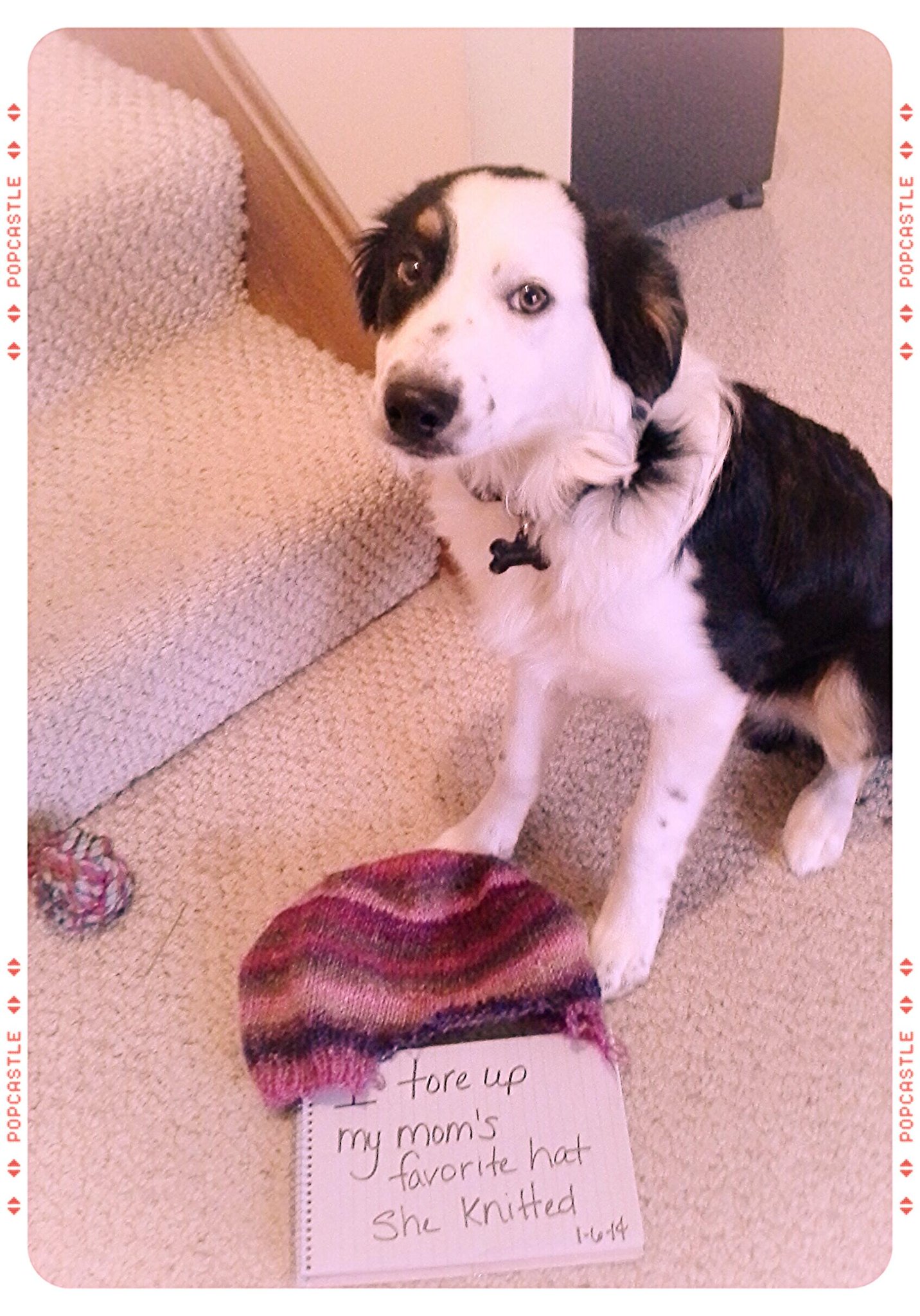 He knew when I was crying that something was REALLY wrong this time around
Yes... I posted yesterday that Harvey was left off of his lead due to the cold.
I was a nervous wreck going home, just envisioning the destruction that my house has weathered. I imagined all five of the dog beds to be fluff-less & my kitchen to be fluff-filled.
I envisioned some sort of acrobat moves happening during the day causing Harvey to open every cabinet door & trash my plates, get all the food out & letting him devour it & even opening my frig & causing all the cartons of juice & almond milk to be splashed on the floor...
yes - I can whip up some anxiety in just a few flashes of my imagination
I open the garage door... hear the dogs barking... did it sound distressed barking like the other dogs saying, "Its all his fault!"?
Nope.. I open the door & find everything perfectly normal...
the only thing was the rugs were moved, like a dog running around the kitchen wanting someone to play with them... yes, Harvey is a master at skidding across the floor.

My hat even made Starbucks a better place
I double checked... tripled checked... nothing inside or out was bothered.
SUCCESS!
I moved everything back in its place, let the dogs free to roam the house & sighed the biggest sigh of relief. What was there to worry about?
I go to turn the heat up - after all, it was -8 degrees outside... yes, heat is needed.
I go to put on my layers of sweat pants & sweat shirts...
I'm out of the kitchen for about 5 minutes
Walk back in the living room & see Harvey tossing something in the air...
Wait... what is that?... WHAT IS THAT??????

Its my hat... in his mouth... with threads hanging from it...
Found this picture - when it was created -
February 2011
Not just any hat - but the one I knitted years ago & wear most of Fall, Winter & even Spring... a hat made of Noro Silk Yarn, the yarn of perfect beauty... the hat I can wear & it magically matches everything I wear... the hat that doesn't leave me with hat hair... the hat that I had wore this very frigid day & took off & laid on the counter when I got home...
& Mr. Harvey must have thought, FINALLY, something I can grab off the counter...
It took less then 5 minutes for him to totally rip out a side of the hat, causing it to be a loopy bunch of mess now....
I will be honest & admit that I cried... over a hat...

This hat went through many a photo session
But it was a hat I made... & having my bicep tendonitis that causes me so much pain to knit now, it is so hard for me to knit anything, so I value everything I've made in the past.
I just screamed like someone stabbed me in the toe...
My hat was even on the cover of my Photography Site for quite a while
Harvey knew this wasn't a random sock he just ate.. he ran & hid. I mean hid where I couldn't even find him. He got in the basement, in the corner of the bathroom & was shaking.
Note - my screams can produce a fear in you that you didn't realize you could have.
So today, I walked out of my house hat-less...
It was a sad moment for me... a cold moment...
For punishment, I'm making Harvey appreciate the love of knitted things...
at least till its warm outside
... I'm not that cruel...