So yes, Harvey survived the neutering... William is still safely in momma's belly ... & Ricky made it through his MRI awaiting his results... so thanks for the thoughts & prayers Friday.
Highlights from the weekend
* I still laugh at dogs in the 'cone of shame'... that is until they ram you straight into the knee with the edge of it.
"What is this THING around my head?"
* The surgical nurse at the vet said she knew Harvey's name was "Harvey" but she said, "I kept calling him Harvey Dent because of his face & then I looked at his tag & saw that really was his name. I knew you were a good dog-parent" ... yes! :)
* All Harvey kept doing when we got home was lay just like this... think someone wanted to tell me how his day went? Poor fellow.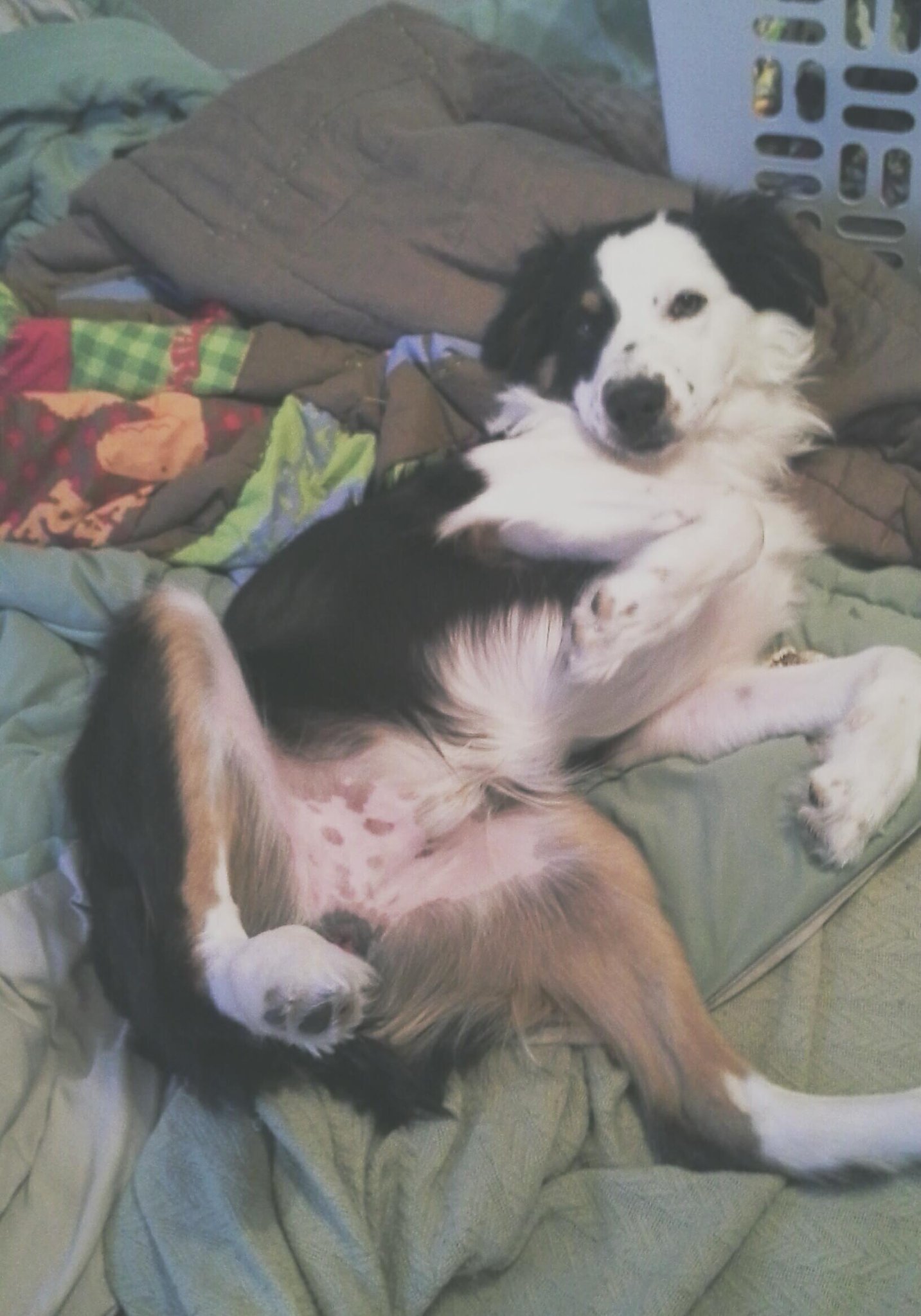 * The worst part of Harvey's experience? Trying to get him to not jump up on the bed, or run out in the snow & play... we gave up by Sunday. He obviously wasn't in pain - his incision didn't look bad - he has no swelling.
* I am worried about today - they told me the 3rd & 4th days are the worst because the skin will grow back together & it causes itching. It was the 4th day that Zoe tore open her intestines because of itching... I'll be nervous driving home today.
* The time had come. I can't hardly knit anymore with my arm & I'm surrounded by yarn... it taunts me. I went to box it up, but know I have so many knitting friends so put the call out to anyone that wanted yarn. I've now got 5 orders of yarn going out to friends... glad for it to have a home. I did keep about 5 projects I'm working on, but I suspect I wont even be able to get to those... unless a miracle happens with my arm... which I do believe can happen.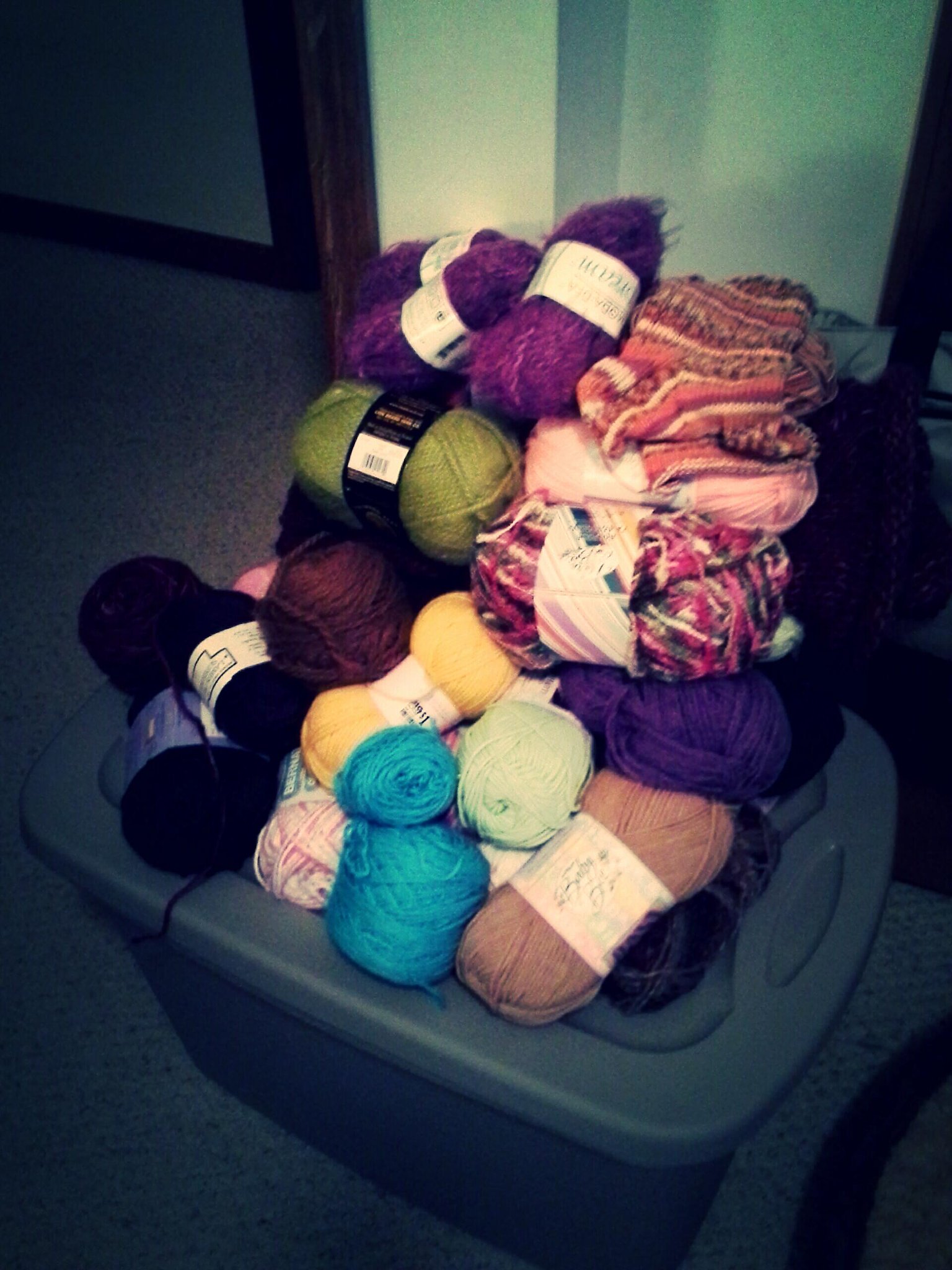 The tote is full too
I'd hate to think how much money this is
* More snow... really? I'm so sick of it
Dogs have to make fresh tracks ... AGAIN...
* The snow is even getting to the dogs... they took to using the bathroom right on the concrete of the porch & not going out any further out then they needed to. Don't blame them.
* The wind was howling so bad Saturday... it gave me chills & made me cold just hearing it.
* I tried to get my long run in on my treadmill Saturday. Right about 2.5 miles in, my stomach started cramping but I thought it would pass. A few minutes later, I thought I was going to throw up. I got chills. Took off running upstairs & thought I was going to DIE.... not sure what happened. It was horrible.
* Took a shower & ended up in bed the rest of the night... Breaking Bad marathon
* DO NOT watch 5 episodes of Breaking Bad & then go to sleep... the dreams you have are a little crazy
* Got up & ready for church & had those stomach cramps & nausea again... what in the world? Ended up only going to youth only. Call it energy from the kids, I felt OK the rest of the day
* I probably need to be a better leader. A kid was telling me he passed out at the Winter Jam concert that had taken place on Friday. (I wanted to go so badly but with Ricky's MRI & Harvey's surgery, knew we couldn't. )... so he told me his story of just blacking out... my reaction? TELL ME EVERYTHING ABOUT COLTON DIXON!
* Met with a potential wedding client at a local coffee shop. I told them I wanted a hot chocolate with a shot of espresso... trying to find a copy of the drink we had in Nashville. When I asked for that, she said, "That's a mocha latte"... no its not. It didn't taste anything like I wanted. It tasted like a mocha latte.. not the REAL chocolate flavor of hot chocolate... bummed...
How I looked when she said, "That's a Mocha Latte"
* Got my Valentine Swap goodies...cant wait to get them in the mail
* Sometimes, Target is stupid...
Not everyone marks things UP for a sale
Guess they gotta make money somewhere for the security screw up
* Freezing Saturday & it felt so WARM Sunday. We live in a world where 42 degrees feels WARM!
* Didn't even catch anything from the Grammy's... watched the Bachelor wedding instead
I hope it works for them
Sean seems pretty awesome
* I've never seen a wedding more focused on the 'wedding night' more in my life... kinda uncomfortable & awkward
* If you didn't know - Sean's sister, Shay, has a blog & is awesome with it... I was watching her Instagram all day for behind the scene pictures of the wedding all day long.
http://shullfamily.blogspot.com/
* Had to watch Downton before I went to bed... I love Mr. Bates. Just love him. "You're breaking my heart" ... oh. my heart.
Onto a new week.....