This week I am Thankful for:
Pumpkin seeds back in
ok... I shouldnt like these - they are full of vitamin B which aggravates my neuropathy - but they are just SO GOOD. & then Amazon stopped making them & I went into a sheer panic. So you can imagine how I reacted when I got the text it was back up for sale. Yes, I had a notification set to let me know when they were back. I might have sang a Hallelujah chorus.
Comfy Sweats
I bought a pair of joggers from Kohl's before I had my surgery - just ordered two pairs that were on sale. Didnt really care what they looked liked - just wanted something comfy for the weeks at home laying in bed. BUT MAN OH MAN - these things are my ultimate favorite. They are so warm, & SOFT & comfy... & CUTE! I need to look through my online order to get some more. I honestly want a few pairs of them. Stock up on something you find, right?
A beautiful place to read
Sometimes, a beautiful place to read is just good for the soul. Makes me feel like Belle a little bit.
No Follow up appointment
So I went back to the colorectal surgeon to go over my latest CT Scans.... which showed NO abscesses or fistulas. PRAISE THE LORD!!!! I told the doctor about my pain & she told me that with having 3 surgeries in this area over the past 9 months, there's going to be a LOT of scar tissue. & this just isn't a place that you can rub & work out scar tissues.... awkward.... so she said I'm right at the 2 month mark after surgery - which is when the scar tissue really tightens up, so she's not surprised about my pain. & she said it WILL get better. It can take 2 months up to a year. I'll take the 2 months side please... but happy to know that there is light at the end of the tunnel. & do you know - I walked out without a follow up appointment. I haven't walked away from a colorectal doctor without an appointment since April 2018. I almost skipped & twirled & broke out in a musical scene on the way to my car!!!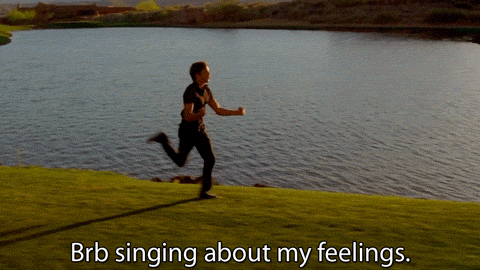 Valentine's Roses
I always hate when the hubs gets flowers just because I know the price of them go up like 5000000% on Valentine's Day... but man, it is always nice to have them sitting on the counter when I come home on Feb 14th.
Valentine's Dinner a day late
We typically dont do dinner for Valentine's Day & we REALLY dont go out on Friday's - so I was surprised when the Hubs called me on my way home & asked if I wanted to go out for a V-Day dinner. & man, we had some yummies. We even ordered an appetizer of pretzel bites & now, I have a new favorite thing to eat.
Slayer
I saw this book SOMEWHERE & was so excited to see the premise about it - its part of the Buffy The Vampire Slayer world... which I was OBSESSED with that show. We even named our yellow lab we had after her. & this book just came out but I took the chance to see if the library had it - & VIOLA! Sure enough - got it on hold & picked it up the next day. I cant wait to dig in!
Ricky by my side
I was so thankful my hubby was next to me the entire time I was in the infusion center. It's just nerve wrecking being in that sort of environment so it was nice to have someone help take my mind off things.
Fever broke
Whew... that first infusion was ROUGH.. (I'm still not feeling back to normal - like I know what normal feels like at this point)... but that fever was awful. I literally was shaking SO BADLY from chills that my Garmin was picking it up as movement / walking. Glad it broke about 8 hours later & didnt come back.
What are you Thankful for lately?
Inlinkz Link Party