This is it... the week that is officially the beginning of fall.
But I dont know about you - fall to me is still feeling hot, humid & full of life sucking bugs. Ewww. Go away bugs.
I'm going to not complain though because I know after the fall, it is going to go straight to freezing temps... & snowy & icy roads... & early dark nights. All cues for me to go into a deep depression. So I'll take the life sucking bugs for awhile.
Speaking of life sucking - hello Monday. But I'm not ready for Monday yet, so let's recap the weekend...
Friday
... I got to start off Friday by meeting a friend at a little local coffee shop for some girl talk. Funny part? I was supposed to meet TWO of my friends, but the one who organized us getting together totally forgot all about it. HAHA.. If that doesnt totally express how crazy busy life can get, I dont know what else does. But it worked out just fine because I still got to sit & chat with one of my precious friends & this just means we have to reschedule & do it all over again. I'm always up for a girlfriend coffee date
... & I got my first chai tea of the fall. I have certain drinks that are seasonal to me. Chai teas are always for fall & mayyyybe for winter. But this was my first chai tea of the fall. & since it was still 90 degrees, we'll make it iced. But it was DELICIOUS!!
... I took the night off from editing. I've been sitting at the computer all week long working on wedding pictures & decided that I needed a night away from the computer. So I got home, relaxed & ended my night with a marathon of Kimmy Schmidt.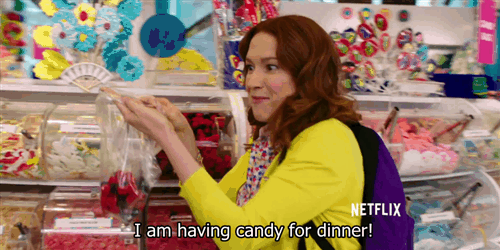 This in actuality is how I spent most of my weekend
Saturday
... I stated & reinforced & then reinforced that to the hubs & to the dogs that I WOULD BE SLEEPING IN on Saturday... & then woke up at 6:30am. Drats. But I ended up taking my book outside on the back porch & read while watching the sun light up. It was heavenly. The perfect way to ease into a day.
... Since I missed out on editing Friday, I started editing early in the day.
... Took a break to go sit outside & read some more for my Bible Study group when it started raining. Sitting outside reading on my porch when its raining? HAPPY PLACE!!!!
... back to editing
... & then got in a workout
... & then back to editing... until my computer basically started acting like a slug... I'm pretty sure it was waving a white flag at that point. So I just shut it down & went over to see my parents.
It's fun to switch up animals at my parents house. Its a dogs world in our home... my parents? Is full of cats, horses & even a spider this time around
I wouldnt let Ricky kill this. No one wants to die... even big scary critters
This horse... he's so funny. He knows his tricks & if he sees your legs crossed, he'll cross his too for a treat. I get doing dumb things for good food. I'm all about it
... got home in time to take a shower & I was exhausted from doing what? I have no idea... I was just ran down. I got in bed early & played a few more Kimmy Schmidt & was snoozing by 11:00am #iamofficiallyold
Sunday
... Loved that Chasity made it to church with us first service. We've been missing seeing her & Ryan lately & Ryan had to work, so still missing him, but glad to see Chasity. Loved when we went to go help her pick up the kids, Emerson hates so much leaving her class (which how cute is that?) but we told her Pappy was out there to give knuckles to her - she was all about it. She loves her Pappy.. & he thinks she hung the moon. Truly.
... There is nothing cuter than Emerson yelling that JESUS LOVES ME!!!!!! ... we should all have that enthusiasm.
... Our MSM group has me so excited for this week. The kids were all issues challenges to do on Tuesday - a point to put others ahead of yourself - think of others around you - further God's kingdom, not their own. So they each got a blind draw of some challenges & it was so fun to see who got what. Here's an example of one...
But I loved that we started a group text so we can encourage each other to do it on Tuesday. I cant wait to hear how God works in these girls & all the kids to do something that may be out of their comfort zone, all for His glory. Pray for these kids if you don't mind.
... I had to leave from church to go to our JOY Sisters Group. More than half had to miss for a fun reason, celebrating a first birthday & we were a small group of 5, but sometimes, the smaller groups make for more intimate discussions & I just love every single person in our group & I could sit & just talk one on one with them - so it ended up being another great day of discussion & just talk of what's going in in our worlds & how God wants to move in our lives.
... Everyone left & we were supposed to meet up with someone for lunch but it ended up falling through so I got to spend a little bit of time afterwards loving on Emerson. She is STILL calling me Belle & I refuse to let anyone correct her. She actually switched from Nanny to Belle a few times but I'll take either one. Ricky facetimed us & talked to Emerson & she called me Belle - he said, she needs to call you Nanny - I told him he better not ever correct ANYONE that calls me Belle. He asked, "Do I have to change Pappy to Beast?"... I hadn't thought of that but maybe we need to. ;)
... Grocery trip. Ugh. I need so much at the grocery but couldnt bear it - so I just ran in & got enough stuff to cover dinner for the week. Good enough.
... Bills. Adulting isn't fun.
... Time to get ready for another week.... & back to editing. Real life stuff.
Is it feeling like Fall for you yet?