All around the blogiverse, its BOOK DAY... & I'm a big fail this month. I have one book finished & another DNF - not because I wanted to - (Thanks Library due date!) - so I'm just going to save my one review for next month.
So I saw my beautiful blog buddy Audrey over at
Life as Louise
started this book question post & I loved it... loved it even more when I Saw that the awesome Tanya from
A Mindful Migration
also joined in. I have to play along...
What book has been on your shelf the longest?
I could say all my kid books - I have a whole shelf of books from when I was a kid that I still have. My aunt used to give me books for every holiday ... my love of books was instilled in me young. I dont have the heart to get rid of them.
But the book that's been on my shelf since I got it - probably
This Present Darkness
. I read that as a teenager & always had it on all my book shelves.
This makes me want to read it again
What is your current read, your last read, and the book you'll read next?
Currently Reading:
The Bookish Life of Nina Hill
....
Last Read:
Nine Perfect Strangers
... which I didnt get to finish because I had to return it to the library.
Next Read: ... who knows.... usually depends on what's available at the library, or a book I stumble across that fits my mood.
What Books Did Everyone Like, but You Hated?
Oh gosh - its no secret how I feel about
Girl, Wash Your Face
... I just didnt get the craze about it. I felt like it was a little girl trying to put on big girl pants & give advice that was more of a cut down to people than anything. Didnt jump on that band wagon at all... I felt like I was stepping on toes with my first review of it not being so over the moon & feel sort of vindicated that I'm seeing a lot of people feel the same way now.
What book do you keep telling yourself you'll read, but you probably won't?
The Mists of Avalon
... I went through a stage where I loved all things King Arthur - thanks to Merlin - that tv show. (... whisper... MERLIN... anyone else watch it & know what I'm talking about?0 ....anyways - I got this book at a library sale & this baby is over 900 pages long!
& THEN I found out its the FIRST book in a series. Oh man - forgetaboutit
What book are you saving for retirement?
What's retirement?
Last page: read it first or wait 'til the end?
My mom always used to read the last page before every book & it would drive me INSANE!!! She always said she wanted to see if its worth reading the book. But doesnt that sort of defeat the point? I dont get it. I usually flip to the back just to see how many pages it is & I get so mad when my eyes catch a name or word that could give the ending for me.
When people read that last page!!!!
Acknowledgment: waste of paper and ink or interesting aside?
I actually really like acknowledgements now that I'm older. I'm not sure I read them when I was younger. But some of them are really sweet & I love the ones who are funny & really personal.
Which book character would you switch places with?
America Singer... because who doesnt want to win a Bachelor sort of show & become an actual Princess? (
The Selection
)
Plus, she's a red head
Do you have a book that reminds you of something specific in your life (place, time, person)?
I really related to
Dumplin
' .. that character just reminded me of ways I've felt as a teenager.
Name a book that you acquired in an interesting way.
Nothing I can think of ... nothing that 'interesting' - but I always love when people have surprised me with books. I've received a few through the mail as gifts & its just so interesting to see what people see & think, Rebecca needs to read that.
Have you ever given a book away for a special reason/to a special person?
I feel like I'm always giving books away. Whether it be for birthday or Christmas gifts or to donate to a Little Library. ... I think my most special book(s) I ever gave was the whole Harry Potter series to my nieces for Christmas one year. I wanted them to love it as much as I did.... Side note - I dont think they've ever opened them. Maybe one day :)
Which book has been with you to the most places?
My Bible.
Any 'required reading' you hated in high school that wasn't so bad two years later
The Great Gatsby. I could care less in high school - but maybe its Leo that made it interesting to me as an adult but when I reread it before the movie, I really enjoyed it.
Used or brand new?
Makes me no difference. I think some used books have a whole personality to them. Life in their pages from others holding it, using it.... but nothing like a crisp clean cover & pages of a new book too.
Have you ever read a Dan Brown book?
Nope. Not a single one.
Have you ever seen a movie you liked more than the book?
Nope. I dont think I've seen one that is BETTER than a book. & usually I'm disappointed in movies to books. But there are 2 that I thought did a good job. The Hunger Games 2nd book,
Catching Fire
- I thought that was the most like a book of any movie I've ever seen! ... & I also really enjoyed
Me Before You
. I think I've watched that movie so many times. Breaks my heart each time.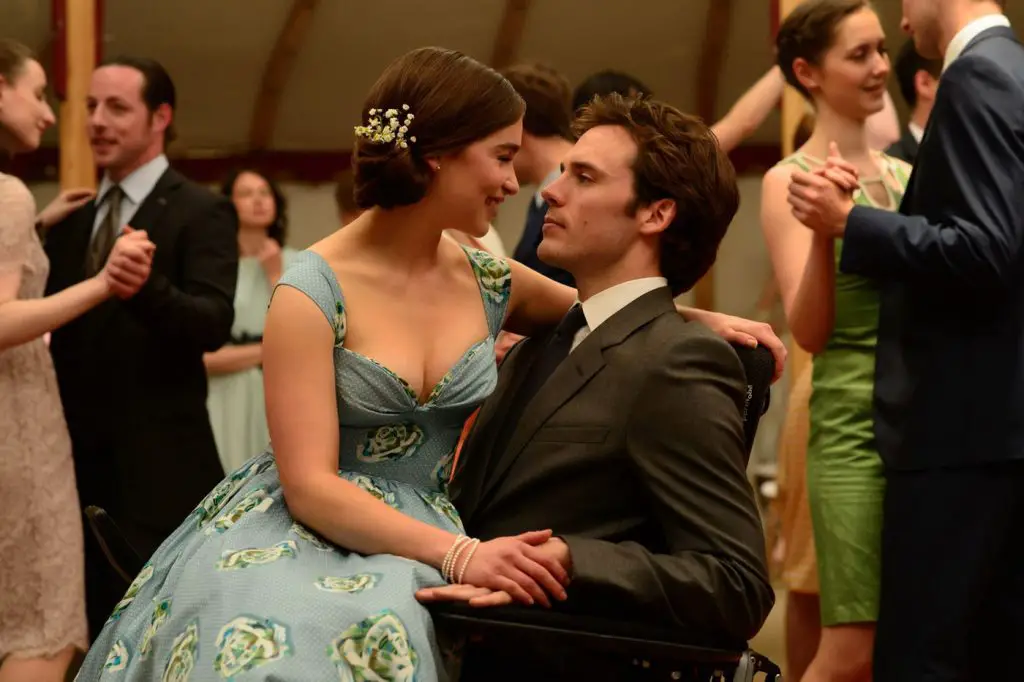 Have you ever read a book that's made you hungry, cookbooks included?
Who is the person whose book advice you'll always take?
It's funny that you can feel someone is your book twin. Everything they recommend, you think like they do. I have so many of these people. But the one that I always take her advice is Kristen from
See You In a Porridge
Is there a book out of your comfort zone (e.g. outside of your usual reading genre) that you ended up loving?
I just went through all my books on Goodreads & I really didnt see anything out of my reading genre. It's all sort of the same thing... Christian non-fiction, romance, YA, anything Beauty & the Beast or fairy tale related... & repeat. :) I know what I like, so I guess I stick with it.
BONUS - Fun book facts about me.
* I never go anywhere without a book. It makes me anxious if I accidentally leave one behind. Its like the best security blanket to me.

* I secretly want to be someone who reads books for audio. I love a good dramatic reading... & pretty good at it.

* The hubs has never read a book in his life. He just doesnt understand how I find it so interesting. I dont understand how he doesnt know the magic of books.

* Since my vision has changed so much as I've gotten ***COUGH*** older .... I have to look in an actual book first to see the size & font of the print. If its too small or too tight, nope - to the Kindle I'll go. Which makes me sad because some of the books, I really want on my shelf when I love them.

* I get REALLY mad when I read a book & THEN find out its a series. I prefer to wait until all the books are out in a series so I can read them straight through. Harry Potter ruined that for me - all that waiting between each one. While it was fun & all - I really love to just keep the story going from one book to the other.

Your turn! Pick a question and share your answer in the comment section. Or grab all the prompts (or the ones you want to answer, I'm not picky!) and play along on your blog.