Love me some Christmas questions....
Feeling that Fa-La-La-La mood!
1. Candy canes. Yes or no?
Yes. Who doesnt love a candy cane?
Fun Fact - since I was born around Christmas, my mom said she craved peppermint when she was pregnant with me. Maybe that's why I enjoy them.
2. Christmas morning early riser or sleep in?
As a kid, I can remember getting up before the crack of dawn with the instructions NOT TO WAKE my parents up. Our basement door was always shut & our tree & gifts were downstairs so my brother & I didnt "Technically" wake them up - but we were never quiet. MAKE ALL THE NOISE .... OH, you're up? haha!
Now, as an adult with no kiddos in our home, I just wake up naturally, which tends to be about the same time as when I was a kid - before the sun rises.
Which I actually have made it a tradition to get up before the sun does come up & I make a cup of coffee & I sit in front of the tree & read the story of Jesus Birth in the Bible & then will put on a Christmas movie that comes out on Netflix or some channel that is new for that year. I'll save it for Christmas morning. Typically when it goes off, the sun has just gotten up & I make breakfast for us.
Adult tradition.
3. Do you shop on Black Friday? Yes or no?
YEPPPP... Ricky & I have always made that a thing we do together. We've gotten up at 3 am before & stood in some crazy lines to get some things we want. Now, we're usually out the door by 4:30.
The majority of the time though, we honestly just go out for the fun of it - no intentions of getting anything. Just see what we stumble upon. We've stumbled into some great deals too through the years. But honestly, for me, its just fun being in that environment. Feeling the energy of Christmas shopping.
& then I'll come home & order everything online because I wasn't going to wait in lines that wrap around the building to check out.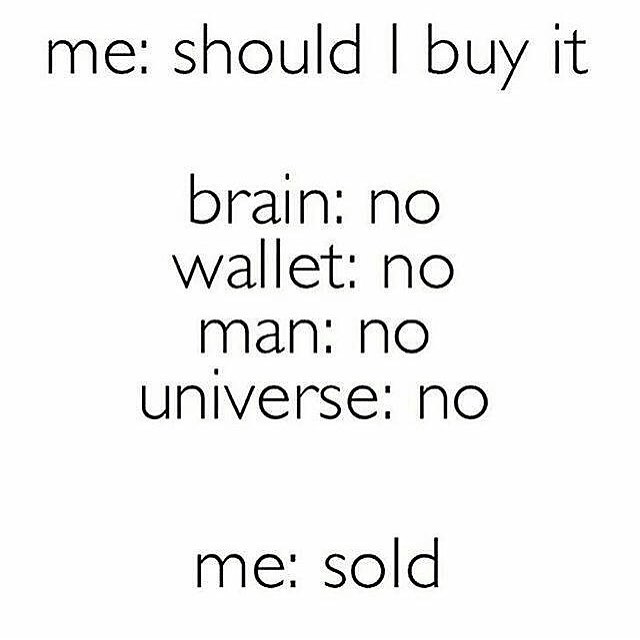 Basically how my Black Friday decision making goes
4. Christmas trees up in November? Yes or no?
100% ... I usually put it up on Thanksgiving - but with that being so late in the year this year, I went ahead & put it up earlier.
I just hate it gets dark so early now so when I can have something glowing a beautiful soft light on dark nights, I want it up as long as possible.
Also why I dont mind that we usually keep the tree up well through January #noshame
5. Do you get holiday ideas from Pinterest? Yes or no?
That's basically there I get most of my ideas in life.
6. Christmas glam or ugly sweater?
I dont go anywhere for 'glam' ... & I love Ugly sweaters. I think its funny how that idea started in trying to find sweaters in Goodwill & now, its become a big business item with all the ugly sweaters in top notch stores. 'Merica
This cracks me up its been made into a Christmas sweatshirt
7. Stocking stuffers: wrapped or unwrapped?
We dont usually do stocking stuffers.
Growing up though, my stocking was always unwrapped.
Oh wait... .we do have stockings for our dogs. Those are unwrapped. How could I forget that.
8. Traditional or modern Christmas songs?
I love 'em all! Still my favorite is "I Heard the Bells on Christmas Day" by Casting Crowns... & I'll always crank up Josh Groban's album, Noel.
I think its crazy how people are now offended though on songs like "Baby its cold outside"... what an offended world we live in.
9. Fruitcake? Yes or no?
OK - I always feel like an outcast when I say this - but I dont mind it.
It reminds me of my grandmother. She used to make it & also fruitcake cookies & when I was young I thought they were gross... but as I grew up, I ended up really enjoying them.
Granted, she passed away probably over 20 years ago & I haven't had a fruitcake since. Maybe I need to try that again this year.
10. Is your Christmas shopping finished? Yes or no?
HA.... HAAAAAA... big belly Santa laugh!
I start shopping on Black Friday & will still be out on Christmas Eve.
Actually - even after! We do some Christmas's with some people after the 25th so I'll be out shopping even after the big day. It feels like a big long Olympic event to me.
11. Is there snow in December where you live?
Never can tell.
One year, I remember it because it was the year my twin nieces were born - there was SO MUCH SNOW on Christmas day. Other years, its been seasonably warm & you can go out without jackets. But mostly, its cold & we can get flurries or a light dusting. I like that kind.
12. Classic show: A Charlie Brown Christmas or Rudolph?
I enjoy Charlie Brown's Christmas just because it speaks the Gospel on TV. Preach it Linus!... Growing up, I loved Rudolph - but have you really watched it lately as an adult? Santa is a big ole' jerk on there now. I watched it not too long ago & was like, this is what made us tough kids & not the 'everyone gets a ribbon' generation. LOL