A Heat Dome...
That's what they are calling this heat... & I AM NOT LOVING IT! Not one bit.
All I thought about all horrible heated weekend long is that I'm betting those two weddings that I went to last weekend? I bet those brides are just on their knees thanking baby Jesus that they didn't choose one week later for their wedding date. Whew!
I'm looking forward to this week - its going to be a short one! YES! Since Ricky has had to take all his time off for his recovery, he probably won't be able to take off on our usual week in October with me (cue sad face & cue tear running slowly down my face...dramatically)... so I'm going to take off Thursday & Friday to spend with him. A long 4 day weekend. Nothing makes a Monday better than to know you have a short week.
But let's not jump ahead of ourselves. Let's take a quick glance back to the weekend & see how much fun it was.
Friday
... I left work & headed the opposite direction of home. I headed over to see our baby girl, Lindsay. Remember where I mentioned that she's back in town & looking for some acting gigs around the area? Girlfriend needed some head shots... & when she has a step mom that has a camera & kinda enjoys taking pictures, all she had to do was ask. I was there. She was so much fun taking her pictures because her acting side was coming through & with every click I took, it was a different look. We totally got a good variety of pictures. I posted just a few on Facebook if you're my friend (if you're not, why not?) & saw them, but I got 20 pictures of her... I love them all. She's definitely a beauty, isn't it? She looks so much like her momma... but has her daddy's love of rock n roll. For sure.
... being out in that area, that only meant one thing for dinner. PIZZA!!!! I've talked about it before - Bonnie & Clydes Pizza on Dixie Highway is the best pizza in the entire world. Seriously. The entire world. I will say though, I was so scattered brained going in. I forgot my coupon - which you NEED a coupon, lest you spend $50.00 for 2 pizzas... so I go back out & get the coupon. Go in & pay & get the pizza. I left my phone on the counter... ran back to get it & get out to my car... to notice - I FORGOT THE PIZZAS on the counter. What was happening to my brain?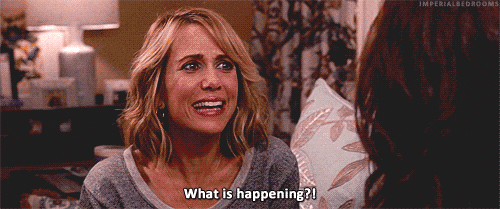 ... we all know what happened to my brain. I needed my Friday Starbucks celebration! I immediately snapped back to normal after that.
... our Friday was so much better with an extra episode of Big Brother. I know - cheesy - but I get so hooked on this show every year. I wish they did it like the UK Big Brother - they show an hour recap every night on tv. I'd never leave my room.
Saturday
... Break out the angels singing. I slept till 9am. 9AM PEOPLE! I dont remember the last time that happened. & in all honesty, I probably could have slept later. I have just been exhausted lately.
... I spend most of my morning cleaning. Doesn't sound too exciting, but I had my jams cranking & didn't mind doing it for some reason. Maybe all that sleep just makes cleaning not so horrible?
... I headed over to my precious friend's house to do another quick head shot session. Pictures needed for business purposes this time. I asked him if he wanted to hit some of the same poses Lindsay hit the day before - those cute poses with the hands in the hair, smizing at the camera. He passed :) .. though his wife did say that would make her day to get that as a birthday present. Wouldn't that be hilarious? I totally had flashbacks of George Costanza.
hahahaha... Sorry Heather, you WONT be getting these pictures of your husband
... So my friend has 3 kids that I ADOREEEE - like 'adore' isn't a big enough word to say how much I love them. One of them, I just found out, is going to be in my Youth class starting next week (THROWING CONFETTI) & she is starting a little business in making natural dog treats - she wants to take her earnings & give back to animal charities. Just a small example of her heart & why these kids are amazing. But she gave me a sample to take home to my dogs.... they were a TOTAL HIT!!!
If you are in my area & have some doggies & are interested, let me know & I'll connect you up to her :)
... I got home & needed to work out. I have been DYING to run. Like, I've been so sad about not being able to do it. I wrapped up my knee, got my tablet with
Gilmore Girls
fired up on it & headed to the treadmill. OHHHHHHHH MAAANNNNNN... the pain. My knee was aching & hurting so bad. BURNING. I had to have a little pity party after that. I didn't stop though. Got in nearly 3 miles. I thought, my knee is screwed up anyways - what's it going to matter to keep going now. I know I'll get grief about that... but some people will totally understand it. & I'm stubborn. So there's that.
... Ricky was so ready to get out of the house & we needed to go to the grocery so we had an exciting Saturday night at the grocery. But can I tell you? I now want to do ALL my grocery shopping on Saturday night. It was so empty, peaceful. No lines. & I was there as their Starbucks was getting ready to close down, so they took all their pastries & broke them up for samples to get rid of. WIN WIN! ... I even bought a book in the grocery. I never buy a book at the grocery store. But they had
Girl on a Train
on sale for $11.20... why not? That's how you splurge on a crazy Saturday night.
... sleeping till 9am has one drawback. I wasn't sleepy at all around bed time. That was a little aggravating. I thought about reading but got caught up in
Legally Blonde
. I love Elle Woods.
Sunday
... Church time! I'm going to LOVE this series that just got started on the Power of Words!
... grabbed a birthday cake & headed over to celebrate my daddy's 72nd birthday!!!! Doesn't he look good for 72 years old? I love he has kept his red hair through the years.
... Made my day even better when one little blonde girl opened the door. I didn't know the twins were going to be over there. They are SOOO funny to listen to now. Such "SISTERS"... argue over the funniest little things. They are polar opposites so that doesn't surprise me one bit. But you can totally tell they love each other & dont want to be without each other.
... So if you haven't ever noticed or heard around these blog parts, my mom is sorta, kinda, HUGELY obsessed with the color blue. So when its dad's day, I try to do everything NOT blue. Give him a blue break in life. But the only decent birthday cake was blue. Sorry dad. My mom was thrilled though & had to pose with this cake.
My momma looks so beautiful here.... I love this picture of her
... we were still in the Heat Dome & the temps were still near 100 degrees, but I'm so serious when I say my parents house is in a different weather zone. It's ALWAYS nice over there. Their house must be on some sort of hill or right in a wind line that they get the primo air because there is always the coolest breeze there. Ricky & I were sweating walking from every building to our car all weekend, but we all sat outside on my parents porch & it felt wonderful. Warm, but a nice breeze. Its like the place is magical.
... while we sat outside, I mentioned our #VincentsRockSunday (if you dont follow me on Instagram, again, WHY NOT?) & said we need to get everyone in for the picture. Break out the selfie stick. I loved my dad getting to play with it & seeing how it worked. It made for some fun pictures.
I'm not dramatic or anything
... I came home with intent to make out my bills... but nah. I decided to wash my hair, get my planner together for the week & play with Harvey. A perfect wind down to the weekend.
You living in the HEAT DOME?
(Anyone else feel like Tina Turner should start
Any celebrations happening?
What day do you grocery shop?