3 books this month ... I'm good with that.
Especially because 2 of them were ones I really liked.. that makes a good month to me!
Click the link below to see all the other readers & what they are reading this month
_______________________________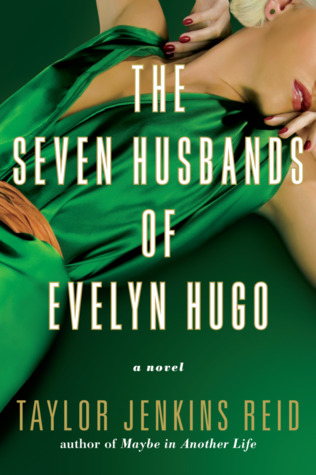 The Seven Husbands of Evelyn Hugo
**** / Really Liked It
Quick Summary: A magazine writer lands the gig of a lifetime when the top Hollywood Starlet from the past 50+ years asks her to write her biography on her life, including the marriages to 7 men.
This was not at all what I was expecting, but love Taylor Jenkins Reid & this book didn't disappoint one bit.
I thoroughly loved the story, the twists & turns of it, the breakdown of relationships, going back to different eras of time & a reminder that what we see is not always the true story. Like my momma always said- you never know what goes on behind someone's front door.
"People think that intimacy is about sex. But intimacy is about truth. When you realize you can tell someone your truth, when you can show yourself to them, when you stand in front of them bare and their response is 'you're safe with me'- that's intimacy."


______________________
Slayer
** / It was OK
Quick Summary: The story picks up after Buffy destroys the Hellmouth & also destroys all magic. So what happens when a twin finds out she is actually the last Slayer?
I was super stoked to hear about this book when I heard it was taking me back to the Buffy the Vampire universe world. I loved the series. & even reading the description, I was super excited about it.
& then started reading... & by the first few chapters... I was bored.
OH MY WORD. This book is just so full of useless information. I literally skipped a chapter & didnt feel like I missed a thing.
Even worse, I got towards the end & skipped a few chapters & found out a main character had died - & didnt even care to find out how or why. This book bored me to death.
I will say, I give it props for referencing Buffy so much & even stating things I remember from the show, or characters that I've missed. It was super cool to see original TV characters mentioned in this book & tied into the whole Buffy-verse. That was nice.
I also did enjoy the last few chapters. It did end up surprising me with the ending & it did leave me at least intrigued to possibly pick up the next book to see what happens.
But man, only if its half its size. This book is 400 pages long - & I cant deal with the next book being so long & boring. This book could have EASILY been cut in half & been so much better.
"There's another way out there, and no matter what, I'm going to find it. If I'm Slayer, my choice is to use everything I've been given to protect those I love and to protect those I'll never even know."
_____________________________
The Light We Lost
****/Really Liked It
Quick Summary: A couple meets on September 11th & the ties between them spans years. With decisions on what each wants from life & from each other, we see how it all intertwines.
I know this was a Reese Witherspoon pick years ago & I finally picked it up at the library. So glad I finally got around to it. I completely was wrapped up in the story of Lucy & Gabe.
It felt real to me, not a corny romance book, but a heart felt story between two people & how it could actually play out.
It was full of emotion & not sure who to root for & be angry at or the heart ache of how life can play out sometimes.
I just saw this author has a new book out now & I'm intrigued to see if its as good as this one.
"I hope that you find a love like that—one that is all-consuming and powerful, that makes you feel like you're going slightly mad. And if you do find that love, embrace it. Hold on to it. When you give yourself over to love like that, your heart will get bruised. It will get battered. But you will also feel invincible and infinite."
Thanks Step & Jana for the link up