Happy Monday!
I guess its Monday - I seriously didnt know it was Monday till my alarm went off. I woke up around 6am & thought, ahh, I slept good, I think I'm going to sleep a little while longer... only to have my alarm go off & I was like, WAIT - WHAT? Its Monday! I honestly thought it was Sunday! How is that for a depressing start.
How was my weekend? I can describe it in this one gif.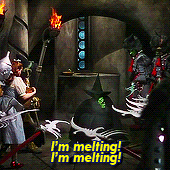 My GOODNESS it was hot this weekend. Like, honestly, step out side & your skin becomes STICKY. Ew! That "instant" kind of sweat where its so humid, it draws out every bit of moisture in your body. Needless to stay, I stayed in as much as possible.
Let me just do some bullet points for the weekend because it was THAT boring...
* I cleaned up my room & organized some of my planner stuff that I use every night. It always feel so good to have cleared off dressers
* Cicada land is still happening. We now have to check each other walking in the house because it's happened 3 times already that we walk in the house & a Cicada is hitching a ride on our back, or in our hair & then its lose in the house. That's fun.
* We binged The Falcon & Winter Soldier on Disney+ & I actually enjoyed it more than I thought I would.
* I also finished The Mighty Ducks on Disney+ - so super cute!!!
* & I forgot about In the Heights being on HBOMax - I really wanted to watch it... I'll plan on doing it next weekend.
* We found out my MIL most likely has COVID - she has all the symptoms. But did you know most places dont test for it anymore like they used to? That's crazy to me... how are people acting like COVID is over???? ... so she couldnt get in anywhere to get tested. But she's really sick & has all the key points of having it. & yep, we just saw her last weekend - LOL. I'm glad I've had my vaccine.
* Mom is still in rehab. That means I've been doing a few trips back & forth to her house to take care of her cats. One of them, Jessie - that cat is the sweetest cat. & you have to give her attention right now. She's missing mom.
* We ran down to Target Sunday & ran into some long time friends of ours from church. I cant really say a lot about our conversation except it was totally a God-meet up because we both instantly shared some things we had been feeling/going through & it was like a big WHOA! moment to know I wasn't alone in how I was feeling. Who knew Target held uplifting encouragement in their store? Me & my friend are planning on meeting up for a front porch coffee date soon so we can talk for hours... which we're VERY famous for. I'm so looking forward to it.
* Target also has these... you're welcome
* I dont know how I got turned onto it, but I turned on Pluto TV just for background noise & came across the Deal or No Deal channel (Why is there a channel just for this?) I just know I need this show to come back. Hubby & I had fun watching it all day long. I would take any offer. LOL. I always say, I'd take that & Hubby was like NOOOO & give me all the ratios/details/odds on why they need to keep playing. I'm like, But that's $10,000 - LOL. It really was fun watching it all day.
* I'm in a reading slump again. I hate that.
* I got a work out in on Saturday. Finished up 2 full weeks of 9 Week Control Freak on Beachbody. I'm actually really enjoying these workouts. Not seeing any difference in my body - but has to be better than nothing, right?
... & that was about it. Told you - bortng. I'll leave you with my pic I took when we left for Target. This is what you do with your hair when its 95% humidity - just braid it & forget it.
Happy Monday!
Tell me about the highlight of your weekend!