What We're Eating This Week
Anything that we dont have to turn the oven on.
That's one thing we dont need is more heat cranking in this place!
What I'm Reminiscing About
After seeing our Grands & how much they grew since we saw them last, I've been looking back at pictures & seeing them when they were so tiny. Julie had found a video of Luke standing for the first time here & its crazy to remember them all so small & snuggly.
Seriously - where does the time go?
Still working from home.
I'm taking full advantage of sleeping in till 7am. ... when I have to start waking up at 5:30am again, I'm going to be a grumpy, miserable old bear. Dont say I didnt warn you.
Trying to stay cool.
Nothing really more exciting than that.... what a fuddy-duddy we are.
I'm going back to the endodontist again next week. He keeps trying to see if the ligament will heal in there before doing work (AGAIN) on it... I dont know what the answer is. I've been dealing with this since March & its giving me all the anxiety.
Plus, I have another root canal tooth that has to be redone (this was my first root canal done over 30 years ago - so this one, is kinda expected) but I'm feeling like I've had so many issues with this tooth, am I going to have more issues with this OTHER tooth?
I'm pretty sure if I end up in hell, its just going to be non-stop dental work.
I've been doing some knitting recently! Look at me!
Yep - it still aggravates my bicep tendonitis so I can only do so much at a time....
& you may have seen how disheartening it was when I found THIS mess after working for a few weeks on a project. .... sigh....
If 2020 hasnt taught me anything, it showed me to move on.
I just threw it all away, didnt look back - & grabbed another skein of yarn & started another new project.
I've been wanting it for awhile & when it was on sale - I gave it go - in a Treat Yo Self moment.
Well now - I want another one because its awesome - & I want to have another batch 'brewing' when I get low in another pitcher.
What I'm Watching / Reading
I'm reading Malibu Rising & really enjoying it so far. I keep reading a lot of people aren't overly thrilled with it - I'm half way through & no complaints.
As for Watching - I've been going through the Real Housewives of Potomac.
I never watched that before so started at Season 1 & now am up to Season 5.
Gizelle CRACKS ME UP... & I think Monique, the one on the end on the right - is just the most beautiful woman! I love her relationship with her husband & her kids are so cute too. I'm really enjoying this show & glad to be nearly caught up.
What I'm Listening To
Per usual - with my love of Real Housewives I've been all about my What What Crappens. I honestly never tire of this podcast.
& of course, with the Bachelorette starting up - I'm all about all the recap shows on that too.
I'm basically doing nothing for my brain.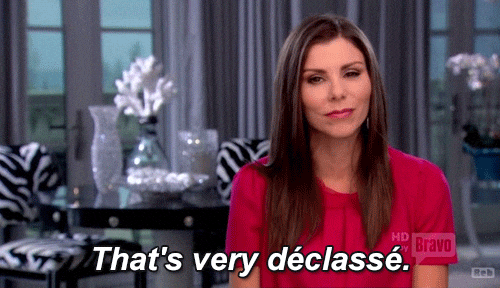 Side note... anyone else SO EXCITED Heather is coming back???
I honestly just laughed.. like really laughed.
I'm still in comfy shorts & big tee shirts.
Living the LIFE!
When I have to put on "real" clothes on a normal basis.... my waist is going to literally cry real tears.
or sweat... one in the same.
What I'm doing this Weekend
Reading outside baby!!!!
Like - I'm looking forward to it - we're getting a break in the weather & I'm so excited to sit in the sun & not melt!!!! I may even take a walk this weekend!
What I'm Looking Forward to Next Month
... we have no plans so nothing I can think of.
So... mom is back in the hospital.
Friday, before our NashFam got here, I got a call from mom's friend that she was found once again on the floor & 911 had to be called. That's the 5th time just this year.
I'm pretty sure they see my number pop up & are ready to say, "Hey Rebecca"
Mom made it home this time for 8 days... waiting to see what the doctors have to say.