So some updates on some things that have been happening in life lately...
Sydney
She's hanging in there. Its been a month & a half since we got the news of her bone cancer. She has good days & bad days, but we're so thankful for the good days ... & the good days are more often then the bad. & even her bad days are more like a bad few hours of not being able to position herself to get comfortable. She's able to limp around & get where she needs to go, but Ricky still will carry her when he can & we try to take as much pressure off her legs as possible.
What kills me is when she tries to play with Harvey. He obviously doesn't get it & will bark & run to her & it gets her excited & she wants to play with him... but she just stands & barks at him & tries to take a few quick steps to get to him. That's where my heart breaks. She wants to run & play... & can't...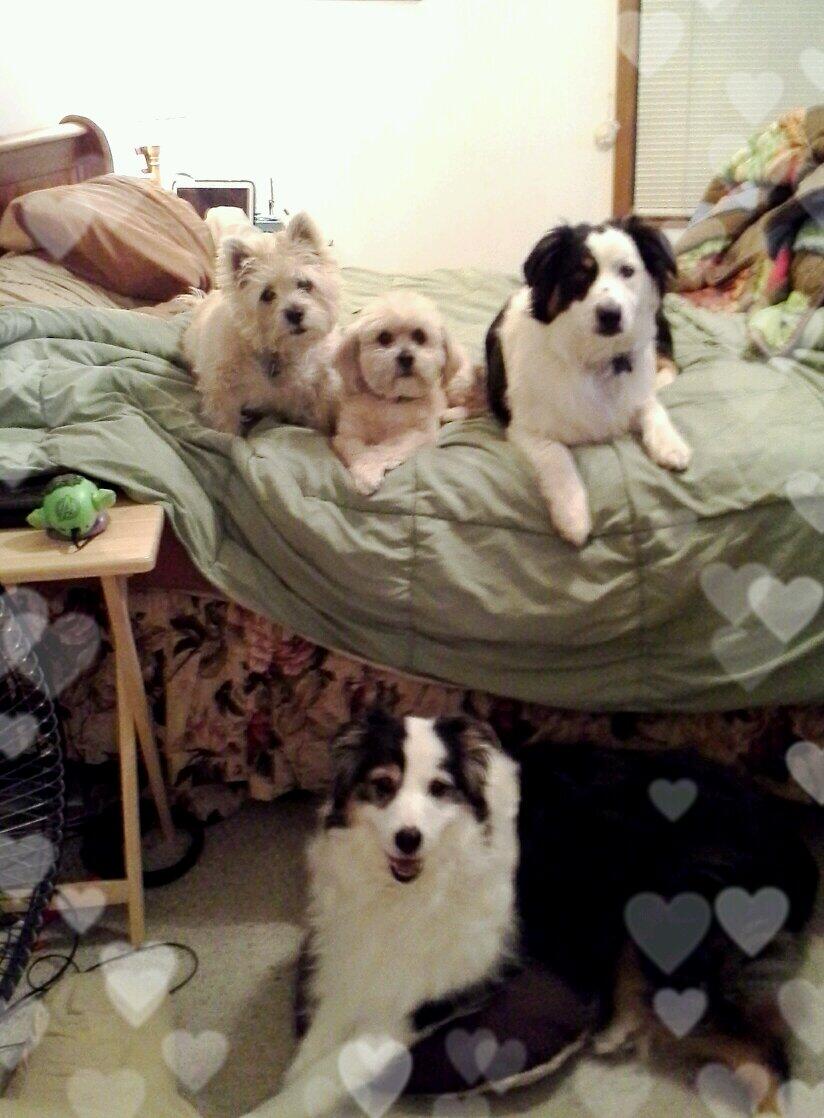 I can't believe I got a picture of all 4 of them
I came around the corner from washing my face & just kept saying "STAY STAY STAY"
so I could grab my phone
It also breaks my heart how Zoe is acting. Zoe is such a recluse that stays to herself but she has been sticking with Sydney lately. Even sleeping with her & being her best buddy. Dogs have a sense about them....
Our fear is that one day we're going to come home from work & she's not going to be able to stand at all.... & we'll have to face that when it comes. Right now, we're just loving every minute of every day we get to love on her & get to continue to let her know she's loved & that we'll take care of her.
Dad
He's mucking though the recovery of his shoulder replacement.
I think what they said about this being a painful recovery was spot on because I know dad went through his pain medicine on those first few days coming home. I don't blame him. He said it feels more like a tooth ache then anything. This girl has had 8 root canals so when you say "tooth ache" my heart instantly sympathizes with you. That dull, constant throb & ache that you can't do anything about.
The physical therapists are coming to his house during the week & working his arm out getting it back in shape & getting those muscles used to moving again. He said its not really that bad. They found out he's going to have hip replacement after he recovers from this one so they are even working on his hip muscles to get them stronger... don't ask dad about this though... he thinks its a little dumb to take steps to the side & then step back & call that therapy. I just try to think they know more then we do...
even though You Tube videos does make us feel like we could become doctors or physical therapist just by clicking the next video on surgery & rehab.
I think the worst part of all this for him is just being 'tied down' - not being able to drive, not being able to get around like he's used to. I always say God slows you down for a reason at times....
Grandbaby William
Still doing perfectly wonderful. With everything going on in our life, we hadn't been able to make the trip to get our hands on that sweet face... but it won't be long now...
Ahhh - the smell of babies. It's the fountain of youth - right?
Julie said he's been the easiest baby.... blessings happen all the time.
He's the spitting image of his daddy
Half Marathon Training
I'm still at it... & still not sure where its leading. The next half marathon (will be my 6th) will be in 5 weeks & I'm still debating if I'm doing it or not.
I'm training, but this is where my training needs to pick up - the long runs... & my weekends & my life are so busy, I'm having a hard time getting it in. If I don't get my miles up to 10 miles in the next 2-3 weeks, I may have to skip the race. I've done one not prepared & I know I almost died... I'm not doing that again.
My low back is still miserable & flares up horribly so I'm also wanting to test the 10 miles to see how it feels with that. I know I have a busy photo season & I don't want to mess up my back totally for this race...
I'm actually OK with missing it if that happens... look at me growing as a person compared to last year where I literally threw a 2 yr old tantrum about having to miss when my back pain started. Don't get me wrong... I'll probably cry & pout & be sad IF I have to miss it, but I know I'll keep running, but maybe long distances won't be my thing for awhile...
we'll see. Its a constant debate I have with myself every day... even more when I'm lacing up my new running shoes.