Oh... Christmas fun posts are going around & one of my favorite blog buddies, Meg from
Borrowed Heaven
has tagged me to join along in a fun Christmas question game... So let's do this...
1. What's your favorite Christmas tradition?
Going to church on Christmas Eve. It's just special to me... & I always end up crying at some point during the service.
Happy Birthday Baby Jesus
2. Where do you spend Christmas?
"Christmas" to me is spread over so much more then 1 day, so lots of places to go & visit - but on Christmas morning, its Ricky & I just enjoying an easy morning. I like to make a big breakfast & then we open gifts from the two of us & then its usually us playing with our 'big toys' - that translates to us trying to figure out how all the new electronics really work. Then we go to my parents for Christmas sometime in the afternoon.... I always hate that we usually have to work the next day so Ricky usually wants to get home to get to bed early - but this year, its on a FRIDAY! YAHOO!!!!
3. What is your favorite Christmas song?
My favorite Christmas song has always been "O Holy Night" - & it probably always will be - but I have to say, I sort of really really love Casting Crowns song "I heard the bells on Christmas Day"... it gives me cold chills every time
4. Do you decorate before or after Thanksgiving?
Depends.
If Thanksgiving is late in the year, I like to try & do it the weekend before Thanksgiving. If its earlier in November, I usually do it on Black Friday. But my tree is ALWAYS up by Thanksgiving weekend. It's too much work to not be able to enjoy it for awhile & since we're usually shopping on Black Friday, I like having my tree up so I can start wrapping & stacking.
5. Tinsel or Garland?
I actually don't use either - but I do put ribbon all around the tree - so I
GUESS
that would be more of the garland family
6. Who are you most excited to see this Christmas season?
Well, this is a Sophie's Choice question, isn't it?
I love seeing everyone at Christmas. Grandsons of course on high on the list - & our girls - we even have the youngest coming in from out of town this year ... but I love to see everyone. Grateful for loved ones that have made it through another year...
Makes me think of the line from
Have Yourself a Merry Little Christmas
... I always think of that... "if the fates allow"... its a blessing to see anyone & everyone every year.
7. Do you own an ugly Christmas sweater?
I guess I actually do - & not one that I bought for the point of an ugly sweater - I think its a legit old sweater. Actually, its a long sleeve shirt ... that I made when I was in high school...
with puffy paint.
Truth. I find it hanging in the back of my closet every year & I cant make myself throw it away or give it away. I'm going to pull it out one year & totally win a ugly sweater contest with it.
8. What is one Christmas food you cannot live without?
It doesn't feel like Christmas to me unless I make at least one time during the season, melted Vanilla cream chocolate drops melted on crackers.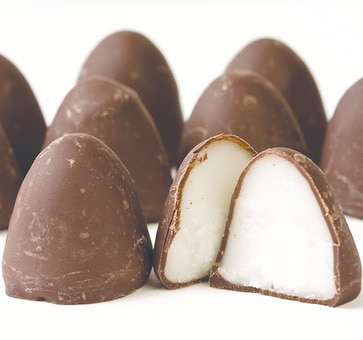 My dad used to make these when I was little & they just remind me of being a kid again - I guess its why I like to do this during Christmas.
You just smash one flat, put on a cracker, put in the microwave for just like 10 seconds & they melt on the cracker... its DELISH - the salt from the cracker & the sweet from the drop. Oh man. I gotta keep my eye out for these babies now!
9. Peppermint or gingerbread?
I'm not a huge peppermint flavored person, but I do love peppermints. Just plain ole peppermints. Or those soft peppermints? mmmmm..... I don't mind gingerbread either but as long as its covered in frosting. So I'll just take this one as a tie.
10. Have you ever tried a fruit cake?
I have... & for some reason, I don't remember it being as awful as everyone claims it to be.
I think its because my grandmother made "Fruit Cake Cookies" & they were basically the same ingredients as the cake, except baked in cookie form. I liked the walnuts & dried cherry combo. I also haven't eaten those in about 20 years so I may actually not like fruit cake at all now. Who knows.
11. What is one thing you have asked for for Christmas?
I haven't asked for one thing.... I don't need anything - I have all I need.
....
let me take that back - I jokingly (not really) ask for new faucets on all my sinks every year.
The hubs thinks its funny .... but I honestly want new faucets on all my sinks.
Our sinks either all have COLD labels on the faucets - or nothing at all. It's actually pitiful & sad.
If I ever woke up on Christmas with new faucets - or even ONE new faucet - I would truly believe in Santa & Christmas miracles.
12. If you could be any Christmas movie character, who would you be?
well, this is just a given for me, right?
So what are some of your answers?
Feel free to play along - Grab the questions & let's see how you do Christmas!
Let me know if you play along so I can read your answers!