Does anyone else feel like this is all a big prank being pulled on us at this point?
It all just feels so surreal.
I think this season in our lives will be one of those history moments that are like 9/11 or when the space shuttle exploded. You'll remember all the feelings like it just happened - you'll tell your children or grandchildren about the time the world shut down for a virus.
I'm sitting at home right now... working.
My work has been really good about this all really We get multiple updates on the situation in our firm & what the government is asking. Our firm even created a response team solely for questions regarding this pandemic & keeping everyone informed on all the latest news. We even made a local Business First paper about the precautions they have been taking.
They've also made changes in our offices by putting hand sanitizer everywhere - gloves in the kitchen - taking all our silverware we use & trading out for individually wrapped pieces. They started encouraging people to work from home last week.
Being in a department that requires mail though, we didnt think it would be something we could do.... but then things have changed drastically & we were just told to work form home - try it - see what happens - let's work out some kinks. So on Thursday of last week, I did work from home. It was really interesting to see how it worked & it did indeed bring up some things that i wouldnt have thought about before trying it out.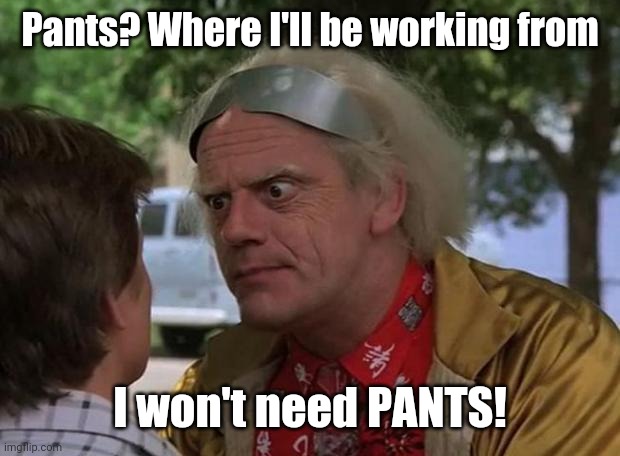 A lot of people joke that working from home is so much easier... OH MY GOSH... I worked harder at home than I do in the office - & that's saying something. I didnt even take a lunch & worked 30 minutes over. It was super busy & non-stop. I
I feel so bad that we just got a new manager in - what a time for her to be thrown in the fire.... but she's been incredible & so helpful. She's worked out a new way for us to work from home - so we're trying it again & hopefully this will be it.
Especially because I'm set up now. I've got my little hole in my room that I can sit in all day & get it all done. Copier, scanner,check scanner, deposit slips & stamps, computer remoted into work... we'll see how it goes.
I figure I'll have to run into work maybe a day or two a week.... until they shut us down & we can't. Then I dont know what will happen. I guess I'll be like the rest of the world that is like, NOW WHAT?
Through all this, mom is still in the rehab center - where no visitors are allowed. But she's been calling & she sounds like she really likes it this time around. She's gone down to the hair salon to have them wash her hair for her - she's been playing Bingo every night - has been going into their computer room to play some games online.... she may not want to come out.
My weekend - I guess the highlight was taking a shower & changing my jammies.
It's all so crazy man.....
I did the usual at home things - read, napped (I dont usually nap), laundry, got my work area set up.
As for TV - I ended up watching all 3 of the Thor movies... I had never seen those. Why? I'm not sure. I think Ricky went & saw the first one in the theater with his friends & then I just never cared to see the others until I saw the first one.... but thanks Disney+ for all the Marvel fun.
& also thank you Disney+ for Frozen 2!!!! I didnt see it in the theaters & was super excited to see it. ... it gave me all the feels too!!! ALL THE FEELS. Loved it - I'll be watching it again this week, I'm sure.
It's been a time of dog snuggles, that's for sure. Harvey Dent has been loving it - my gentle giant. Bruno has been loving it too - he's been getting extra 'walker' time.
Constant view all weekend...
"What are we doing now mom?"
I always am jealous of everyone with their family pictures doing games & watching movies together. Ricky is so freaked out by me that I've been in "public" working Wednesday & Friday in the office - he's staying far away from me. I made a big breakfast Sunday before church came online & he came & got his plate & sat across the kitchen from me. He's taking social distancing true to heart.
I'll be glad to work today - even from home.... it'll give me something to keep my mind working.
I'm anxious to see where this all goes. Where we live, school just keeps getting pushed out further & further. Questions are coming up if it will even be open the rest of the year.. THAT"S NUTS!! Can you imagine how the Seniors feel? Will they get their prom? What about graduation? ... I feel so bad for my niece too - it is her first tennis season at her high school as a freshman & the whole season is going is just gone.
I know the big picture is so much more than these things... but its just so bizarre to see how this touches all the little things.
I'm trying not to watch too much news coverage about it because I can feel the panic creeping up. The numbers just keep going up, people keep dying, there are no answers to anything - no prediction of help or when its going to stop. & let's just all lift up a prayer for all our doctors, nurses, first responders who are out there in the fold of this thing ... & then go home to their families & try to keep THEM healthy & safe too. God bless each & every one of them.
.... I just dont know what to think about it all... my brain just cant wrap around it all really. I mean, we had people getting so mad about basketball being canceled... do they see now that it probably saved a bigger mess on our hands? & yet, we still see beaches full of young college kids who gives no cares about anyone around them. Infuriating. I know people say, well, we were young once. Nope - not buying that. I lived my life listening to rules - all my friends did too - this is just a different generation. & I totally know that made me sound like I'm not 105 years old....
It's just so aggravating for a whole generation to just shrug off a serious thing so they can have "their spring break"... & I'm sure we can all go on about the crazy things people are doing. We all know we can chalk up TOILET PAPER to this list too.
I'm rambling... I know...
This is what happens when you're left alone in a home - even with someone else in the home - for a weekend.
I'm going to be prepared for next weekend though - I'm going to get out to Hobby Lobby this week somehow & stock up on yarn for some baby blankets & then fine - sit on the other side of the house & dont talk to me... I'll be in yarn land. My happy place. Where viruses dont shut down the world.
How are you doing?
Are you freaked out by any of this?
Is your life changed in any way? Or are you living life as usual?
Tell me what else I can watch while I'm stuck at home by myself