Weather
All the Spring feels. We've had a few days in the 60's - close to 70's & some days with rain & storms. All the better to bring on some spring growth. Our grass is even getting tall & will need the first mow of the year.
Listening
With the New Jersey Housewives back, I've had to get tuned in again with Watch What Crappens Podcast. I've been listening to it while I take my little strolls. Nothing like working on lung capacity with some laughter. If you love all things Bravo, you gotta check these guys out.
Watching
I signed up to try Discovery+ & have gotten sucked in so many TLC shows & A&E series. I always turn on Hoarders as a great motivation to clean up my house. Whew - gives me all the claustrophobic feels. I also love that it has some good Food Network shows. I love watching all the Worst Cook shows. Maybe because I can relate. If I ever got on the show, I'd walk off when they make you kill a lobster or tear chickens apart ... basically anything with meat. Seeing how every dish has meat in it - Yeah... I would last for a salad course & then I'm outta there. I need to stick with Worst BAKER. No animals harmed with all the sugary treats.
Feeling
Overwhelmed & anxiety ridden. Let's turn on the news to watch more people getting shot. Just for going grocery shopping. If I dont end up an agoraphobic, its going to be a miracle. I keep seeing all the memes that say you can tell the pandemic is nearing an end because the US is getting back to normal with having 2 mass shootings in less then 2 weeks. Just so sad. God bless all the families that are effected & have lost loved ones so unexpectedly.
Looking
Got my gray covered up yesterday. That 6 weeks from my last appointment snuck up on me fast. I should have known by looking in the mirror & seeing all the gray. Maybe that was the problem - the GLOW from all the silver blinded me.
Stressed
OK... this puppy is going to make me pull my freshly colored hair out. We've noticed the past few weeks that when Ozzie is sitting, only when he sits, his front legs shake. It's not one leg - it can be one, or the other - or both. It shakes so bad, he has to lay down - like getting the weight off his legs. It's not like a nervous shake because it doesn't go up in his head. & he doesn't do it when he lays down. He doesn't act different - he runs & plays & jumps on his brothers like nothing bothers him. He doesn't act like he's in pain. But you can tell its when he puts the weight on those front legs. Maybe its a growth thing? I dont know - but we have an appointment to get checked out. Better to be safe than let a situation go & become worse as he grows.

Drinking
I'm really picky about coffee creamer. If you cant pronounce it, I dont want to drink it. I have always been a Natural Bliss fan because it has like 5 ingredients - manly milk, cream, sugar. Bam - easy enough. Well, I saw a friend on Instagram talking about how she froths up some cream & puts it in her tea & she uses Chobani. I didnt even know they had a creamer - but when I went to the grocery this past week, I saw it & saw all the flavors they have. I got the Cookies & Cream & also a Sweet Cream - my favorite. I have tried a few creamers that were a big bust so I didnt expect too much - but OH.MY.GOSH! This stuff is fantastic. The Cookies & cream ingredients are milk, sugar, cream & cocoa... good enough for me. It froths up nicely & you dont need a lot to give a big flavor. Hubby loves it too. I cant wait to try more flavors now.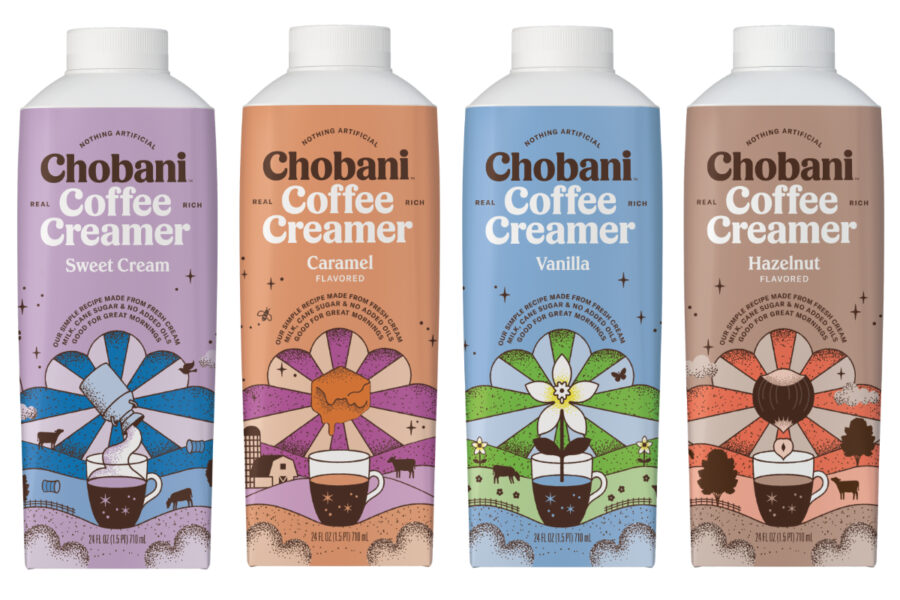 Cookies & cream not even pictured here - but I cant wait to try the Hazelnut & Vanilla
I even saw they had a Smores one!!!
Excited About
I'm actually meeting a friend for a coffee date & planner shopping this weekend. This is the first time I've met up with a friend in a year.... a YEAR. I am excited to see her face to face & to enjoy some coffee & planning fun. Just sounds like a perfect day.
Tell me something CURRENTLY going on in your world